AAP advises Somnath Bharti to take part in probe: Ashutosh
September 15, 2015 14:53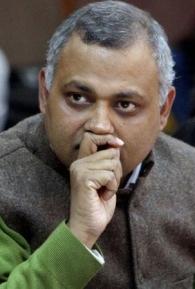 AAP's Ashutosh on absconding colleague (and his dog) Somnath Bharti: This is Somnath-ji's personal matter, AAP won't interfere. But we advise him to come forth and take part in an investigation.


An arrest warrant has been issued for Somnath Bharti, the Aam Aadmi Party leader and former Law Minister of Delhi. Bharti, 41, has been accused by his estranged wife Lipika Mitra of domestic violence and attempt to murder.


Since the case was filed late last week, Bharti has ignored multiple requests by the police to make himself available for interrogation.The police says that the former minister did not keep a Friday appointment, and has gone missing since then. On Thursday, Bharti tweeted, "This too shall pass".


A Delhi judge yesterday refused his request for anticipatory bail, which would have ensured he could not be arrested till a date decided by the court.


The judge said "as per the complainant, on March 19, 2013, when she (Lipika) asked Bharti to pay the rent, he not only tried to strangulate her, but also unleashed his dog on her despite knowing that she was in the seventh month of pregnancy."

« Back to LIVE
TOP STORIES