AAP's poster pitches 'honest' Kejriwal against 'opportunistic' Bedi
January 24, 2015 14:27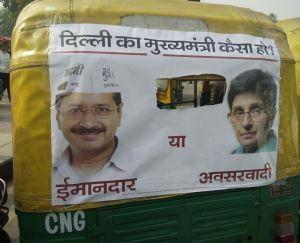 Ahead of the February 7 polls in New Delhi, the Aam Aadmi Party has released a new poster pitching their chief ministerial candidate 'honest' Arvind Kejriwal against Bharatiya Janata Party's 'ooportunistic' Kiran Bedi.
The poster asks people to choose between an honest Kejriwal and an opportunistic Bedi, who had slammed Kejriwal in the past for splitting up from Anna Hazare's anti-corruption movement to form his own political party.
Since the BJP announced that Bedi would be the CM candidate for the party, the AAP has launched scathing criticisms of Bedi.
« Back to LIVE