Kejriwal not to take metro to his swearing-in tomorrow
February 13, 2015 16:31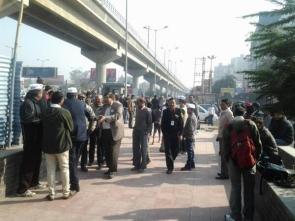 Delhi's chief ministerial designate Arvind Kejriwal will travel by car, accompanied by his family, to the venue of swearing-in ceremony at Ramlila Maidan, party sources said today.
Unlike the last time, he will not be taking the Metro, a move that had drawn a lot of criticism from the people.
A party member, involved in preparations related to the ceremony at his residence in Kaushambi here, said that since Kejriwal is down with fever, he has decided to go by car.
"He is not well today and may not be well enough to ride in Metro tomorrow. So he would take road route tomorrow," the AAP member said.
"He (Kejriwal) may leave home around 10.30 am from home along with his family. Traffic police would be escorting him via Barakhambha road," a police official said, adding that he would be accorded "CM route protocol".
Image: People wait outside the metro station to travel with Kejriwal to the oath-taking ceremony in this picture taken on December 28, 2014. Photograph: @AamAadmiParty/Twitter
« Back to LIVE
TOP STORIES