Guru Greg reveals why he had a fallout with Sachin
February 13, 2015 11:43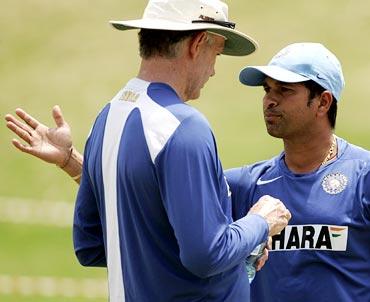 Former India coach Greg Chappell says his relations with Sachin Tendulkar soured after the Australian had asked the Indian cricket icon to bat down the order at the 2007 World Cup.
The 66-year-old Chappell's statement comes a few months after Tendulkar launched a scathing attack on the former Australia captain by referring to him as a "ringmaster" in his autobiography, Playing It My Way.
In an episode of Cricket Legends, aired on Fox Sports across Australia, Chappell said that the reason for their fallout was him suggesting that Tendulkar bat down the order during the tournament in the Caribbean.
"I expected, I thought, that he would want to do what was right for the team. But he really wanted to bat where he wanted to bat and that was a real gulf between us," Chappell said on the show.
India had a disastrous outing in the mega-event, getting knocked out in the first round itself.
Chappell claimed that Tendulkar, now 41, initially agreed to his proposal, but later changed his mind.
"He preferred to open the batting ... but in the World Cup in the West Indies, we needed him to bat down the order. That was where our problems were, we had other players who could bat at the top of the order. He agreed to it initially, but then he recanted and said he didn't want to do it. I forced him to do it and, from that point onwards, he didn't want to work with me again. In hindsight, I probably would have found a different solution."
« Back to LIVE
TOP STORIES