Oz PM 'thrilled' to be with three legends of cricket
September 04, 2014 17:08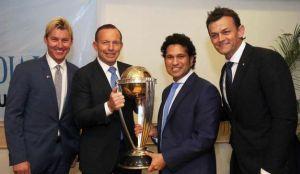 Amid indications that a nuclear deal could be in the offing, Australian Prime Minister Tony Abbott arrived in Mumbai this morning on a two-day India visit during which the two countries would look at ways to deepen strategic ties and strengthen two-way trade and commerce.

Prime Minister Abbott landed in the financial capital, his first port of call, on a day-long visit during which he will interact with business leaders and select Indian CEOs.

He also attended the launch of the Australian Government's New Colombo Plan in India and be present for felicitation of young cricketers by Oz cricket greats Adam Gilchrist and Brett Lee at Cricket Club of India. India's cricket icon Sachin Tendulkar will also attend the ceremony.

Abbott tweeted: Tony Abbott ?@TonyAbbottMHR 1h
Was a real thrill to be with 3 legends of cricket @sachin_rt @gilly381 & @BrettLee_58 at the Cricket Club of India

Pic: That's Tony Abbott with Sachin Tendulkar, Adam Gilchrist and Brett Lee.

« Back to LIVE
TOP STORIES