Will Goa CM Manohar Parrikar be the new defence minister?
November 05, 2014 15:33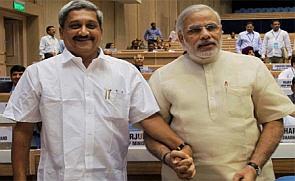 Prime Minister Narendra Modi will soon reshuffle his Cabinet. The move has been necessitated due to many reasons, mainly the overburdening of some ministers.
The key portfolios of defence and finance are handled by Arun Jaitley, which is considered an impossible task. CNN IBN reports that the PM is keen to move Goa CM Manohar Parrikar to Delhi to be the defence minister.
Ravi Shankar Prasad (information technology and law) and Prakash Javadekar (information and broadcasting, and environment) are also handling two ministries each.
Modi is looking for more energy quotient in his ministry. The image has been gaining ground that Modi is struggling to bring in change without the backing of a strong council of ministers.
Except for Jaitley, Sushma Swaraj (external affairs) and Rajnath Singh (home), there are no political heavyweights in Modi's Cabinet.
Also, Sushma's political mandate is limited while Rajnath has Ajit Doval, national security advisor, overlooking his tasks.
Read more
« Back to LIVE
TOP STORIES