Rajat Gupta tells US court USD 14 mn civil penalty too high
June 17, 2014 10:56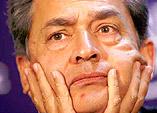 India-born former Goldman Sachs director Rajat Gupta, scheduled to begin his two-year prison sentence today, told a US court that he should not be required to pay a heavy USD 13.9 million in civil penalties since he already has to pay over USD 11 million in criminal fines.

Gupta's lawyer Seth Waxman argued his case during a hearing before a three-judge panel of the 2nd US Circuit Court of Appeals yesterday. Gupta, 65, was not present for the hearing, during which Waxman argued that his client personally did not make any money from the trades done by Galleon hedge fund founder Raj Rajratnam and "nor had any expectation of making any money."

Waxman said that Gupta should not be permanently barred from serving as a director on a board of a public company or taking up the role of investment advisor.
« Back to LIVE
TOP STORIES