LIVE! Yashwant Sinha gets Advani's vote for Jharkand CM
June 17, 2014 17:38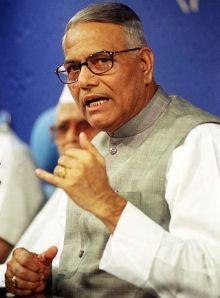 BJP veteran L K Advani today backed party leader Yashwant Sinha saying he is the 'right person' to be the Chief Minister and suggested that he should leave jail after securing bail to lead the 'historic agitation' against power crisis in Jharkhand.

"What I feel is that when he is getting support and respect from all BJP stalwarts time has come Sinha should respect the feeling of BJP leaders, not only from Jharkhand, but also in the country and come out of jail," Advani said after paying a two-hour visit to Sinha in prison.

Sinha was also the 'right person' to be chief minister after the Assembly elections later this year, he said.

Advani said Sinha should thereafter lead the ongoing agitation against power crisis and 'corruption' in the GM's office in the Hazaribagh area of the electricity board.

"Yashwant Sinha has launched a historic agitation in support of small villages ... I appreciate the stand taken by him for fulfilling the cause of poor villagers and he deserves all praise and support. "Prior to this agitation probably no other BJP leader in the state had ever launched such a vital movement in Jharkhand," Advani said.
« Back to LIVE
TOP STORIES