LIVE! Kejriwal on Delhi power crisis: Don't blame us, Cong ruled for 15 years!
June 16, 2014 15:21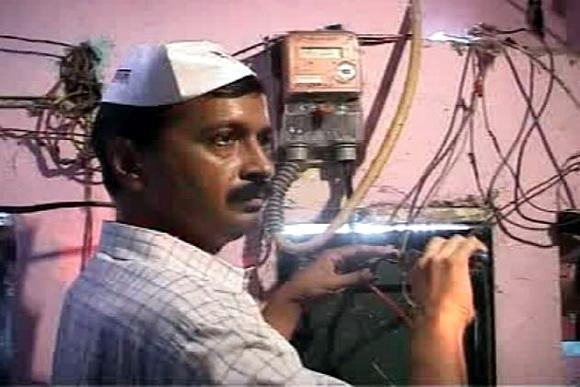 "Pichle 15 saal se toh woh the satta mein, humne kya kar diya?," AAP chier Arvind Kejriwal on the Congress blaming the AAP for the power crisis.

The Congress party on Sunday continued its power protest in the national capital, threatening to cut supply to the houses of former Delhi minister Manish Sisodia and BJP leaders if the crisis is not resolved soon.

A day after Congress leaders were detained when they tried to obstruct the movement of trains at Nangloi railway station in west Delhi, the party's senior leaders Ajay Maken, Shakeel Ahmed and Arvinder Singh Lovely protested in central Delhi's Karol Bagh area.

Lovely, who is the party's Delhi unit chief, burnt effigies of former chief minister and Aam Aadmi Party (AAP) chief Arvind Kejriwal and Prime Minister Narendra Modi. Scores of party workers, joined by locals, shouted anti-BJP and anti-AAP slogans.

"If the crisis is not resolved soon, we will cut the electricity supply to the houses of Manish Sisodia (AAP leader) and BJP leaders," Delhi Congress chief spokesperson Mukesh Sharma said.

The national capital has been reeling under long hours of power cuts, following a 30 May storm, which damaged transmission lines.

The Congress - out of power both at the centre and in Delhi - has held a string of protests over the outages.

President Pranab Mukherjee's daughter Sharmistha joined one such protest Saturday. Congress general secretary Ajay Maken blamed Delhi's former chief minister Arvind Kejriwal and Prime Minister Narendra Modi for the power crisis in the capital.

"Arvind Kejriwal and Narendra Modi are responsible for this condition of Delhi. Arvind Kejriwal wanted to be seen on television, so he protested at Rajghat," Maken said.

"I want to ask Piyush Goyal (union power minister) that last year approximately 5,800 MW electricity was supplied in Delhi, then why you are not able to fulfil the requirement of just 5,600 MW," he added.
« Back to LIVE
TOP STORIES