Ban Ki-Moon slams 'destructive attitude' of 'boys will be boys'
June 04, 2014 12:10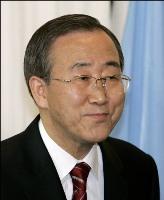 Meanwhile, UN Secretary General Ban Ki-moon has demanded action against sexual violence and appealed to the society to reject the destructive attitude of "boys will be boys".

"In just the last two weeks, we have seen despicable attacks against women and girls around the world -- from Nigeria to Pakistan and from California to India. I was especially appalled by the brutal rape and gruesome murder of two teenaged women in India who had ventured out because they did not have access to a toilet," Ban said here yesterday.

Decrying the recent attacks against women and girls around the world, Ban stressed that "violence against women is a peace and security issue. It is a human rights issue. It is a development issue." He said nations must respond on all fronts and achieve full equality for all women.

"We say no to the dismissive, destructive attitude of 'Boys will be boys'. Together, we can empower more people to understand that violence against women degrades us all," Ban said at the launch of a video campaign on ending sexual violence through gender equality.
« Back to LIVE
TOP STORIES