Bail for Maya Kodnani convicted in Naroda Patiya massacre
July 30, 2014 16:05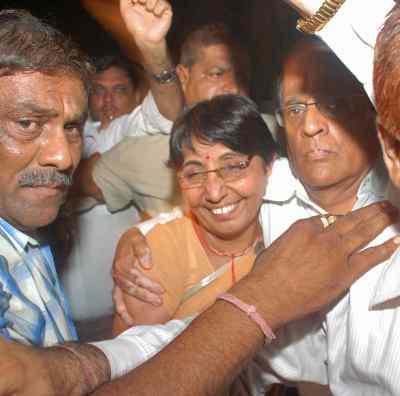 Maya Kodnani, Gujarat's former minister for Woman and Child Development, has been granted bail. Kodani had been sentenced to 28 years imprisonment for leading a mob, which killed 97 people in Naroda Patiya in Ahmedabad. Bajrang Dal leader Babu Bajrangi and 29 other convicts were also given life imprisonment.

Kodnani was MLA of Naroda at the time of the incident on February 28, 2002. She was made MoS in 2007, but had to step down after her arrest in March 2009.

Kodnani had moved the Gujarat High Court seeking bail on various grounds. Her plea contends that the 11 witnesses in the case had proffered "embellished" statements that implicated her, while their earlier statements did not. She has therefore sought discarding of their "embellished" versions.

« Back to LIVE
TOP STORIES