Six terrorists killed, rescue ops underway
December 16, 2014 17:24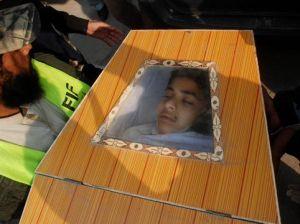 Prime Minister Nawaz Sharif says that the Pakistan Army launched the Zarb-i-Azb operation and its blowback was being felt now.
"I feel that until and unless this country is cleansed from terrorism, this war and effort will not stop, no one should be doubtful of this. We have also spoken to Afghanistan about this and we will fight terrorism together.
"Such attacks are expected in the wake of a war and the country should not lose its strength," he said.
Nawaz Sharif reached Peshawar earlier in the day to monitor the situation.
All six terrorists have been killed, of which one blew himself up.
Pic: Rescue workers move the coffin of a student, killed during the attack by Taliban gunmen on the Army Public School, in Peshawar, REUTERS/Khuram Parvez

« Back to LIVE
TOP STORIES