Eyewitness reports: Men had long beards, wore salwar kameez
December 16, 2014 17:52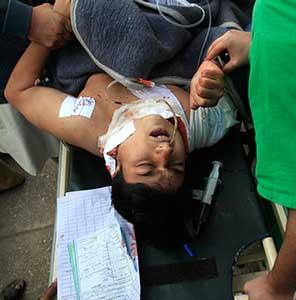 Abdullah Shah, a victim's uncle breaks down on TV saying it takes 20 years to raise a child and the militants killed them in a second. Hitting out at PM Nawaz Sharif for his inability to keep terrorism at bay, Shah said the PM roams around with security guards, how would he understand what a parent goes through.

A student who escaped the mayhem said they were being briefed by an army doctor on first aid. Students of classes 8, 9 10 were there. He said the men entered the hall, they had long beards and wore salwar kameezes. They first shot in the air and then started shooting the kids. The students hit the floor and some of them managed to escape being hit.

Varying reports say 132 people including students and teachers were killed today.

Pic: A student is taken to a ward. Photo credit: Fayaz Aziz/Reuters.

« Back to LIVE
TOP STORIES