Why Obama was playing golf minutes before Laden raid
November 08, 2011 12:11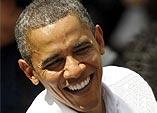 Minutes before the operation to hunt down Osama bin Laden in Pakistan began, US President Barack Obama was playing golf so that he could "distance
himself" in case the raid went wrong, claims a new book.
Chuck Pfarrer, a former SEAL, in his latest book "Seal Target Geronimo" that hit the stands today, claims.
Only then did he down his clubs and return to the White House to watch what he later trumpeted as a great success of his presidency, the Daily Mail reported quoting the book. The book claims that the official account was riddled with errors and that bin Laden was referred to as 'Bert' and not just 'Geronimo'.
« Back to LIVE
TOP STORIES