For India's new pace sensation Shantakumaran Sreesanth, being in India's World Cup squad is a dream come true. He wants to make the best use of the opportunity at the mega event -- which kicks-off on March 13 in the West Indies -- presents.
"The World Cup is the pinnacle of cricket. It's great to play all the countries together in one country," the Kerala speedster told rediff.com in Mumbai.
The 24-year-old vividly remembers when he cheered for the Indian team during the last World Cup in South Africa.
"We were in Bangalore for the Ranji Trophy Plate Group final, watching the 2003 World Cup final," Sreesanth said. "We were cheering for India and I told my Kerala teammate Raiphi [Vincent Gomez], 'We have got to play the next World Cup. Just like these people are clapping for the Indian team now, they will also clap for us.' I said, 'If we win this [match] and keep working hard then why can't we go for the World Cup?' It was a joke at that point, but now it's a reality," he added.
Although highly rated by experts, Sreesanth has not made his spot in the Indian team permanent since his one-day international debut against Sri Lanka in October 2005. That can be mainly attributed to inconsistent performances, especially in batting-friendly conditions. He played 27 one-dayers, claiming 35 wickets at 36.11 runs per wicket, but the economy rate of 5.75 per over leaves a bit of doubt.
"I did well in patches," Sreesanth admitted. "I've got to make sure I don't do well in patches but make it really smooth. There's bound to be an odd bad day but I want to make sure that there wouldn't be an odd good day. I am sure that if I can hit the right length, I can get anybody out," he said.
The fast bowler was even dropped from the ICC Champions Trophy squad, before being called into the team after an injury to Ajit Agarkar.
"I can say that it [the dropping] turned out to be a blessing in disguise because I got three weeks off, and especially after spending a year with the team I came to know where exactly I stand, where I had to work on. It was really a learning experience. Even now, I am just a kid. I want to keep on learning from every opportunity. That's exactly what I did," Sreesanth said.
His performance in the one-day series in the West Indies last year was not up to the mark -- two wickets for 158 runs in the three games he played. But he is hopeful of finding his bearings in the Caribbean this time as India chase a second World Cup title, 24 years after Kapil's Devils put the country atop the cricket map in 1983.
"I would try and make use of every opportunity and make sure I play all the games," said Sreesanth. "I'm not really thinking about the wickets. I am a rhythmic bowler so I don't necessarily need a good wicket to bowl on."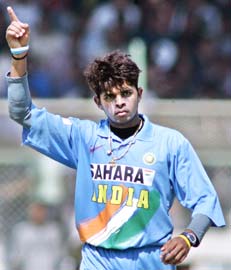 He said the recent home series wins against the West Indies and Sri Lanka are important.
"It was a morale-booster for the team -- and it's a great feeling inside the dressing room. Everyone is talking positive now, so it's a great sign. For me, it was important especially after playing a full Test-match series [in South Africa], we needed to play a few one-day games to shift gears," he said.
Recently, India's chairman of selectors Dilip Vengsarkar said Sreesanth needs to work on adjusting his length when bowling in India in the one-dayers. The pacer admits bowling on a good length has been a major bother recently, but is confident of overcoming his problems soon.
"I listen to senior cricketers attentively and try to get the positives out of it and work on it. I realize there is a long way to go. I should say I'm just a kid in cricket and I want to get married," he says, laughing.
Sreesanth, the only Kerala fast bowler with a hat-trick in the Ranji Trophy, said he likes fitness drills and injuries have not been a major issue in his career so far.
"I haven't gained pace recently," he said. "I have constantly been bowling in the 140s [kilometre per hour]. Even in Malaysia [tri-series between India, West Indies and Australia last year] I bowled quick. The more you play, the better you get. I am sure you will see a fast bowler [in me], trust me.
"Being a fast bowler, there would be a couple of niggles here and then," he continued. "But for me, pain is my best friend. I take it in the right way. I know the thin line between foolishness and bravery; I have been taught that at the MRF Pace Academy. Even when I spoke to [Australian fast bowling legend, and the MRF coach] Dennis Lillee, he used to tell me that pain is your best friend as a fast bowler."
Sreesanth was a huge hit during India's tour of South Africa, not only for his bowling skills, but also for his dance moves. During the second Test, he responded to a taunt from fast bowler Andre Nel by charging the next ball, hitting it for six, and then running after Nel to perform a war-dance, which became a huge hit with Indian fans.
"It just happened," he said. "He [Nel] was constantly saying something or the other to me and my teammates. So I thought I would not let him go like this and that's why I gave him that reply."
Sreesanth's whole-hearted approach and his passionate displays have created a niche for him among the fans. But he said he is not letting the success and fame get to his head.
"I am taking it in the right spirit," he said. "I should be able to keep learning from each opportunity and be a better cricketer without thinking too much about the big stage and the media attention. I just want to make sure I don't put too much pressure on myself and make use of every opportunity that I get. I am sure if I am able to maintain my routine, I will be able to do well."
And as he signed off, he had just one message for the fans: "Pray for us; thank you for all your support."