India cricket coach Greg Chappell, in the midst of controversy after Sachin Tendulkar's outburst against him, said on Wednesday that he would not renew his contract with the Board of Control for Cricket in India.
Chappell, who was appointed coach till the end of the World Cup, sent an e-mail to the BCCI conveying his decision. He cited family and personal reasons for his decision.
Also read: Greg Chappell's statement
The former Australia captain's tenure with Indian cricket yielded mixed results since taking over in May 2005 from New Zealand's John Wright, who served as India's first foreign coach for almost five years.
A 1-0 Test series victory last year in the West Indies -- India's first in 35 years -- was one of the high points of Chappell's stint. But failure to qualify for the semi-finals of the Champions Trophy as hosts last year and the disappointment of a first-round exit from the World Cup has not gone down well with the cricket-crazy nation.
Former India chief selector Kiran More, who during his tenure worked closely with Chappell, expressed disappointment at the Australian's resignation.
'The South African tour was a big disaster. Chappell was not allowed to handle things in South Africa. By the time he came to India and played against Sri Lanka [in March this year] things were not good between the chairman of selectors [Dilip Vengsarkar] and Greg Chappell,' he told Special Correspondent Harish Kotian.
Excerpts:
What is your reaction on Chappell's resignation as India coach?
It's not very good news. Chappell tried to do a lot of things for Indian cricket. He was a bit harsh on players, but he is a person who always talks very straight and that is what Greg Chappell is famous for.
But overall I think there is a lot to find about Indian cricket and the results show where we are standing in world cricket.
For me, it's a big disappointment that Greg Chappell has resigned.
How will this affect Indian cricket in the long run?
It's up to the BCCI to take some decisions, not only short term, but long term decisions. Whoever is going to be in charge of Indian cricket team has to be given full powers. We should be looking to build the Indian team, not only looking at the next World Cup, but overall we should be in the top three in world cricket.
The problem is that we are only look at short term, which is every series. So the process is not helping at all. When John Wright took over, there was not much of media.
But in the last two years, the media pressure has been unbelievable. I have gone through that pressure being the chairman of selectors myself. I know how much pressure used to come on me from the media. Even the former cricketers talk, discuss and criticise so the pressure is not only on the selectors, coach but also the players.
Any small thing you do comes out in the media and it is unbelievable that so much comes out in the media and is highlighted.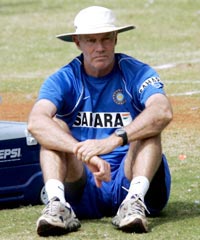 Sachin Tendulkar criticised Chappell in a leading newspaper today and the Australian handed his resignation a few hours later. Do you think the two events were connected in any way?
I don't think so. To tell you the fact I knew about it [since yesterday]. I knew what was going to happen after the World Cup so I knew what was coming.
The South African tour was a big disaster. Chappell was not allowed to handle things in South Africa. By the time he came to India and played against Sri Lanka [in March this year] things were not good between the chairman of selectors [Dilip Vengsarkar] and Greg Chappell.
Chappell was not happy when he left for the West Indies [for the World Cup]. He was not happy with the team. Look at what he said in the press conferences – this is the best we have and this is the team India selected [in an interview]. There was some message in what he said then and nobody knew what he meant then.
But even he was not expecting that we will not qualify for the second round. So there are a lot of questions to be asked of the players as well and not only the coach.
The total focus of the World Cup debacle has shifted to a different issue altogether. Instead of discussing why we have performed badly or lost, it has shifted to other issues. We need to discuss that and take some strong decisions.
Would you blame the seniors particularly Tendulkar and Sourav Ganguly for Chappell's resignation?
I don't think so. It's mixing two issues here. He must have decided before going to the World Cup.
When you are not happy with your job and not getting support it is betting to quit than get into a mess. That was happening for the last two days. There were too many allegations coming out in the media. So I think that needs to be controlled by the BCCI as a lot of things from the Board come out in the media.
They have to handle it very properly. It's not only Chappell but whoever takes over in the future will be under tremendous pressure. I hope BCCI supports him [the new coach] and takes some strong decisions.
Seeing what has happened to Chappell, don't you think the new coach will also be afraid of the seniors now?
It's definitely going to affect anyone who will take over. If the seniors are going to make a call on selection of the eleven, then we need to change something here. When the team goes on a tour, the selector should also go. The manager, captain and coach should be a part of the selection and that will bring a lot of accountability and help Indian cricket.
When Chappell was appointed as the coach two years back, many felt he was the best person to take this team forward. What do you think went wrong for him?
It's not the question of anything going wrong or that things have not worked for him. There are many cricketers who have come up under his tenure; especially the youngsters and those youngsters are there in the team.
So it's not that in 18 months process you are going to be the champion team in the world. How many times since 1985 have we won any major event or championship? So it shows we haven't done well and there is something lacking in our process. It's not only at the top level, but at the state level also that we need to do a lot of work.
For a man, who had given so much to Indian cricket and had dreamt of taking it to greater heights, don't you think it was sad to see him go this way?
Absolutely! We need to wait for his report which he will give to the BCCI. And I hope there will be a lot of eye-opening for the BCCI. And it will depend on how strong the Board will take Chappell's report and also manager Sanjay Jagdale's report.
I think the BCCI has to take decisions in the interest of Indian cricket.
Previous: Where is the performance? asks Kiran More | Audio