Komal Kumar, who was doing pretty well as captain of field hockey, wanted to try a new sport in high school -- and so she went into fencing.
The senior at the West Windsor Plainsboro North High School, Plainsboro, New Jersey, recently wielded the epee to good effect to win the gold medal in the National Fencing Tournament's North American Cup's Division II Women's epee event in Atlanta, Georgia. She beat 95 others, and raised her national rating to a creditable 'B'.
The tournament, sponsored by the United States Fencing Association, draws participants from across the US and Canada. The epee is one of three weapons used in fencing, the others being the foil and the sabre.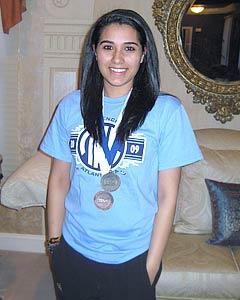 Kumar says she has much to thank Gail Kedoin, her fencing coach at school, who analyzed the quickness of her feet, the way she moved into position and other details and concluded that she needed to use an epee.
Kumar practiced fencing at the Medeo Fencing Club and School in Bridgewater, New Jersey, under the eye of national coach Yakov Danilenko for just eight months, says she had to work in a hurry: "I knew my time was short because I was in my senior year. I had only one more year left." So she focused on cleaning up her weakness.
Kumar, the daughter of Rita Anand and Subash Kumar of Plainsboro, New Jersey, Kumar started fencing during her first year of high school. She fenced with the high school varsity team  for four years. She was appointed captain and squad leader in her junior and senior years. Her school's women¹s epee squad became the state champion squad of their division, bringing the first-ever fencing banner to the school, under her leadership.
"What she has managed to accomplish in a short amount of time, has taken her fellow competitors 2-4 years of training," Subhash Kumar said. "In a mere span of eight months, she has reached a competitive level. She will continue fencing in college and national tournaments."
Kumar intends to continue fencing at college but it will not come in the way of her main interest, medicine.
Fencing, she says, is a "great way to release stress; Ii helps to balance life a lot. But I will be focusing on medicine and eventually go to medical school."