Jenson Button and Brawn GP team mate Rubens Barrichello rocked Formula One to the core on Saturday by running away with Australian Grand Prix qualifying.
The team who arrived in Melbourne with no sponsors, a barely-tested car and two drivers written off as has-beens only a few months earlier, were in a class of their own.
Ferrari's Felipe Massa, the Brazilian who won more races than any other driver last year, fears the season could be over by the halfway mark.
McLaren's world champion Lewis Hamilton, his own car woefully off the pace, said the Brawn team looks simply incredible.
Britain's Button, whose ride on the Formula One rollercoaster appeared to have gone into a terminal dive after the brief high of his 2006 Hungarian Grand Prix victory for Honda, was ecstatic while Brazilian Barrichello's smile lit up the room.
On pole position for the first time in three years, and after scoring just three points in 18 races last season, the 29-year-old Button could scarcely believe the turnaround in his fortunes.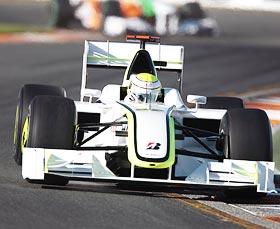 "The last five or six months for both of us have been so tough," he said. "Going from not having a drive or any future in racing to putting it on pole here is just amazing.
"This is where we deserve to be after the tough times we have had."
HONDA PULLOUT
Both drivers had been left in limbo after Honda announced their exit from the sport in December and it was not until this month that a management buyout led by team principal Ross Brawn was agreed, with the team switching to Mercedes engines. Button took a huge pay cut to help out.
Before their decision to quit in the face of the global credit crunch, Honda had decided to write off their 2008 season and dedicate their considerable resources to designing a winning 2009 car.
"It has been a long time since we had a car that has been competitive," said Button. "It has been very tough and there are a lot of people who stand by you which is fantastic.
"There are obviously a few people that don't and they forget and they don't believe.
"The important thing is that the people within the team believe and that is all we care about. We have proven it with this car."
Barrichello, the 36-year-old who last won a race with Ferrari in 2004, said he feels young again after a few tough seasons.
"If anybody a month ago had asked me, 'Would you give $1,000 to be second in Melbourne' I would have given a little bit more," he said. "I have got to be happy for sure."
Brawn chief executive Nick Fry said he has received congratulatory calls from absent Formula One supremo Bernie Ecclestone and also from former colleagues at Honda.
"I think they [Honda] are secretly quite pleased for us," he told said.
"I've had [former Honda F1 technical head Shuhei] Nakamoto-san on the phone already to congratulate us and I don't think there are any hard feelings."
"Honda had to withdraw because of the economic circumstances, not because they wanted to. I think they'd love it to be their engine in the back of the car and they deserve a lot of credit for the work that has been done.
"It's maybe half a Honda."