Force India will carry the hopes and dreams of a billion Indians in the 2009 Formula One season, which gets underway with the first race this weekend at the Australian Grand Prix in Melbourne.
The team's first season, in 2008, did not go to expectations, as it finished without a point. But things have changed since. With a new engine partnership deal with McLaren things can only get better for the Vijay Mallya-owned outfit.
With several rule changes for 2009, it is certainly difficult to predict how things will pan out, but positive results in pre-season testing signals good tidings for the Indian outfit.
And carrying Force India's hopes is Adrian Sutil, the 26-year-old driver from Germany, along with Italy's Giancarlo Fisichella.
While putting up a good performance is important, both drivers are fully aware that at some stage in the season they will have to score points regularly. But the big question is whether the car is quick enough and reliable enough to finish in the top eight.
Chief Sports Correspondent Harish Kotian caught up with driver Adrian Sutil in Mumbai to discuss the upcoming F1 season and what it will take to break the points duck this season.
This will be your third season in Formula One. Personally, how important a season is this for you, because you certainly have the talent but been unable to come up with results to match it?
It is an important season and I hope it will be really good after a disappointing season last year; we had lot of bad luck and all came together. I want to have a little bit of success, but it all depends on the car. Right now it is looking quite positive and I think the car has potential.
Our main goal is reliability and to finish a lot of races, that is how we can pick up the performance and development of the car. We will then be able to gauge where we stand after the first few races.
Force India has undergone a big change for 2009, including a relatively new car and a new team set-up. How excited are you looking forward to the new season?
I am looking forward to race again. It was a long winder with no testing, but then testing is one thing. I am a racer and I want to do qualifying; I want to race against other people and show my performance when it counts. That is why I am really looking forward to race in the new season. The new season is not far away and I am ready for it.
So, in other words, would the first few races only be about testing the car and its reliability?
Yes, I think so, but it depends. Right now I can't really say where we are or the other teams are, but I believe we have to start a little bit easier and not with too many expectations. We will get an upgrade for Melbourne, but an even bigger upgrade, aerodynamics-wise, for Barcelona. And that is why my hopes are for Barcelona. I think, starting from the European races onwards, we should see an improvement in our performances.
Could we then see Force India fighting for points regularly after the Barcelona Grand Prix?
I don't way to say so much about the points, or scoring, because we don't know enough about the car right now. But our goal, as far as the points are concerned, would be too early in Barcelona. It will take some time and we should take it step by step. We should try to gain positions in qualifying, so I would be quite happy to be in the top-15 by the Barcelona Grand Prix and then move on. How quickly it [the new car] does, I don't know, but let's wait and see.
You completed successful testing with the new Force India car earlier this month. How confident are you with it?
We did the best possible job in the winter to close the deal with McLaren. We are getting fantastic engines, gearbox without any problems. So we are now really concentrating on building our car as best as possible and put all our manpower into aerodynamics development, which is one of the most important things in Formula One. It should give us much more performance and much more confidence during the year. The atmosphere is great in the team and everybody has a real goal now.
How different does the McLaren engine feel compared to the previous one?
Well, the engine is very similar to the Ferrari ones that we had last year; it was very a good engine too. McLaren [engine] is a little bit different to drive, but very, very powerful. It is hard to compare because we lost a little bit of RPMs [revolutions per minute]. Last year the limit was 19000 RPM, this year it is 18000, so everybody has lost in general a little bit of engine power. But my first impression straightaway was very good and I can say that we are well settled at this point of time.
As you mentioned earlier, and Dr Vijay Mallya also specified, last year's car was not upto the mark and a real tough one to drive. What were the problems you faced last year?
Well, last year's car had lots of problems. It just had no grip and the car was very heavy. We found it very difficult on the slow corners and also in the high speed corners. The car was always moving around and unstable on the braking. If you turned, the car was oversteering a lot. It was very, very difficult to get one lap together in qualifying because it was hard to do a perfect lap.
I am really pleased with the new car and it feels much better. It already gives more grip than the one last year.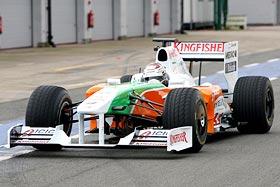 You were in tears in Monaco last year when you looked set for a finish in the top five till Kimi Raikkonen crashed into you. How big a setback was that?
I remember that day; it was a fantastic day! It is still unbelievable what we did there -- running fourth with the older car as compared to the other big factory teams. We were doing faster lap-times and really competing with the best cars in the field. We were proud but it had an unlucky ending.
Everybody was crying, even me. That is how sport can be; it can be really bad and disappointing. Our passion is in it and that is why there were a lot of emotions. It was a great day in the end because the news went around the world and Force India's name became well-known around the world in a matter of few hours.
So did you ever speak to Raikkonen after that?
Yes, he acted like a real champion. He came up to me and said he was really sorry for it. Even I knew that it was purely a racing incident. You could see it on television afterwards that it was not his fault; he lost control of his car and such things do happen.
Giancarlo Fisichella has been in the sport for nearly 12 years now. How helpful is it having someone so experienced as your team-mate?
Yes, it is very helpful to have an experienced driver like Giancarlo in your team. He helped me quite a lot last year. I was picking up a lot just watching the data and listening to him. I am still a young driver and this is just my third season. I got my experience, but there is always more to learn and you have to pick it up again every year. This year is a new year and I think we are altogether a good team. I like work with Giancarlo; he is an easy guy and he is open to everything. I hope he can help me a lot again this year too.
Team owner Vijay Mallya has assumed more responsibility for this season by taking over as the team principal. He has made it clear that this season he is looking for a much-improved showing. Does that put too much pressure on you?
Vijay is a good team chief. He doesn't put pressure on the driver because it is the wrong thing to do. You have got to stabilise the driver and have a good relationship with him. The drivers... they work simple. If they feel good in a team they are going to perform well and it is about the atmosphere. The atmosphere right now is very good and if you feel happy you can give your best.
Force India has a huge fan base, if you take all the fans from India alone. How good does it feel that so many people are praying for your success?
It is a good feeling, absolutely, to know that around a billion people are behind such a new team that is just starting out. They have so many fans and it is an incredible feeling. Force India has the biggest fan base in Formula One and that really helps.
You come from a family of musicians. So racing for an Indian team for a year now... and now coming to Mumbai for a couple of days, did you get to catch up on Hindi movies and music?
I checked out a little bit of Hindi music. When I am here I just need to switch on my television and I get a lot of channels with Hindi music and movies. It is kind of interesting.
In Germany also we have Bollywood movies on TV sometimes. So I try and watch it sometimes for 10 minutes or 15 minutes or maybe an hour whenever I get the chance, but atleast I watch it.
Can you say any Hindi word that you picked from these movies?
I can say Namaste [a greeting in Hindi]. It is a difficult language and far away from my Latino language but I will pick it up for sure. With me driving for an Indian team I am sure I can pick up more than one word. If I spend more time in India by coming here regularly I will definitely learn.