The term 'fighting spirit' has acquired a new meaning in today's sporting world.
It is no more fights on the field now, but rather off it as the sporting world tries to come to terms on how to deal with terrorists.
The attack by gunmen on the Sri Lankan cricket team in Lahore a few days back proves that even sportspersons now come on the radars of terrorists. It has happened before in the 1972 Munich Olympics when 11 Israeli athletes and coaches were taken hostage and later killed, but now the threats and impact as seen in Lahore seem bigger than ever.
The escalation of terrorist activities in neighbouring Pakistan coupled with a spate of bomb blasts last year has put a big question on the future of major sports events in India.
Rajyavardhan Singh Rathore, who doubles up as lieutenant colonel with the Indian Army and Olympic silver medal-winning shooter, discusses what it would take for the country to fight off the threat of terrorism in sports.
In an exclusive conversation with Chief Correspondent Harish Kotian, he also reveals his future plans and what went wrong for him during the Beijing Olympics.
Being a champion sportsperson yourself and also a Lt Colonel, how do you look at the future of sports in India. Do you think our country is secure enough to host major sports events like the Indian Premier League, the 2010 Commonwealth Games and the 2011 Cricket World Cup?
The country is certainly under threat and there is no doubt about it. But in a situation like this we have two options. One is that we leave the streets and public places to the terrorists and remain in our houses. The second is that we take to the streets and remain in public places, ever alert and vigilant and force the terrorists to leave our country. It is he who should be scared.
I have always believed in action, the army believes in action. The idea is to for every Indian to now become a soldier just like Israel and force the terrorists to feel very, very scared every time they get out of their house or safety zones.
So such a situation is not a reason for us to not hold sports events. That would be giving into the very plans of the terrorists but it is also not very easy to hold such events because we need to change our attitude. Every Indian needs to change their attitude and it is only then this place would become much safer for us and dangerous for the terrorists.
What change in attitude are you referring to exactly?
Typically, it is a guerrilla war wherein the terrorist disguises himself as an ordinary person, mixes with the population and therefore is unidentifiable. In a soldier's viewpoint or a policeman's viewpoint these people are identifiable despite the measures that they take to merge with the population. That's why they say that you must keep your eyes and ears open to suspicions, suspicious people and movements. This is the kind of attitude that I am talking of that we need to believe that this is our country, we need to believe that all of us need to fight it and not just the armed forces or the police or the paramilitary forces.
And when we believe that all of us have to fight it, there are ways and means that all of us can fight. Imagine if we all were ever vigilant, alert and knew what to look for, various movements and we would precisely report those to the police or the armed forces how difficult life would become for the terrorists. It is the absence of these things, our eyes and ears being absolutely shut and impervious to everything happening around us that the terrorists find it so easy to walk into the streets, into markets, into restaurants, into public places leave a packet and walk out.
The recent attacks on the Sri Lankan team in Lahore and the Mumbai attacks last year have put a doubt in many athletes mind on travelling to the sub-continent. Already a few Australian athletes have said they might pull out of the Commonwealth Games. How do we convince those athletes to come to India?
Undoubtedly, they have a reason to believe that because our neighbourhood is extremely volatile. We have the most volatile neighbourhood in the world today and India is one of the targets of certain tanzeems [extremists] who are prospering in our neighbourhood and therefore their doubts are very, very real. It is a difficult task for the Indian government or for the sports organisers in India to try and convince them that we are safe.
But I think in the measures that we take for the next couple of months would prove extremely important in ensuring that not only New Delhi is safe for the Commonwealth Games but the entire country is prepared for any eventuality, be it during the Commonwealth Games, before it or after it. A well thought process has to be defined by the police or the armed forces or the forces looking after the security of not only the Commonwealth Games but the country as such. Then all of us I mean all the Indian citizens have to be a part of it. It is not an easy task, it is a difficult task but a doable one.
We are faced with not even one-tenth of the kind of threat that there is to Israel but that country is defending itself because every citizen is a soldier literally. We don't have to follow that literally in India, but we have to change our attitude towards everything that is happening around us.
Many reports have pointed out that our preparations for the Commonwealth Games are way behind schedule and the added focus on security now won't help matters. Why do organising big sports events always prove to be a difficult task in India?
I am sure the media, the various people have the authority know exactly what is happening. As an Indian I can vaguely put the whole reason to lack of professionalism and self-interest being far ahead of the nation. That is what is delaying all these things.
But the authorities know what is happening and they are saying it is happening on time. If that is the case then it is splendid.
The security for the Games remains a big issue and it has got bigger now.
Typically, today Indian security is just oriented towards frisking and checking ordinary citizens who have nothing to do with terrorism. It is oriented towards embarrassing them or humiliating them or putting them to great discomfort whereas the security should be such that the security men's eyes are prone to picking up suspicious people, picking up people who can be dangerous. You just cannot go on checking each and every individual that would be an impossible task. It would delay a lot of proceedings and delay visitors entering the venues. There would be so many car movements taking place during the Games, so how many cars would you be able to check like that.
It is just not frisking and checking ordinary citizens, that is overall meant by security but there are lots of other things involved and I think that approach needs to change.
Don't you think hosting a successful Commonwealth Games will be a big boost for sports in India?
Yes, hosting the Commonwealth Games will certainly be a big boost for the country.
India will do it and I am very confident. It has always risen to the occasion and accomplished it. Some of the people, who are in charge of the Games or who would be put in charge are great people. Therefore they will, like the [1982] Asian Games make the 2010 Commonwealth Games a reality. But the latter we start, the more difficult it is, so sooner the better.
But do you believe we can do a good job with hosting the Commonwealth Games next year?
I don't have access to the stadiums here and it is not in my domain. Yes I am one of the top athletes of India and therefore I am concerned about the 2010 Commonwealth Games like every Indian citizen is. But unfortunately I would not be able to comment on whether we would be able to do it or not.
But being a patriotic Indian, I would certainly say that even if it is impossible we will still be able to do it.
We did well in the Beijing Olympics last year, claiming a gold medal and two bronze. But somehow don't you think that success is being carried forward in terms of preparing our athletes for the Commonwealth Games?
I think it is both yes and no. The government has come forward and put a lot of funds for training. That is a yes.
It is already delayed in terms of execution and it is still not clear as to how the teams and athletes are finally going to get their resources to train. That is the no part of it.
But if you compare it to earlier times, there is certainly improvement in terms of resources available and many times more than what it used to be.
The efficiency of using the resources and how it is going to reach the sportsperson I think that is a concern.
From the performance part of view, be rest assured that Indian athletes will certainly do well, especially the shooters. I am sure we will dominate the shooting event at the Commonwealth Games and I also expect the other athletes to do well. It is always good to play in your own country and I can assure you it will be a good performance.
Personally, what have you been up to after the Beijing Olympics, where you had a disappointing showing?
Personally, I had to take a long break from training. For the last nine years I have been competing continuously. From 2002 to 2006 I have been winning a lot of competitions and that has been a long period. I need to get over the burnout and get re-motivated and enter the sports event back again with rejuvenated motivation.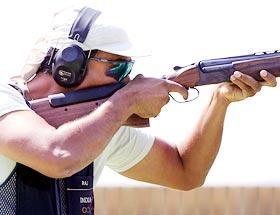 On a personal front it is like gradually testing the waters again hoping to get back in form. I haven't really started training big time. But the other shooters have and I have been meeting them on a regular basis and I am confident that our shooters will dominate the 2010 Commonwealth Games.
Is it true that you contemplated quitting the sport after your failure in Beijing?
I didn't really go on to announce that I am quitting because if I did it would have been a clear cut decision that I am quitting. There were no such announcements by me.
Whatever I said was very clear that I am very tired after many years of training. I worked very hard for the 2008 Olympics unfortunately it was not a success. There are ups and downs and I think that is a part of every sportsperson's life. Therefore I needed to take time off. I realised in the time after the Games that I need to sharpen my focus and set my goals again and that is why I need a big break. I was clear that this break was for rest and recuperation and hopefully to return with a rejuvenated motivation.
Did the burden of expectation put too much pressure on you in Beijing?
I don't think so because immediately after 2004 people expected me to do well in every event which I did. From 2005, if you check the records, I won the Asian Championship, the Commonwealth Championships, in 2006 I won the Commonwealth Games Gold for the second time in a row. Then I went to win the Asian Championships for the fourth time in a row followed by win at the World Cup in Cairo. There was pressure even then too so I don't think pressure really affects me or affected me.
But I think in my entire conduct from 2004-08 I made sure that in all my talks with the media and interviews that I bring out the point that potential lies in every Indian and they have the ability to win. I had been focussing on things that I felt was important to win like charting out a clear plan on how to use my resources and various things. I think the people saw a hope in me that if one Indian can do it so can others too. In that way I am still a happy man that from one [gold] we have gone to three medals and I am sure there is a credit in there for me as well.
You won silver in Athens which in many ways paved the way for Abhinav Bindra's gold medal in Beijing. Can we go a few steps higher and aim for a few more medals in shooting in the 2012 Games?
I am extremely satisfied. In fact I am very proud to see the change the sport of shooting has undergone in the last nine years. How the shooters have evolved, their attitude has evolved, how their training regimen has changed and how people have started backing their children to take up shooting. I am extremely proud of being a part of the resurgence of the sport.
I am also very proud to say very clearly that in the next two Olympics our shooters will dominate in the number of events and the number of medals we win. By then I hope the other sports will catch up and we should be good in every sport.
Would you be taking part in the Commonwealth Games in 2010?
Despite all the concerns we all Indians have towards the Commonwealth Games which I and all other sportsperson share as well. We are certainly eagerly looking forward to a very successful Commonwealth Games. I am excited at the thought of walking into the stadium. As a sportsman I don't think there is any other better way of witnessing the sport than being a part of it yourself.
And the 2012 London Olympics?
A sportsman is always a sportsman. Even if you ask some of the senior sportspersons like Milkha Singh or P T Usha, somewhere they also want to step into the stadium again and that is true for me as well. So when I think of the London Games, I think of the podium and being there. But it is just a passing thought right now and that's what it is now. It has to be a burning desire and I am waiting for it to happen.
Photographs: Reuters