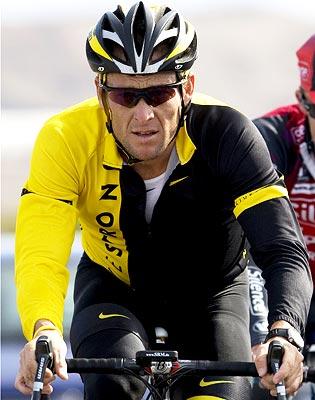 If he ever makes it to the United States Senate, seven-time Tour de France winner Lance Armstrong will likely suggest one solution to America's energy crisis: 'Cycle to work'.
Will he run for public office when he is done cycling for trophies? The ace isn't telling, in so many words. But when Tina Brown's The Daily Beast caught up with him as he prepared for his eighth Tour and asked what next, Armstrong said there is much you can  do: 'You can lead the state of Texas. You can be mayor of a city. You can run for the Senate.'
Not in the near future, though -- Armstrong told the online magazine that his training is on song, and that he is feeling 'strong and healthy'. If this keeps up, the cycling ace said, he wouldn't want to limit his comeback to just this one year.
And then -- here's the real scary thought -- the cancer survivor says he would like to try his hand at another endurance sport: the triathlon or, as he calls it, 'get wet at the beginning, and then a blow dry in the middle and then run'.
Armstrong lists these ambitions at the end of a year that would have put most in a hospital bed for terminal exhaustion. In 2008, his foundation raised US $37 million for cancer research, and its advocacy touched 332,000 people living in 200 countries. In politics, he helped conceive and pass a first-of-its-kind proposition in Texas that created a $3 billion cancer research fund, and testified on the disease before Congress. He got back on the bike for the Leadville 100 mountain bike race and, despite insufficient preparation, placed second. He decided to come back to the Tour, and took on a gruelling training schedule.
And that's just the things he will talk about.
Coming back to cycling plugs into his cancer advocacy, he says. 'Obviously me racing around the world touching different continents and being in different environments and talking about this issue in all walks of life in different societies, it helps the initiative. So that's the reason I went to Johan [Bruyneel -- Armstrong's general manager and director during his seven tour wins and coach today of the Kazakhstan Astana team] and said, I'd love to come back.'
On his comeback, he will race as part of the strongest cycling team in the world. 'We have five riders that have been top five in the tour [Armstrong, Contador, Andreas Kloden, Levi Leipheimer, Haimar Zubeldia],' he told The Beast. 'Theoretically any of them could be very close. And I think more realistically than theoretically, you could perhaps put three guys on the podium if you did it right.'