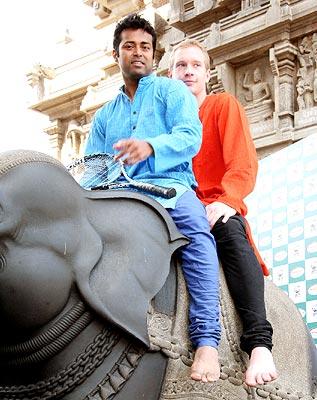 It was a lazy Sunday afternoon in Chennai with the sun basking to glory. On the eve of Chennai Open 2009, Leander Paes and his partner Lukas Dlouhy had just finished their practice session and they decided to provide us with an ethnic touch.
When Paes was luring his partner Lukas come to India and talking about the expanse of the country and its culture, he reminded him that India was once known as the land of elephants.
So on Sunday, after a good warm-up session, the Indian ace took his partner to the nearby premises, both dressed in a traditional kurta-pyjama and sat on top of an elephant (sculpted one though) to get a panoramic view of the SDAT tennis stadium in Nungambakkam.
They also lobbed a few tennis balls with a racket making it a perfect Indian tadka on a Sunday afternoon.