Diego Maradona said on Tuesday he is on the brink of being named Argentina coach.
Carlos Bilardo, who was in charge of the 1986 World Cup-winning team captained by Maradona, is expected to be part of the two-time world champions' new coaching staff.
"It's a bit early for congratulations but it's an idea which seduces me," Maradona told the Fox Sports cable television channel after meeting with Bilardo and Argentina Football Association (AFA) president Julio Grondona.
"We will continue talking tomorrow," he said in a telephone interview.
Several television stations and newspaper websites had announced the deal as finalised before Maradona said talks are still continuing.
Later, the AFA said on its web site the new coach would be officially announced on November 4.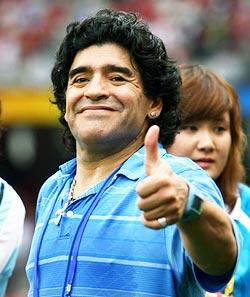 "Next Tuesday, after the meeting of this association's executive committee, the naming of the new technical staff of the national team will be made official," said a statement.
The appointment of the explosive Maradona, one of the game's greatest players and also one of its most volatile, would appear to be a huge gamble by the AFA.
Maradona, who since retirement has been treated for drug addiction, obesity and alcohol-induced liver disease, has had only two brief stints as a coach in the 1990s with Deportivo Mandiyu and Racing Club. Both spells were undistinguished.
"The idea is to start working immediately after the official announcement with the players who are in Argentina and then take the first plane to talk to the ones in Europe," he said.
"He [Grondona] has decided for this project," Maradona told Radio La Red after the meeting. "It appears that Julio never had any other coach in mind."
OTHER CANDIDATES
The other candidates for the job are Sergio Batista, coach of the gold medal-winning Argentina team at this year's Beijing Olympics, Carlos Bianchi and Miguel Angel Russo.
Maradona, who appears to have been chosen mainly for his motivational powers and the admiration he commands from the players and public, would replace Alfio Basile.
Basile quit the day after a 1-0 World Cup qualifying defeat in Chile earlier this month.
Other members of the 1986 World Cup team, in which Maradona was at his peak, could be invited to join the technical staff.
Maradona also took part in the 1982, 1990 and 1994 World Cups and was kicked out of the latter after failing a dope test.
In 1986, he scored his infamous "Hand of God" goal against England and soon afterwards in the same game produced one of the best goals in the tournament's history with a run from the halfway line in which he eluded the entire opposing defence.
Maradona would inherit a team boasting some of the world's most talented players, including Lionel Messi and Sergio Aguero, but which has looked strangely short of confidence in recent matches.
Argentina had a run of six consecutive draws and then beat Uruguay before losing to Chile, the first defeat by their neighbours in 35 years.
They are third in the 10-team South American World Cup qualifying group with 16 points from 10 games and eight to play.
Argentina visit Scotland for a friendly next month while their next qualifier is at home to Venezuela in March.