Diego Maradona took over as Argentina coach on Tuesday and brushed aside the possibility of failure in the role.
"I'm not afraid of losing my crown," Maradona, one of football's all-time greatest but most troubled players, told reporters after being officially presented by the Argentina Football Association (AFA).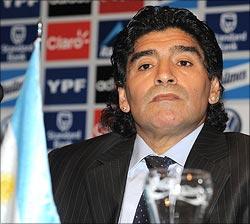 "We've had a mini-crisis and I would be a coward if I did not take this on.
"It would be worse if I continued leading the life I had before," said the 1986 World Cup-winning captain who scored the notorious "Hand of God" goal in the process and later suffered three doping bans in his brilliant but tormented career.
Maradona, who will take charge for the first time in the friendly away to Scotland on November 19, replaces Alfio Basile with Argentina stuck in a rut of mediocrity, having won only one of their previous eight games.
Basile quit after last month's embarrassing World Cup qualifying defeat to Chile.
Maradona was chosen despite having only two brief stints as a coach with provincial club Deportivo Mandiyu and top-flight side Racing Club, both during the mid-1990s, when his 23 games on the touchline produced just three wins.
The appointment is a remarkable personal achievement for Maradona who since retiring has fought against drug addiction, alcohol problems and obesity and four years ago spent 10 days in the intensive care unit of a Buenos Aires hospital.
"It is an honour for me," said Maradona, who despite his troubles, still enjoys near iconic status in his country.
"I'm taking over at the best moment of my life. When I walked through the door today I felt the same buzz I felt as a player."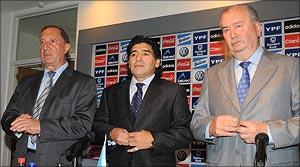 "This is a dream come true but the dream must continue with work.
"I'm looking for absolute loyalty from my players, they must be made of steel," added the 48-year-old former Argentinos Juniors, Boca Juniors, Barcelona, Napoli, Sevilla and Newell's Old Boys playmaker.
ENJOY THEMSELVES
"They must keep the ball and enjoy themselves on the pitch," Maradona added, saying he wanted Liverpool midfielder Javier Mascherano to captain his team.
"Mascherano is the Argentine player who is closest to what I think the captain should be, the way he uses his head, his sacrifice, his professionalism. He's has all the attributes to be captain of Argentina."
Maradona shrugged off opinion polls which said that around 70 percent of the public disapproved of the appointment.
"They will have to be my fans now otherwise they will have to stop being Argentines," he said. "I think the footballing public wanted me and than makes me happy."
"I hope they will give me time and give me a chance."
Maradona, who scored his first international goal against Scotland in 1979, finished by naming the 20 foreign-based players who make up his first squad.
"There are no friendlies as far as Argentina are concerned," he said after the selection contained no surprises.