Rafael Nadal sent another message that he has the world number one ranking in his sight as he began his campaign to win his sixth successive title by equalling his most emphatic victory on the ATP Tour.
A superb performance of heavy serving and varied follow-ups from the baseline by the Wimbledon and French Open champion overwhelmed Florent Serra 6-0, 6-1 and carried the Spaniard to the third round of the Cincinnati Masters Series.
Nadal has managed that scoreline only twice before -- once this year and once in 2005.
French world number 84 Serra, who posted wins over top 10 players Nikolay Davydenko and James Blake last year, was forced to come up with a series of forceful drives to hold on to a service game at the fifth attempt and avoid a whitewash.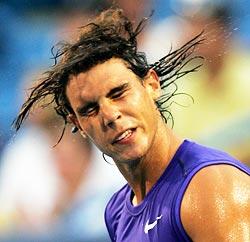 That game only very briefly halted the torrent which was pouring at the unfortunate Frenchman from a player in the finest form of his career, and it was all over in a mere 46 minutes.
The crowd rose to Nadal's stunning, if all-too-brief effort. "I just say thank you very much for supporting me," he told them.
"The last few years I didn't play my best here, so I hope this year to play a little bit better."
He was asked again the question he has always avoided answering -- did he have the number one ranking in mind?
"Right now I am only thinking about Cincinnati," Nadal said firmly. "It's a very important tournament. It's a Masters Series.
"The number one position is still very difficult [to achieve] so I will just try my best and try to play like I did in the last four months."
However his performance made it clear that Nadal is now more than good enough to win in these fast hard court conditions, which he will need to do to become world number one for the first time this week, and which may increase the pressure on Roger Federer.
The world number one from Switzerland struggled to survive his opening encounter on Tuesday against Robbie Ginepri, with the American at one stage serving to complete a straight sets win.
Federer next faces Ivo Karlovic, the Croatian who has served more aces and won more service games than anyone on the ATP Tour this year. Nadal plays Tommy Haas, the former world number two from Germany.
Two well-known names went out. David Ferrer, the fifth seed from Spain, and Richard Gasquet, the eleventh seed from France, were beaten by Nicolas Lapentti, the 31-year-old former top 10 Ecuadorian and Dmitry Tursunov, the hard-hitting Russian.