In winning his first ATP Challenger, Somdev Devvarman has made a smooth transition from college tennis to the professional tour. The double NCAA champion is now eyeing bigger things, one of which is the US Open.
"If given the opportunity I would love to compete at the US Open," Somdev told rediff.com. "Either wild card or getting to the qualies [qualifiers]."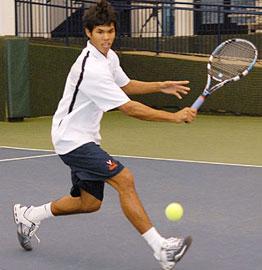 As only the third player to defend his NCAA US Collegiate title since 1977 [when the current 64-player tournament format was adopted], Somdev has a legitimate claim for the wild card; his results after graduating from the University of Virginia have only enhanced it.
The 23-year-old Indian, who made his Davis Cup debut against Uzbekistan in February, is unbeaten on the tour so far. He followed up his three Futures title victories by claiming the US $50,000 Lexington Challenger on Sunday. He beat third seed Robert Kendrick 6-3, 6-3 in the final to extend his winning streak to 15.
"Honestly, I didn't have any expectations," he said. "I was just confident and was playing well and didn't think too much about how well I was going to do. This is definitely a good start though. Beating the No 2 and No 3 seeds was a good confidence booster."
Somdev, who has risen 221 places to 345 in the charts, will try and get his ATP ranking up to the qualifying mark before the year's last Grand Slam.
"Right now I am scheduled to play two more Challenger events in the next two weeks, but that may change depending on how I am feeling physically.
"Hopefully I'll get an opportunity to play in some ATP qualifying events soon."
Somdev is slated to play at the US $100,000 Challenger event in Vancouver, Canada, where he takes on Cecil Mamiit of the Philippines in the first round, this week, and the Binghamton Challenger in New York next.