Rafael Nadal continued his drive towards Roger Federer's number one ranking with a 6-3, 6-2 win over Nicolas Kiefer in the Toronto Masters final on Sunday.
Nadal, playing his first event since an epic five-set victory over Federer in the Wimbledon final on July 6, claimed his seventh title in 2008 by winning his fifth final in a row since mid-May.
The 22-year-old Spaniard, making a smooth transition from grass to hardcourt, extended his winning steak to 29 matches.
"I win on every surface," Nadal told reporters. "I win on grass, on hard, on indoor, and on clay too. So if I am playing my best tennis I can win on every surface."
He overwhelmed his German opponent in 90 minutes, becoming the third youngest player behind Bjorn Borg and Jimmy Connors to accumulate 30 titles.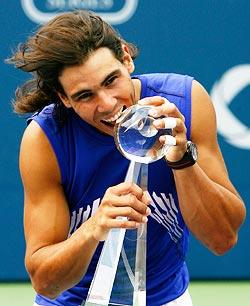 Nadal, who had won his four previous finals at Hamburg, Roland Garros, Queen's Club and Wimbledon, has not lost since a second round exit against compatriot Juan Carlos Ferrero at the Masters Series in Rome on May 7.
"Sure, for me the grass and hard is a little more difficult but I know if I am playing my best tennis I can play good here, too," he said.
"I am always trying to improve my tennis on every surface."
The 31-year-old Kiefer, who won his last tournament in 2000 before Nadal had joined the Tour, would not be intimidated by the muscular Spaniard but was quickly put under pressure.
TOP PLAYER
Nadal capitalised on his first break chance to surge ahead 3-2 then took the opening set with another break when Kiefer double-faulted.
It was not until the fifth game of the second set that the unseeded German got his first break opportunity but could not convert any of three chances, Nadal holding serve.
The muscular Spaniard immediately broke Kiefer to go up 4-2 and swept the last two games to take his second Canadian hardcourt title.
"Every tournament is very difficult. I won here in Canada in 2005, so to win the title here is very, very important for me, especially this year," he said.
While Nadal has downplayed his unofficial status as the world's top player he now heads to the Masters Series stop in Cincinnati with Federer's number one ranking within his grasp.
"Every player wants to be number one," said Nadal. "I would love to be number one but I am number two right now. I'm very happy to be number two.
"I have to be happy, very happy anyway if I am number one or number two because if I am number two it's because in front of me there is an amazing player like Roger."
Nadal had arrived in Toronto 770 points behind Federer but trimmed the lead to 300 with his victory and will have a chance to topple the Swiss master from the top spot he has held since February 2, 2004.
Federer was upset by unseeded Frenchman Gilles Simon in his opening match at Toronto in the second round on Wednesday.