Indian football icon Baichung Bhutia is all set for a memorable experience of playing under the captaincy of either Michael Ballack or Clarance Seedorf in the 'Goal 4 Africa' charity match in Munich on Saturday night (2330 hrs IST).
Bhutia will rub shoulders with a host of international stars at the Allianz Arena, the Bayern Munich ground, in the unique event aimed at raising 90 million Euros for the African children.
"Ballack and Seedorf (Goal 4 Africa ambassador) will be the two captains, but I won't be able to tell Baichung will play under whom," Marion Beishuizen, a top official of the event organisers, told PTI from Munich.
Chelsea striker Didier Drogba, Liverpool's England midfielder Steven Gerrard, Barcelona's Samuel Eto'o and Italian World Cup winner Gennaro Gattuso will play in the match inspired by Nobel laureate Nelson Mandela's dream of "Education for all -- all for education".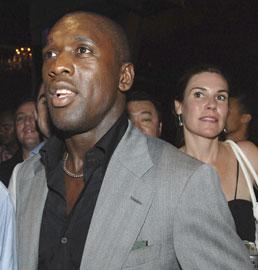 'Goal 4 Africa Foundation' had also listed Kaka, Ronaldo, Gianluigi Buffon, Ruud van Nistelrooy, Emanuel Adebayor, Robin van Persie, Paolo Maldini, Andrei Shevchenko and Michael Essien among the international stars to play the match, but Beishuizen said the final line-up will be known an  hour before the match, which starts 8 pm local time.
"The confirmation of who would play or who would not will be known one hour before the match because most of the players are now flying in to Munich.
"But Kaka has withdrawn from the match due to personal reasons," Beishuizen said.
The 'Goal 4 Africa' global foundation works on the motto: donate an amount every time a goal is scored, be it in an amateur competition in your neighbourhood or at the international level.
Photograph: Clarence Seedorf at the 'Goal4Africa' VIP party on July 11, 2008/Guenter Vahlkampf/Getty Images