The Williams sisters may be best friends and each other's biggest fans but when they meet for a third time in a Wimbledon final on Saturday, champion Venus said it would be every woman for herself.
Venus strongly denied on Thursday any notion that she and Serena, who have faced each 15 times competitively, decide in advance who should win.
When asked after her 6-1, 7-6 semi-final victory over Russian Elena Dementieva if there is any family discussion about the outcome of a match between the sisters, the American said: "I find the question pretty offensive because I'm extremely professional in everything that I do on and off the court.
"I contribute my best in my sport, and I also have a ton of respect for myself and my family. So any mention of that is extremely disrespectful for who I am, what I stand for, and my family."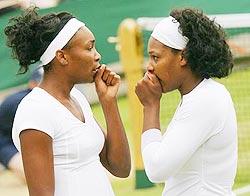 Only younger sister Serena stands between Venus and a fifth Rosewater Dish, while Serena will be keen to maintain her 100 percent record of beating Venus at All England Club finals.
"Our main focus obviously for both of us was getting to the final," Venus told a news conference.
"Then from there, it's every Williams for themselves."
The pair play a doubles match on the eve of the final and Venus said they would go home together afterwards and go about their match preparations as if they were facing any other opponent -- except they will not trade tactical advice.
"I'll give her advice for this match [the semi-final], but she's not gonna say, okay, now make sure you play my forehand because, you know, my wrist has been hurting," she joked.
"We both prepare in different ways. I usually read a book, she usually watches a video."
Venus said the key to retaining her crown would be to return well.
"Obviously I rely on my serve a lot. When I get it going it helps me out a ton," she said.
"I think being able to go out there and return really well will be key for me. I'll definitely use my speed. As always, to win a title, you've got to play aggressive and not just hope that your opponent misses."
She said she is not thinking about getting revenge for the fact that Serena had beaten her in both Wimbledon finals so far, saying she has nothing but respect for her.
"I respect her as a player more than anyone else on the tour." she said. "I think that's really the only factor that goes into it."