Reader Praveen Raj sent us this picture from Las Vegas.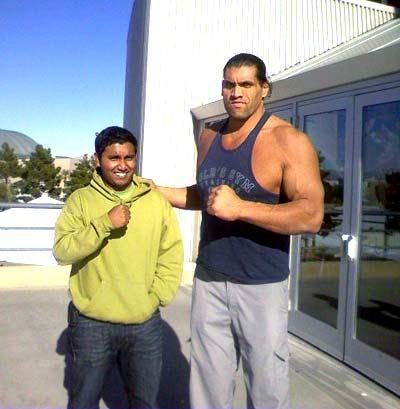 'Hi, I am Praveen Raj. I met the Great Khali at Thomas and Mack Center in Las Vegas before a WWE match. He was warming up... when I asked him for a picture, he told me to come up to him and watch him train. I spent about two-and-a-half hours with him. He asked me more than I did. He is definitely an awesome guy and so down-to-earth. He also gave me his cell number!!!,' writes Praveen.
Thank you, Praveen, for sharing this picture!
If you encounter your favourite cricket/sports personalities, send us the photograph or video on sportsdesk@rediff.co.in We will feature the best images right here on Rediff Sports or Rediff Cricket.
- Please check more Reader photographs
Now you can keep track of the celebrity pictures through our RSS feeds