Three points and one missed penalty were all that separated Chelsea from winning the English Premier League and Champions League double last season, two targets firmly in the sights of new coach Luiz Felipe Scolari for 2008-09.
If Chelsea had won one more Premier League match last season, they would have finished ahead of Manchester United and won the English title for the third time in four seasons.
If John Terry had converted his penalty in the shootout after the Champions League final against Manchester United ended in a 1-1 draw in Moscow, then Chelsea, not United, would now be the champions of Europe.
Those twin failures -- plus the galling defeat by London rivals Tottenham Hotspur in the League Cup final -- cost Israeli coach Avram Grant his job at the end of the season.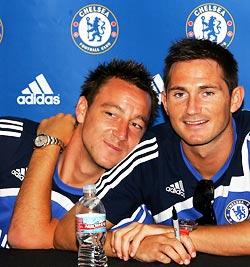 Billionaire Russian owner Roman Abramovich replaced him with "Big Phil", the former coach of Portugal who led Brazil to victory in the 2002 World Cup final and now faces the challenge of bringing the Premier League title, and even possibly the European Cup, to Stamford Bridge.
Scolari, of course, is Chelsea's third coach in less than a year because Grant lasted only eight months after replacing Jose Mourinho last September.
Mourinho led Chelsea to successive titles in 2005 and 2006 before falling out of favour at the Bridge but Scolari believes he can make Chelsea far more attractive, and popular, than they were under Mourinho.
MORE MODEST
"Do not compare me to Jose Mourinho, I am not him," he told reporters recently.
"Mourinho says he will win 10 championships but I am more modest than that," he added.
"But I do want to make Chelsea loved around the world, like Barcelona and Manchester United. It's a surprise for me that people say Chelsea are unpopular because when we went to China they loved us."
He also says he has a strong side capable of winning not just the main prizes, the Champions League and Premier League, but the FA Cup and League Cup too. "There is no reason, if all goes well, that we cannot win every competition we enter," he said.
The squad has been boosted by the arrival of Portuguese midfielder Deco from Barcelona and Jose Boswinga, another Portuguese international, from Porto.
They have also managed to retain the services of inspirational midfielder Frank Lampard and have made an official approach for 24-year-old Brazilian winger Robinho from Real Madrid.
With striker Didier Drogba also likely to remain at Stamford Bridge and the nucleus of the side staying from last season, Chelsea will push United all the way again. With Scolari at the helm, they might even beat United to the honours.
Photographs: Getty Images