Commentators in the US have already billed him as the 'real deal', and Somdev Devvarman, in his short stint on the professional circuit, has done nothing to harm that belief.
At the moment, it seems the kid can do nothing wrong.
- Somdev makes smooth transition
After jumping another 25 places, he is ranked 320 in the latest ATP list. That makes him the second highest-ranked Indian behind Prakash Amritraj. Considering that he is on the tour proper for just over two months, and started the year ranked out of 1000, the progress is certainly heartening.
Former Davis Cupper and National grass-court champion Vishal Uppal is excited by what Somdev brings to the Indian tennis mix and believes he can be the first player since Leander Paes to break into the top-100.
"I have been saying for the past three years that he is our best bet for a top-100 player," Uppal, who follows Somdev's progress closely, told rediff.com.
A lot of talented players have come since Paes, but the story of Indian tennis has been one of unfulfilled promises. The 32-year-old Uppal, part of that generation, thinks Somdev can change that trend.
"I think his success is showing that he is turning the tide of that trend, but he needs to keep going ahead to achieve greater heights. He is very mature and has a very good head on his shoulders.
"He has had an excellent start to his professional career. He needs to keep working hard on his game and fitness to sustain his level and take it up by a couple of notches. He has a lot hunger to succeed on the professional tour after his remarkable career in NCAA College Tennis."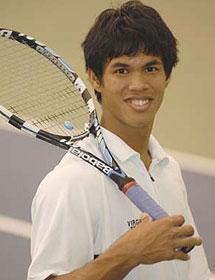 Somdev created history this May when he became the first Indian to win back-to-back title at the US Collegiate NCAA championship. He was also only the third player to defend his title since 1977, when the current 64-player tournament format was adopted.
- I am playing better tennis now: Somdev
The 23-year-old has stringed together an amazing run since turning professional. He won three Futures events and a Challenger title and had an unbeaten streak of 22 on the tour before losing in straight sets to Japan's Go Soeda in the quarter-finals of the US $100,000 Vancouver Challenger this week.
"Pro tennis and college tennis are very different ball games," explains Uppal, who now runs a sports management firm called 'Sports Boulevard'.
"In college tennis there is a whole team that is supporting you and you can get coaching on court, but on the pro tour you can't get any coaching on court. You also really have to keep yourself motivated. A lot of college players fail to make that transition, but, I think, Somdev has the hunger and the desire to succeed at the pro level.
"Also the pro tour is a much higher brand of tennis and more challenging than the college circuit."
While most tennis players in India are groomed for grass, Somdev's strong training regimen at the University of Virginia has prepared him for the physically demanding hard and clay courts. The core of his game is fitness and he is a great counter-puncher.
'I seem to be running all the time. Or if not that then training in the gym. My trainer seems to love casuing pain,' Somdev was quoted saying recently.
"I think he is a very strong boy and has a very solid baseline game," adds Uppal.
"Most importantly, I think he can physically compete with a lot of the top 100 players as his results have already shown. The one area of his game that he needs to get better at is his offence. He definitely is the fittest and strongest Indian player and, perhaps, one of the fittest, if not the fittest, athlete in any sport in India."
Somdev's liking for clay will be particularly crucial for India, when the team takes on Romania on the red mud in Bucharest in the Davis Cup World Group Play-offs in September.
"I think he is our trump card going into the tie against Romania.
"We now have a player who can play and compete hard on clay. I think his current form gives us a realistic chance of winning the tie against Romania. Also, the Romanians don't know much about his game and he will go into the tie as surprise package."
In a sport replete with teen prodigies, 23 may seem too late to start, but Uppal believes Somdev's arrival signals a new dawn for Indian tennis.
"I think he has come on to the pro stage at the perfect time. He is physically and mentally strong and ready for the rigours of the pro tour. He is also blooming at a time when the Leander-Mahesh era is in its sunset and, I think, he is ready to take on the mantle of Indian tennis.
"He is doing what's best for his tennis now. I dont think the hype in India really affects him. He is totally focussed on his tennis and wants to do well for India."