Andy Murray upset Australian Open champion Novak Djokovic 7-6, 7-6 to win his first Masters Series title on Sunday.
Murray could have won earlier but Djokovic survived four championship points when the Briton served leading 5-3 in the second set. He clinched it in the tiebreak on his sixth championship point.
Murray overcame the Serb with a fluent and imaginative display of ground strokes, showing he has the ability to climb up among the world's top three, producing his second victory over Djokovic in successive weeks.
Defeat prevented Djokovic, already the winner of three of the four North American Masters Series titles in the last 18 months, from completing the quartet.
Djokovic had also ended soon-to-be world number one Rafael Nadal's 32-match winning streak the evening before in their semi-final.
This time, in the heat of the day it was different.
"I played in these conditions all week so maybe I was more used to it," Murray said. "There were lots of long, long rallies which took a toll and we were both tired at the end.
"My Wimbledon win against (Richard) Gasquet gave me a lot of confidence and this will give me even more."
GROWING CONFIDENCE
Djokovic set out to attack Murray as he had Nadal, and to get flat attacks into the rallies to try to break up the Scot's varieties of pace and spin.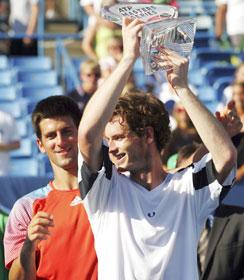 But Murray was containing well and began to grow in confidence as the set went on, getting Djokovic in trouble on his serve at 2-2 and 3-3.
Both times the Serb had to save break points but he began to mistime more often and from the middle of the set Murray was holding serve more easily.
In the tiebreak, Djokovic lost a point against serve immediately when he struck a backhand drive too long.
He pulled a forehand wide to go two mini-breaks down, and lost the set when he tried to break up another sequence of drives from Murray and hammered that flat and long.
Djokovic then suffered the disappointment of making a break early in the second set, only to be unable to consolidate it.
When Murray broke back for 2-2 and again for 5-3 Djokovic looked increasingly uncertain, risking his heavy attacks less often.
But in the crises, at match points down, he went for broke and it worked.
Twice Djokovic saved them with uninhibited flat drives, once a Murray net cord landed long, then Djokovic saved it with an outrageous drop shot which took a net cord and landed on the line.
Though Djokovic got back to 5-5, he faltered again in the tiebreak, this time his serve betraying him, two double faults landing him in deep trouble.
Although he then bravely saved a fifth match point, Murray finished it off at the sixth attempt with a neat serve and backhand drive combination.