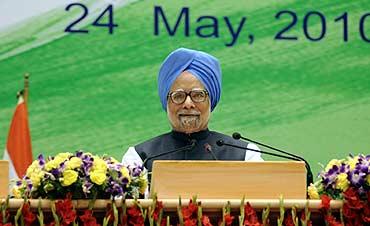 Although Dr Manmohan Singh readily answered questions during his press conference on Monday, he gave the feeling that he is a secretive politician who doesn't reveal the story easily. More than 80 minutes of questioning failed to provoke him. He played a defensive game and didn't convey anything new, writes Sheela Bhatt.
Prime Minister Manmohan Singh, 78, wants to complete his five-year term. He made it clear in no uncertain terms at his press conference in New Delhi on Monday, wherein he told the country and his partymen that he is here to stay.
In reply to a question on his retirement plans, the prime minister said, "I have been given a job to do which is not completed yet. So the question of my retirement doesn't arise."
He appeared quite confident at what was called his 'national' press conference on the first anniversary of the United Progressive Alliance's second stint in power. But beyond this display of confidence about continuing in the highest seat of power there was nothing new, except supporting his Cabinet colleague and Telecom Minister A Raja who is facing serious corruption charges, and on the Left parties' absence in his government. He also continued Sonia Gandhi's line on inclusive growth while focusing on development. He avoided talking about Railway Minister Mamta Banerjee.
In a firm expression against the home ministry's idea of curbing the views of and moral support extended by non-government organisations and intellectuals to the Maoists, Dr Singh supported different views in the country by saying that Indian democracy welcomes such free expressions. He refused to rate his performance or his government but said, "I am not bothered about legacy issues. I have a task to complete."
Dr Singh's government's selling point remains the same: Promise of 10 percent growth in the medium term. The prime minister said in the current year he will deliver 8.5 percent growth. He promised people that he will bring down inflation to 5 to 6 percent by December. 
In a statement that would irritate Trinamool Congress's Banerjee, the prime minister displayed some emotion when saying he missed the ideological support of the Left parties. When asked specifically if he misses the "structured support" of the Left parties, Dr Singh said, "If wishes were horses beggars would ride." He wanted all like-minded parties to join the government on the issue of inclusive growth. 
On serious allegations that there were political deals to secure a majority in Parliament in 2008 and recently during the cut motion, Dr Singh said, "There was no deal (with Mayawati or Mulayam Singh Yadav). Take out any such misunderstanding from your heart (Is baare main ghalatfehmi dil se nikaal de!)." The prime minister's answer was so inadequate or unconvincing that the entire audience burst into laughter.
On expediting the execution of Parliament attack convict Afzal Guru, Dr Singh said clearly that he prefers the slow process under which "the legal process should be allowed to run its own course."
He also said, on expected lines, that there is not an iota of truth that there were differences between him and Congress President Sonia Gandhi.     
He also said, in a routine manner, that if evidence is found he will take action against corruption. But he also accepted that corruption is a problem.
He also said that Congress General Secretary Rahul Gandhi is well qualified to hold a Cabinet post. When asked if he will make way for Rahul Gandhi, he said, "Let me say that I sometimes feel that younger people should take over. As (and) when the Congress party makes that judgement, I will be very happy to make place for anybody from the party."
Although he readily answered questions during his press conference, he gave the feeling that he is a secretive politician who doesn't reveal the story easily. More than 80 minutes of questioning failed to provoke him. He played a defensive game and didn't convey to the people anything new through the televised press conference nor did he indicate if his government would do anything different in the next four years.
He wanted to discuss most contentious issues at the "appropriate forum" and not in the press conference. 
On Pakistan he used the same words he has said many times before. He spoke of a "non-confrontational" approach on all issues, which was quite frustrating for those who wanted to know more about the hows and whys of many issues dogging the nation.
On the issue of Pakistan, he said India cannot achieve its full potential unless it achieves peace with its immediate neighbours. He played safe when questioned about how he will reduce the trust deficit with Pakistan.
His answers most times were not candid enough. However, in spite of his bland answers, once again he came out as a mature, pragmatic and safe-playing prime minister. He scored big when he was specifically asked a provocative question on the states' performance in tackling the Maoists. This gave him a chance to rubbish the CMs' poor performance in tackling the Naxals but he said, "The problem has acquired such magnitude that the central government must help the states." Chief ministers of the six states fighting the Naxals will greatly appreciate Dr Singh's spirit.
Looking at it from the prime minister's point of view, one can say he scored over the media by successfully avoiding giving an insight into the working of his government. On contentious issues like census based on caste, he said the Cabinet is considering the issue and the nation will know when the decision is taken. On corruption in cricket also he said if any wrongdoing is found, the finance ministry will take action.  
Every time a question was raised at Vigyan Bhavan (where the press conference was held), it hit a kind of a wall.
However, the most important development of the day was when he was asked about the corruption charges against Raja. Dr Singh surprised the nation when he didn't distance himself from the controversial minister, but rose to defend Raja. This was a big surprise because his party has not defended the Dravida Munnetra Kazhagam minister in public. Dr Singh's defence of the 2G spectrum scam suggests that the Congress party has adopted a new political line on the issue.
The prime minister had this to say on Raja: "The issue has been discussed in Parliament. A Raja has also expressed his views in public. He has given a long in interview to The Hindu. I also discussed the issue with Raja. And he told me that all he did was implement a policy which was in place."
Dr Singh said Raja took action on basis of recommendations of the Telecom Regulatory Authority of India and the Telecom Commission. This sentence may haunt Dr Singh because at the time of the allotment of 2G spectrum, TRAI had clearly told Raja to let the price be decided by market mechanisms.
The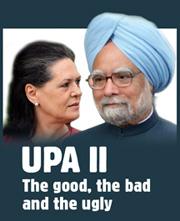 PM, however, conceded that collections for 2G spectrum were too low compared to the 3G spectrum collections.
He said, "It is true that if you compare figures of what was collected through the 3G process and 2G process, there is huge gap. But I want you to look at the whole problem in proper perspective. There was a particular policy that was in place since 2003 before our government came into power."
Dr Singh said if the National Democratic Alliance policy on it was allowed to change then it would have discriminated the new players in the telecommunications market. He added, "Subsequently complaints were received and the chief vigilance commissioner asked the Central Bureau of Investigation to look into it. That process is on. It's not proper for me to express a definite option."
On balance, the prime minister had a good day, which means the media was disappointed.
Image: Dr Singh at the press conference | Photograph courtesy: PIB