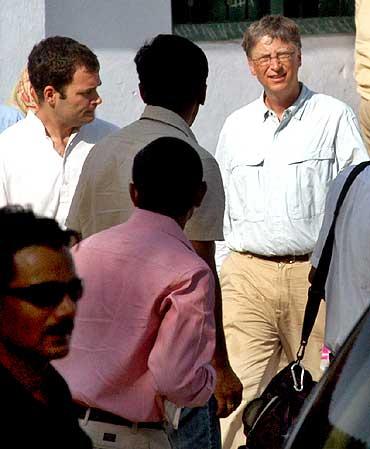 Sharat Pradhan, who has reported on Rajiv Gandhi and Sonia Gandhi's political journeys in Uttar Pradesh, assesses their son's impact in India's most important electoral state. Continuing our Rahul@40 series:
Amethi has been the favourite destination of Rahul Gandhi and there is no count of the number of times he has visited his parliamentary constituency ever since he plunged into politics.

The frequency of his visits to Amethi would amaze anyone. There would hardly be any other MP in the country devoting as much time to his constituency as Rahul. Interestingly, his itinerary for every visit remains almost identical.

Unless he is landing by a commercial flight at Lucknow, the journey usually begins from Fursatganj where his chartered plane brings him to the Indira Gandhi Flying Academy airstrip. What follows is a high-speed trip from one village to another.

Invariably, meetings are arranged with local villagers, particularly women whose self-help groups he has helped to develop all across the vast rural spread of the constituency.

There is no denying that these self-help groups have gone a long way in empowering the women in the area, who dote on "Rahul Bhaiya" in the same manner as they used to dote on his father Rajiv Gandhi. The junior Gandhi upholds his father's legacy in reaching out to his electorate. Much like his father, he shuns the company of local party leaders, who are told to keep off while he is around -- unless he has to address a public meeting.

However, unlike Rajiv, who never said 'no' to the media, Rahul remains media-shy. For hordes of mediapersons who insist on following him, it is a wild goose chase.

There is yet another marked difference in the approaches of father and son. While Rajiv never showcased his constituency, Rahul has made it a point to display whatever he has been doing to international celebrities.

It began with then British foreign secretary David Miliband accompanying Rahul to spend a entire day in a Dalit's home in a tiny hamlet in Amethi.
More recently, he brought Microsoft founder Bill Gates, who went around Amethi, interacting with womens' self-help groups, village heads and people seeking health assistance at specially organised camps.

Gates's visit was preceded by his wife Melinda's trip to Rae Bareli, Rahul's mother Sonia Gandhi's parliamentary constituency which borders Amethi. In the absence of any official communication, everyone, including local Congress leaders, can only speculate about Rahul's purpose behind arranging such visits.
While some wondered whether the exercise was aimed at eliciting international funding for some poverty alleviation programme, it was widely believed that the visits were meant to showcase what the prospective prime minister of the country is capable of doing at the grassroots.

Strangely, Rahul, who turned 40 on Saturday, has not shown any inclination to give any kind of industrial boost to his poverty-ridden constituency, where his father had made a serious attempt to generate employment through growth of small and big industries.

Rahul has also not cared to do anything about entrepreneurs who just vanished into the blue after extracting every benefit out of their association with Rajiv, who happily got them huge chunks of land allotted for putting up their much-hyped projects, which never saw the light of the day.

His promise to revive some of the 'sick' or 'dead' industrial units set up during his father's time is yet to be kept.

Despite the odds and reverses, Rajiv's success story was scripted with BHEL and Indo-Gulf Fertiliser setting up units in the Jagdishpur segment of Amethi. Rajiv is also credited with the laying of irrigation canals that have gone a long way in converting vast stretches of saline soil to make it agriculturally rich.
Rahul was trying to keep his legacy alive while struggling with Mayawati's hostile Bahujan Samaj Party government to ensure maintenance of the good network of roads created by his father, but was also extending these roads to cover new areas.

While focussing exclusively on Amethi, Rahul rarely ventures out into the rest of Uttar Pradesh, where the Congress once ruled for 40 years before being uprooted nearly two decades ago.

When this scribe once asked Rahul why he never cared to look beyond Amethi, pat came the reply, "If I cannot prove my sincerity to my own constituents, how can I establish my credentials in other places?"

He was apparently working out his plans to revive the Congress party in UP where he is already credited for the party bagging as many as 22 seats in the last Lok Sabha election -- when he was still under 40. Can he pull off a bigger upset in the 2012 UP assembly polls remains to be seen.
Image: Rahul Gandhi with the legendary Bill Gates in Amethi. Photograph: Ashok Dutta