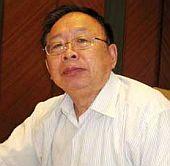 Professor Wang Dehua, director, Centre for South Asia Studies at the Shanghai Academy of Social Sciences, tells Sheela Bhatt why India and China should think of trade, not war.
"War between India and China is just not possible. If it happens, both will be the losers," says Professor Wang Dehua, a visiting scholar from the Shanghai Academy of Social Sciences, China's oldest academy of social sciences.
While sipping on jasmine tea at New Delhi's India International Centre, Professor Wang tried to explain at length why the Chinese people are "interested in making money and not thinking at all of waging war against India."
When questioned about the increased incursions across the Arunachal Pradesh border by the Chinese military, he adds, "It is happening from both sides. The same number of incursions takes place by the Indian Army as well."
"But China considers it its own territory. The Chinese military is patrolling as your military does, and these are not incursions."
"In the period 1950-1955," the professor points out, "many articles were written in China that India is holding onto Chinese land and criticising then prime minister Jawaharlal Nehru as well. The current generation of Indians may not know it, but China has been saying for more than 50 years that the land belongs to China."
"There are three types of borders: Customary Borders, the McMahon Line, and the Line of Actual Control."
When told that India disagrees with the Chinese view, the professor says, "Then we have to put aside the border issue. Let us talk investment and trade."
When pointed out that the Chinese military's incursions into Indian territory creates bad blood between the two countries, Professor Wang forcefully argues that both the countries should settle the border issue. "India should remember what Mao (Zedong; the founder of the People's Republic of China) and later Deng (Xiaoping; the Chinese leader who initiated the economic reforms in his country) said, that there will be no war for the next 50 years."
Reminded of the bitter memories of the 1962 India-China war, Professor Wang adds to the controversy by saying, "Nehru said 'We will drive away the Chinese from Indian territory.' You should not provoke us or offend us."
When asked what, in view of the Indian argument that it cannot yield any Indian territory to China, is the solution to the border problem, Professor Wang, who has seen for himself the original papers and political maps belonging to old Tibet of 1914, says, "We have evidence to show that Tawang belonged to China and all the names of rivers and mountains were in Chinese. If India is not ready to give concessions to solve the border issue, then it cannot be solved for the next 1,000 years."
Professor Wang, who is on a lecture tour of Kerala, Tamil Nadu and New Delhi, puts forward two minimum demands to solve the critical border issue.
"If India gives Tawang to China and recognises Aksai Chin (which is already in Chinese possession after getting it from Pakistan) as Chinese territory, then India will gain 83,000 square km of territory in return for 41,000 sq km!"
Professor Wang says Tawang and Aksai Chin measure around 41,000 sq km, but the gains to India are "enormous."
He says there are 10 significant areas where India and China can have partnerships and joint ventures. "Instead of talking about war, we must increase trade many fold, we should have common goals for space, energy and food security. India and China should protect the supply chain. Like securing the Malacca Straits from pirates on the high seas. Both countries should jointly find ways to use high technology for poverty reduction. And evolve a consensus on environment and terrorism-related issues."
Professor Wang's colleague and a scholar on international relations, Admand Lee, tells rediff.com, "India should learn from China. In 1985-1986 we had a bigger army than now. We have reduced the number of our soldiers. We want money for construction. China will not go to war with any country because we want to progress."
"Chinese foreign policy can be described in one line: China doesn't believe in hegemony," says Professor Wang. "India should let the Chinese invest. I had a talk with Mr Sun, deputy chief of the City Investment Company of Shanghai who has the capacity to handle investments worth $200 billion. He is ready to invest in India, but when he reads Indian newspapers painting China in bad light, he is discouraged."
"China and India have similar problems," says Admand. "We have a divide between the rural and urban, poor and rich, and underdeveloped Western China and fast-growing East China. Our government has set standards to tackle these domestic issues."
"The party has a system to evaluate the local leadership and their contribution in new constructions and providing leadership to the growth of their region," he says. "This has helped in boosting development."
To bridge the gap between the rural and urban areas, he says 'construction' is the motto now for rural areas. Since last year, China's farmers have been given a kind of social security as well. The government has also ensured that more money will flow into East China for years to come.
"Ordinary Chinese doesn't see Indians as the enemy," says Admand. "In the 1960s and 1970s we imagined you to be the singing and dancing types because of Indian films. Then came the information technology era. We thought India is good in software and pharmaceuticals. Many Chinese are Buddhists, for them India is a land of mystery. Buddhism came to China from India so they have a special attraction. The Chinese people may have strong views on Taiwan, but the ordinary people have no negative view of Indians."
"If India and China cooperate and have a partnership," says Professor Wang, "it will be historic, and also good news for the entire world."
Also read: India rejects China's objections on PM's Arunachal visit
An interview with M Taylor Fravel, the leading expert on China's border disputes