Sheela Bhatt reports on the trail of Hemant Karkare's bullet-proof jacket.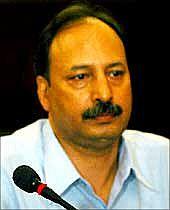 As controversy swirls around the missing bullet-proof jacket worn by Anti-Terrorism Squad chief Hemant Karkare during the 26/11 Mumbai terror attacks, Union Home Minister P Chidambaram on Wednesday night apologised to his widow Kavita Karkare, but the mystery of the missing jacket will endure.
Karkare had been given special protection after he received threats from some Hindu fundamentalist groups for his relentless investigation into the Malegaon bomb blasts case.

When Karkare was hit by the terrorists's bullets near the Cama hospital in south Mumbai that night, he was taken to the emergency ward at the JJ hospital by his security guard. According to the Mumbai police, the guard removed the jacket from Karkare's body so that doctors could treat the senior police officer.
In that mayhem, the police claims, the jacket went missing. On the NDTV television channel, Chidambaram said, 'It was shoddy on part of the Mumbai police to have misplaced it.'
Even the Mumbai police was aware of its mistake much before it came to light. They knew that it was a highly sensitive issue so they made a tremendous effort to locate the jacket.
A police source claims the JJ hospital was searched thoroughly. Even the garbage -- full of syringes, placenta and blood-soaked dirt -- was searched for days.
The police discovered that the JJ hospital's garbage is dumped at the Govandi garbage dumping ground in north-east Mumbai. When the jacket was not found on the hospital premises, the Mumbai police hired four rag pickers and instructed them to search for Karkare's jacket in the garbage dumped at Govandi. But the jacket could not be located.
News about the missing jacket became public after Kavita Karkare, Karkare's widow, filed a Right To Information application about it. She was told by journalists that the jacket was like a frock, which could not have saved her husband from the terrorists's bullets.
According to the post-mortem report, Hemant Karkare was hit by five bullets between the neck and shoulder area. Those parts of his body were not covered by the jacket. Two of the bullets entered from the shoulder area and were ejected from the lower part of the chest.
The bullet-proof jacket would have helped the Karkare family verify the findings of the post-mortem report.