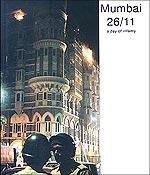 India should not have high expectations from Pakistan in investigating and prosecuting the 26/11 case," says
rediff.com
columnist and renowned expert on terrorism Bahukutumbi Raman.
His new book Mumbai 26/11: A Day of Infamy has been released a couple of weeks before the first anniversary of the Mumbai terror attacks.
When asked if some Indian critics have been expecting unpractical results from Pakistan, Raman said, "In view of domestic problems that Pakistan is facing we should see what is possible and what is not possible for Pakistan in tackling the 26/11 case."
"My reading is that President Asif Ali Zardari and Interior Minister Rehman Malik would want to cooperate more with India, firstly, because they are worried by the growing menace of the Punjabi Taliban, of which the Lashkar-e-Tayiba (blamed for the 26/11 attacks) is a part and, secondly, because they are sensitive to US concerns," he said.
"But Prime Minister Yousuf Raza Gilani, Army Chief General Ashfaq Pervez Kayani and Inter Services Intelligence chief Major General Ahmad Shuja Pasha are not in favour of cooperating with India. They do not view the menace of the Punjabi Taliban with the same seriousness as Zardari. Zardari is politically weak. He would have been eased out by now by Kayani and Gilani, but for the fact that he enjoys the strong backing of the US. In view of this scenario, we should not have high expectations from Pakistan," he added.
Raman says his new book concentrates on "a professional analysis to highlight the new aspects of terrorism and our sins of commission and omission in order to draw lessons for the future. Smart counter-terrorism is the need of the hour. The terrorists are becoming more and more smart. The counter-terrorism agencies should outsmart them. It analyses the importance of smart counter-terrorism."
Raman highlights that happenings in Pakistan have a certain impact on India's security as well.
While explaining the situation in Pakistan and its impact on India's security, Raman said, "The Pakistan army is unlikely to be able to retrieve the lost ground in the Federally Administered Tribal Areas. Its control over Peshawar, the capital of the North West Frontier Province, is weakening. It has been unwilling to devote adequate attention to action against the Punjabi Taliban. The situation in Pakistani Punjab -- particularly in the southern districts of Multan, Bahawalpur and Dera Ghazi Khan -- should be worrying for India. We should start brain-storming now as to the likely additional threats to India if these districts in descend into a Peshawar-like situation. We should involve the US also in this scenario-anticipation exercise."
Raman forcefully argues that "the action against Pakistan is important to deal with terrorism emanating from Pakistani territory, but that alone would not be adequate. Action against Pakistan is only one dimension of what should be our counter-terrorism doctrine. There are many other dimensions including our own political and professional inadequacies."
His book tries to highlight the various kinds of terrorism that India is facing today.
"We face three kinds of terrorism -- the indigenous jihadi terrorism of the Indian Mujahideen and Students Islamic Movement of India kind, the Pakistani jihadi terrorism of the Lashkar and Al Qaeda kind and the indigenous Maoist variety," explains Raman.
The indigenous jihadi and Maoist terrorism are still the old kinds of terrorism who do not use modern innovations in science and technology and tactics much.
Raman has argued that "the Pakistani jihadi terrorism is new terrorism using these innovations and tactics as we saw in Mumbai. The Pakistani terrorism has to be firmly countered by strengthening and modernising our counter-terrorism capabilities. The indigenous jihadi and Maoist terrorism require a different approach with a nuanced mix of the political, economic, social and law and order aspects."
Raman, a retired Indian Police Service officer who served the Research and Analysis Wing, India's external agency for more than three decades, advocates a softer approach for the home-grown variety of rebels.
He told rediff.com, "We cannot treat the Indian Mujahideen and SIMI in the same way as we treat the Lashkar and other Pakistani organisations or we would treat Al Qaeda if it extends its activities to our territory. There is no copy book on terrorism/insurgencies which we can apply uniformly to all terrorist and insurgent groups. Indigenous and foreign groups require different approaches."
When asked about his opinion on the investigations carried out by the Indian police of the 26/11 attacks, he said, "The investigation has been done in a professional and competent manner, but there are gaps in the investigation. The investigation has been thorough from the point of view of prosecution, but not from that of the prevention of future strikes."
"Apart from what Ajmal Kasab (the lone terrorist arrested in the attacks) has told us during his interrogation," Raman added, "we do not appear to have found out anything extra, which could help us in preventing future terrorist strikes. The local angle needed greater attention."
"The US input was very significant in respect of technical intelligence, but we should not undervalue the professional efforts put in by the Mumbai police, which were considerable. This was a case of close Indo-US mutual cooperation in investigating an important terrorist attack."
While commenting on the sensitive issue of local involvement in the Mumbai attacks, Raman said, "I do feel even today that the local angle has not received the attention it deserved. I find it difficult to accept that only two Indians were involved. There has been very strong evidence of their involvement, but the possible involvement of others should be looked into."
When asked why there has not been a major terrorists attack by Islamic groups in the last one year, he said, "The activities of the Indian Mujahideen and SIMI have received a major setback as a result of the vigorous action taken by the police of Jaipur, Bengaluru, Ahmedabad, Delhi and Mumbai and the Intelligence Bureau. They are lying low for the time being trying to re-organise their pan-Indian presence and capabilities. Complacency would be unwise."
Raman has some words of praise for the Manmohan Singh government.
"I agree that the Manmohan Singh government acted vigorously in capacity-building after 26/11," he said. "Home Minister P Chidambaram deserves praise for this. But its approach to Maoist terrorism continues to be confused. He finds it difficult to resist the temptation to play politics when it comes to dealing with Maoist terrorism. One also feels uncomfortable with his rhetoric even in respect of terrorism from Pakistan. If the rhetoric is ultimately not followed up by action, the credibility of the government could be weakened."
It is no surprise that Raman, who breathes and lives with the issues connected to India's neighbours, mainly Pakistan, has written this book.
When Pakistani editor and rediff.com columnist Hamid Mir met Raman, he told him while commenting on his prolific writings on Pakistan, "You know General Pervez Musharraf more than Musharraf knows himself."
The book was released by Lancers Publications last week