Rajaneesh Vilakudy salutes a great poet's memory
At least in Death, Kerala bid Madhavikutty aka Kamala Das aka Kamala Surayya a befitting farewell. Eulogies poured in, fellow-writers paid glowing tributes. Some remained stoically silent -- perhaps the best way they could have paid their tributes.
A peaceful pallor must have spread over her face when she was laid to rest -- with Muslim rites -- under the Gulmohar trees at the historic Palayam Juma Masjid in Thiruvananthapuram, Kerala's capital.
Glowing requiems apart, Her Story -- her life -- was starkly different in puritanical Kerala. The more she loved Kerala, the less was requited. It was in the winter of her life a peripatetic Madhavikutty -- she lived in Mumbai, London Calcutta, Delhi, Colombo, Canada, Paris -- flew back home to nest at her backyard in Kerala. What followed was a roller-coaster life.
No sooner had she begun her Kochi life than she realised that it was not the life she sought. Kochi was no Mumbai, her favourite city where she lived for almost 20 years. Making things worse, her health also started deteriorating.
With a broken heart and an ailing body, Madhavikutty left Kerala for Pune to stay with her younger son Jayasurya. That was in January 2007.
The day before she left Kerala, she told this writer in an interview, "Enough is enough. Kerala has become an inhospitable place. I can't live here anymore. I am getting raunchy mails and obscene calls. Everything is being criticised. Even fellow writers are not on my side. Maybe, because I don't have power (political). Maybe, because I don't have the influence at the right level."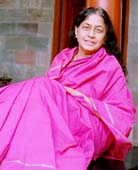 No Malayalam writer -- living or dead -- wrote as beautifully as she did. Beautiful was it in every sense of the word. Another prolific writer M T Vasudevan Nair paid rich tributes to her when he said if someone made him jealous by the mastery over language, it was Madhavikutty. Such tributes hardly came in her way for the last few years. It was rather tribulation all the way.
Every word she wrote or said was greeted with howls of protest. Her gesture of donating the ancestral land -- a treasure trove of rare flora and priceless antiquary -- to the Kerala Sahitya Akademi was turned down by her peerage itself, citing lame excuses. Vandikalakal, a novel which was being serialised in a magazine, had to be stopped mid-way after critics tore it apart. She lost her confidence in her confidants. Or vice versa.
The 'most-literate' public, too, joined the tributary of abuses. Obscene mails and lewd phone calls became a routine affair. Some of the apprehended letter-writers included retired top government officials. It was cultural shock. Madhavikutty, the writer and the person, was shattered. Making things worse, her health also started deteriorating. Leaving Kerala became the Hobson's choice.
Over the phone, with her feeble voice choking, she said, "I am looking forward to staying in Pune. I love the Maharashtrian culture, food and its warmth. Bombay is a wonderful city, where I spent almost 20 years. They were the most productive years of my life. We had literary conferences at my residence. Artistes, artists, writers, poets congregated at my residence. I enjoyed every bit of that eventful life. I have been to many places in the world, but there is no city that can match Mumbai in its liveliness."
Many feel her worldwide journeys made her a better writer.
Agrees veteran filmmaker Adoor Goplakrishnan, who met Madhavikutty in Pune about five months ago, "Her perception, coming from a widely travelled person, was very different from other homegrown writers. Plus, her Malayalam was self-taught. Morover, her stories were refreshing and simple."
Simple it was -- beyond doubts. Madhavikutty was the original 'God of Small Things'. She picked up threads from most simple things, weaving them into exquisite moments. Her semi-autobiographical -- or call it semi-fictional -- My Story may have made her a popular figure in Kerala, but it was the captivating short stories that had loyal readers hooked to her. Reading short stories was never the same again.
Avers G Gopa Kumar, an avid reader and Thiruvananthapuram-based journalist, "Her writings had a certain clarity and power which made an everlasting impression on readers's minds. Her style was original. When she arranged very familiar words in a certain pattern, it glowed like stars."
Equally glowing was her poems (Summer in Calcutta, Only The Soul Knows How to Sing) in English, written under the name Kamala Das. Interestingly, to most non-Malayalees, Madhavikutty, the Malayalam writer, never existed. Or mattered. And to most Malayalees, the English writer, Kamala Das, did not exist. Few writers could master two languages -- as diverse as English and Malyalam -- with such ingenuity.
Would you ever return to Kerala, I asked her then. Plaintive, she said, "No. I don't have anything left there. No sentiments. I am leaving everything behind -- all my books and furniture. I am not taking anything. I have had enough of Kerala. I want to play with my beautiful granddaughters in Pune. I want to be at peace with myself. There is no question of returning to Kerala. I look forward to regaining my happiness and health in Pune."
Not that Kerala did not try stopping its best-known writer from seeking shelter in another state. Sensing her anguish, Chief Minister V S Achuthanandan, who she adored as a political leader, paid a visit, pleading her to stay back. Meeting Achuthanandan was one of her last wishes, before leaving Kerala. The chief minister came calling the next day itself.
Asked about the meeting, she said, "He told me to stay back, but it was too late. I admire him for his sincerity. He does not care about money. Money can't touch him. He is a poor man's CM. He is the only hope for women in Kerala. I told him whatever I felt about the state, and he listened patiently."
Before winding up the interview -- spread over two days over the phone -- I sought an appointment in Pune, a three-hour drive from Mumbai. She promised, "Let me recover completely then you can come and meet anytime."
She did recover before succumbing on May 31. Twice or thrice, I called her son Jayasurya up, enquiring about her well-being. But I never took that three-hour trip. Little did I imagine that Madhavikutty, the writer who made me think and imagine in Malayalam, would fade out in such a short span. Yet, I know that her stories keep her alive. To think that she would never write again is a numbing feeling.
Hers was an extraordinary life. Born as Madhavikutty, she celebrated her life as Kamala Das, and died as Kamala Surayya. Miles away from the canopy of Gulmohar trees in Thiruvananthapuram, I shed a tear or two in Mumbai in her obeisance. Let a thousand souls take the sole path she trudged.