Why Ratlam was in Indian Mujahideen mail
Last updated on: September 24, 2010 17:09 IST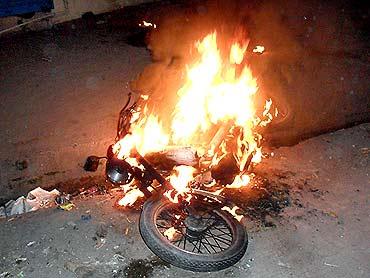 Rediff.com's Krishnakumar Padmanabhan travels to Ratlam to find out why the Madhya Pradesh town features in the mail the Indian Mujahideen sent out after Sunday's attack in New Delhi.
Ratlam in Madhya Pradesh is a quintessential junction town a trading, railway and narcotics hub.
In the early days it was a central trading centre for everyday commodities and also opium and tobacco.
Then, with the advent of the rail network in India, it became a crucial railway junction -- trains from the west and north converge here, before chugging out to their respective destinations.
In recent times, on the positive side, it is a world-renowned gold and silver trading hub.
It is also the transit point for illegal opium cultivated in the neighbouring Mansaur, Neemach and Jhabua regions, the largest opium tract in India. This has also made it a hub of organised crime.
With a purported Indian Mujahideen mail referring to alleged atrocities against Muslims, the town found its way into the nation's conflict script in two ways: It will now be a marked town in the security apparatus' radar, and it also earned a communal tint, with the fear of riots hanging over its head.
How it all happened
Last updated on: September 24, 2010 17:09 IST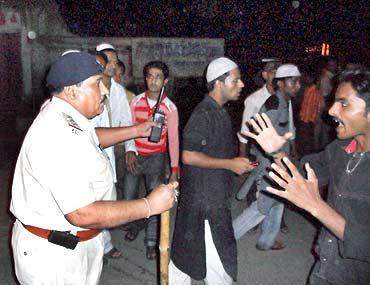 It all started on the night of September 3, the third Friday in the month of Ramazan.
Here's what happened, verified from multiple sources, which both communities and the police do not dispute:
1. After evening prayers, Muslims noticed some cow dung splattered on the walls of the Danipura mosque.
2. Youngsters took up the issue with the Gujjar community (Milk is their main business) that lives alongside the mosque. (A few days ago a Gujjar resident had called the police station complaining about loud noise from the mosque.)
3. The issue was sorted between the two communities with the help of the police around 9:30 pm.
4. But half an hour later, some youngsters started gathering in groups and a small police party including Superintendent of Police, Mayank Jain, District Magistrate Rajendra Sharma, with a couple of armed escorts reached the spot.
5. As the Muslims began advancing towards the small police party, the officers fended off the mob and called for reinforcements.
6. The mob torched about 40 vehicles, including those of the police and presspersons. A small temple was also set on fire.
7. A small Hindu mob also armed with swords and firearms had also formed by then, and started targeting and damaging Muslim property.
8. As extra forces arrived, they first cordoned off the area. This took some time, and around 2 am, September 4, when the forces began a search operation in the neighbourhood to apprehend the miscreants, they entered a mosque in Sheranipura, one of the bigger mosques in the locality.
Following this, there was an announcement from the mosque: 'Muslims, come out, with scarves tied around your head. Islam is in danger.'
9. This led to a few thousand Muslims assembling, some brandishing swords and others carrying firearms. (The police videographed the mob) As the police fired in the air, the mob retaliated.
10. The forces then push back the mob, and started making arrests.
11. The search operation lasted the whole of next day, when more arrests were made.
'They beat him and dragged him away'
Last updated on: September 24, 2010 17:09 IST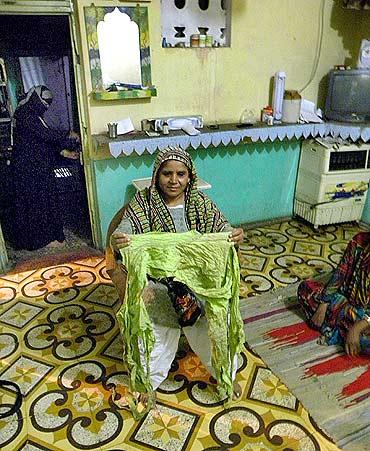 Following this, the Muslim community, which alleged that 700 people -- mostly innocents -- were arrested, did not celebrate Eid.
They did not assemble at the Idgah, the ground used for Eid prayers.
Their allegations are: The police used excessive force, they barged into houses and picked up innocent people, and they looted jewellery and cash during the search operations.
Adjani Syedabi, who along with her 60-year-old diabetic husband and 18-year-old son, decided to go to her relative's home till the situation returned to normal, said the police broke down their door without provocation and dragged her son away.
"They also started beating my husband, but I pleaded with them saying he was old, ailing and a diabetic. Only then did they stop beating him. But they did not spare my son. They beat him and dragged him away," she said, displaying a tattered shirt, which she added her son, Mohammed Amin, was wearing.
"He was a late child and our only child. From his childhood we brought him up in such a way that he wouldn't get into any trouble. He is good at studies and is really ambitious. Now with this arrest, we are very worried. He has his BCom semester exams in a month's time," she said.
Syedabi said some policemen did not think Amin was involved. "Even they were saying, 'Your son's name is not on the list neither is he seen in the video footage.' I hope they let him out soon, so that he can carry on with his studies.
'Only because I showed my municipal badge, they left me'
Last updated on: September 24, 2010 17:09 IST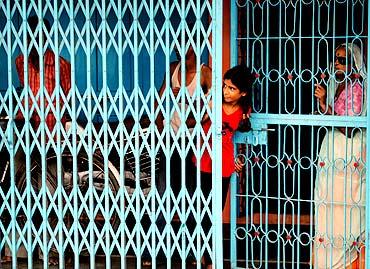 Imams and government servants weren't spared either.
"I was on night duty, and returned home in the morning. My brothers were at home on September 5, when the police cordoned off the lane, and barged into our house. I pleaded with them, saying one of my brothers is a hafiz (Islamic scholar) and the other a welder. They were not even in the vicinity when the incident happened," said Nasir Ali, a watchman at the municipal corporation treasury.
"Despite repeatedly telling them I was on night duty, they wouldn't trust me. Only because I showed my municipal badge, they left me. But they took my brothers away, even when they did not find weapons or any suspicious articles in the house," he said.
Two of his colleagues were not as lucky. They were arrested despite showing their municipal ID and pleading they were on duty when the incident happened.
An Imam, who was doing Itikaaf (a 10-day sit-in when the priests do not talk to outsiders and only pray and maintain the premises) duty at the mosque, was taken away forcibly from the mosque.
From many families, all males have been arrested. Throughout the neighbourhood, a lot of houses were locked.
"From all these houses they have arrested all the males. The ladies, bereft of support, are living with relatives now. Even among my friends, some 25 people, all graduates, have left town, though they are innocent," said Iqbal Ali. "They fear the police might arrest them also if they stayed in town."
'Why were those who were part of the Hindu mob not arrested?'
Last updated on: September 24, 2010 17:09 IST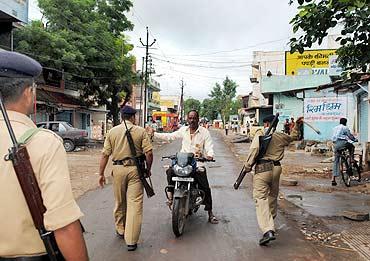 The worst thing about the incident is that it became an issue of Muslims versus the administration.
"The first thing one must understand about this incident is the numbers. It is conveniently said that thousands attacked. During Ramzan, every mosque will have about 500 to 700 people offering prayers there. There are at least 10 mosques in the area. So, while it is true that people did indeed assemble in the thousands, most of them were merely praying. They were not armed," said Asif Ali, the Shahar Kazi (a judge in the shariah. In India, it is only titular).
Senior police officers in private, admit that the number people armed with swords would not have been more than in the double digits.
"Even the firing from that side, it would not have been more than 8, 10 rounds," said an officer who was at the forefront in quelling the situation.
"The second thing," the Kazi said, "we accept that someone opened fire from the mob. But any community will have notorious elements. The police should arrest them. Instead they have taken away absolutely innocent people and are telling the community, you hand over the miscreants and we will release these people."
"Isn't it their duty to find out the culprits, especially considering that they have video evidence?" Asif Ali asked. "Also, I took a photograph that appeared on the front page of Dainik Bhaskar (the widely circulated newspaper) on September 5, that showed a Hindu mob, with swords and firearms. Why were they not arrested?"
He also accused the police of looting and stealing cash during the search operations.
'We will not spare the guilty'
Last updated on: September 24, 2010 17:09 IST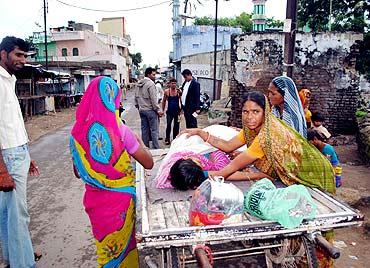 Asked if it was not irresponsible to have given an exaggerated call saying Islam was in danger, Asif Ali said: "Yes, it was wrong. But when the police fired in the air, the announcers thought they were firing on the mosque. There was a misunderstanding. But the police should also have acted with restraint."
Asked if elders and religious leaders like him failed to reign in the youngsters (who were said to have acted in haste) he said: "It is true to an extent that the youngsters got out of hand. But how do you think nothing untoward happened despite 10 policemen facing thousands of people? So, of course, we intervened."
The administration, however, denies any wrongdoing. They say the figures are exaggerated.
"Never were 700 people arrested," said Ved Kumar Sharma, Deputy Inspector General of Police, Ratlam. "A couple of hundred were taken into custody and we have been releasing them as we check out their role. Now only 88 people are in custody."
"We have submitted in the courts that they be released if their innocence is proved," the DIG added. "In the coming days, we will release more of those arrested. But those against whom we have evidence, they will have to face the law. We will not spare them."
'We recovered swords and firearms'
Last updated on: September 24, 2010 17:09 IST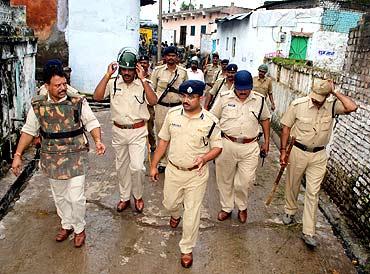 On Sunday, September 19, soon after two Taiwanese tourists were fired upon near the Jama Masjid in New Delhi, the Indian Mujahideen terror group sent an e-mail claiming responsibility for the incident and commenting virulently on many issues, including the incidents at Ratlam.
Included in the IM mail was the name of Ratlam's Superintendent of Police Mayank Jain. He was the only official from the MP town named in the IM communique and warned in connection with the Ratlam incident.
Visitors are frisked at the entry to his office, a rarity for an SP. The police are not taking the IM mail lightly.
"Headquarters has asked me to be cautious," Jain said.
What does he think about finding place in a terror organisation's warning?
"It does not bother me. I am just doing my job," said the 43-year-old IAS officer, who is also a practicing orthopedic surgeon, before sitting down to refute all the allegations point by point.
Before being posted in Ratlam, he served as a commandant of the special forces in Bhopal and as SP of Sagar and Jhabua, where he faced a communal situation when a Hindu girl was allegedly raped and murdered in a convent.
That mass arrests were made, with a lot of innocent people being rounded up at random:
"We never arrested 700 people, as claimed in certain quarters. The number of people arrested was never more than 270. 108 cases were for violating curfew. 29 were arrested for other minor offences. 132 people were arrested for major offences, including carrying weapons, firearms and attempt to murder."
Police excesses during the search operations the next day. Accusations of looting and misbehaviour with women:
"All the major arrests were made by September 4. We meticulously followed the CrPC (Criminal Procedure Code) while making the arrests, including taking eyewitnesses with us and asking the ladies to step outside with lady constables before conducting the searches."
"Regarding looting, there are complaints that our men stole money in lakhs (hundreds of thousands of rupees). This is outrageous. If indeed people had that kind of money in their homes, and our men did steal it, we have asked them to produce bank transaction details for that money, and if it is found that our men are guilty we will take stringent action against the offenders."
That Hindus who were also involved in violence were not arrested:
"We have arrested eight Hindus. But you must keep in mind that the Hindu mob gathered as a reaction. There was a difference in the numbers and the behaviour of the two crowds."
"The Muslim community leaders showed us newspaper photographs of a Hindu mob. We have identified them, including their leader, one Sharad Bhatti, and are searching for them. They are absconding."
That the security forces broke into mosques on the night of September 3 and misbehaved with the imams and other volunteers:
"When we pushed back the crowd, they went into a big mosque in the area. There was firing from inside the mosque."
"We recovered swords and firearms from the mosque. We announced our entry and went inside. Tell me, what else could we have done?"
That the police used excessive forces in pushing back the mob:
"They had come out with swords and firearms. And the other community had also assembled. The situation could have easily spiraled out of control."
"We had to use force to push back the mob. Given the circumstances, that there was no loss of life is a major achievement for the administration."
How could there be so many firearms with civilians? Why did the police not crack down on it earlier?
"Swords can be made locally and hidden easily. In the case of guns, they are made outside and smuggled in."
"We cannot keep a tab on that unless they were used. Now that we know it, we will crack down on the illegal procession of firearms, from whichever community."
'Even during Partition, no Muslim left Ratlam'
Last updated on: September 24, 2010 17:09 IST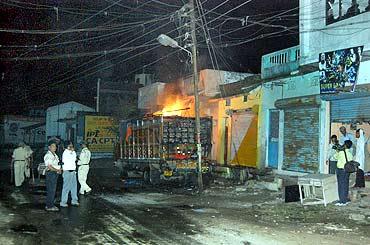 Observers, admitting that the Muslims over-reacted in the first place, blamed the administration for not acting quickly in controlling the situation.
"The problem was due to some hotheaded youngsters. A lot of them work in the Gulf countries. They earn a lot, and when they come for Eid vacations, you can see them speeding around in motorbikes, with the latest mobiles in their hands. Neither do they listen to their elders, nor do they know any history," said Dilip Patni, a tax consultant and journalist, who has reported from Ratlam for 27 years.
He said the administration wasted a lot of time after word about the cow dung on the mosque spread.
"They did nothing for two hours. And when they intervened, they used such excessive force, that it became a Muslims versus administration conflict. It was no more a Hindu-Muslim dispute."
"Because the administration had become a party, the state government should have intervened and played the arbitrator. But the home minister visited 50 hours after the incident. No less than the chief minister should have come down immediately," Patni said.
In most places when the Muslim mob went breaking down doors, Muslim neighbours sheltered the Hindus.
"That is the real Ratlam we all know of. In fact, Mahatma Gandhi is supposed to have praised Ratlam during Partition, saying that not one Muslim family left town. From my time, even after the Babri Masjid was demolished, there was no communal violence here," Patni said.
The police cannot deny one thing. If they do not act right, and in time, then they would have to take the blame if a harmonious place like Ratlam gets communally polarised.
"Our biggest fear is that by their excesses and atrocities, they will end up alienating these youngsters. If that happens, even we cannot bring them on the right path again. There is a very genuine fear that they will end up creating terrorists in the future," Asif Ali, the Kazi, said.
'Details indicate IM has a sleeper cell in Ratlam'
Last updated on: September 24, 2010 17:09 IST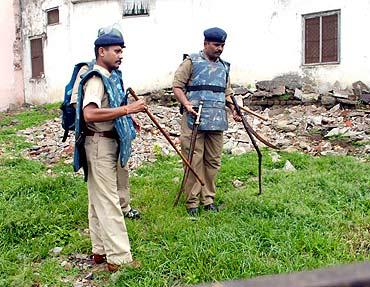 Another aspect that has security experts worried is a call that came through to former Ratlam legislator and Madhya Pradesh home minister Himmat Kothari.
He came out to try and pacify the crowds, but soon retreated. The next day, he got a threat call that was later traced to Saudi Arabia.
"We have found out the caller. He has a Ratlam connection. But we do not want to make the identity public because of the situation. We are acting on it," Suprintendent of Police Jain said.
And the most important question of all remains: How did an incident that was not reported in the mainstream media find its way into the Indian Mujahideen mail?
The mood in the community was, 'We do not know how they know, but if it had not come out, will people outside Madhya Pradesh known about it?'
Terrorism expert B Raman said the fact that the IM had the information would indicate that it already has a sleeper cell in Ratlam without the local Muslims or the police being aware of it.
"The IM has been saying from the beginning of 2007 that its principal objective is to fight against the unfairness of the Indian criminal justice system against the Muslims," Raman said.
"By the criminal justice system, it means the police, the judiciary and lawyers. That is why in their latest statement they have taken up the cause of the Kashmiri Muslims and the Muslims of Ratlam," he added.
"They seem to be contemplating a terrorist strike in Ratlam. Their statement mentions the SP by name and the collector without mentioning his name. Their strike could be directed against them or their offices."