Who is India's best young politician?
Last updated on: September 13, 2010 11:03 IST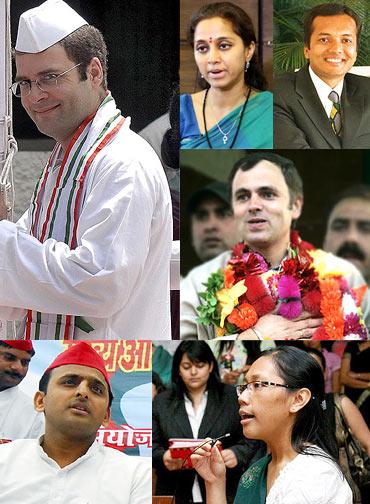 They are the representatives of Young India: A bunch of soft-spoken, educated politicians under the age of 45 in India's pre-dominantly geriatric political landscape.
They offer the disillusioned electorate brand-new dreams and achievable aspirations.
Not yet jaded by cynicism and corruption (hopefully), these leaders may be the key to steering India towards becoming a global superpower in the foreseeable future.
Rediff.com takes a look at the leaders of Young India who are capable of making a difference.
Rahul Gandhi, 40, Lok Sabha MP
Last updated on: September 13, 2010 11:03 IST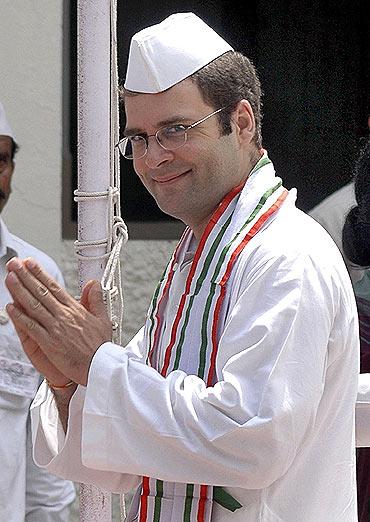 Party: Indian National Congress
Who is he?
The most high-profile Congress leader after party chief Sonia Gandhi, Rahul has often been touted as the prime-minister-in-waiting. After years of speculation about his entry in politics, Gandhi contested and won from Amethi, Uttar Pradesh in the 2004 Lok Sabha polls by a handsome margin and repeated his feat in 2009.
In the news for:
Whether he is watching the football World Cup in South Africa or turning 40, the Gandhi scion effortlessly makes news. He has been trying to strengthen the party at its grassroots level and encourage democratic practices within the rank and file of the party. 
He also hits the headlines often for his much-publicised rural visits. Recently, he caught the Orissa government by surprise when he paid a visit to Lanjigarh, where the local tribals are protesting Vedanta's bauxite mining project. Rahul told the tribals that he would be their 'soldier' in Delhi and continue their fight.
Sachin Pilot, 33, Minister of State for Communications and IT
Last updated on: September 13, 2010 11:03 IST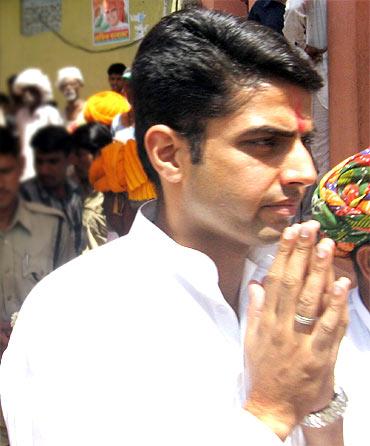 Party: Indian National Congress
Who is he?
He is the son of late Congressman and powerful Gujjar leader Rajesh Pilot. An alumni of St Stephen's College and Wharton College, Sachin Pilot worked for General Motors for a couple of years before following in his father's footsteps. He became a Member of Parliament in 2004 from the Dausa constituency in Rajasthan. He was elected as a MP from Ajmer in Rajasthan in the 2009 Parliamentary polls.
In the news for:
As minister of state for communications and IT, Sachin sent a notice to internet giant Google for showing Pakistan occupied Kashmir as part of Pakistan in its maps, pointing out that action could be taken for such an oversight. The search engine promptly rectified its mistakes and amended its maps to show the entire state as part of India.
As a representative of the Gujjar community, Sachin has repeatedly sought a debate on the issue of granting reservations to the community. He condemned the violence across Rajasthan during the row between the Gujjar and Meena communities in 2008 and tried to broker peace between the warring factions.
Jyotiraditya Scindia, 39, Lok Sabha MP
Last updated on: September 13, 2010 11:03 IST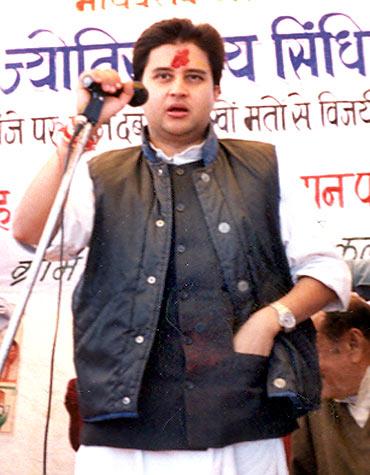 Party: Indian National Congress
Who is he?
The scion of Gwalior's Scindia royal family, Jyotiraditya is the son of late Congress leader and central minister Madhavrao Scindia. After studying at the Doon School and the Harvard University, Jyotiraditya dabbled in investment banking for some time before joining politics. He has been elected to the Parliament from Guna in Madhya Pradesh three successive times since 2002.
Recently in the news for:
Jyotiraditya was recently re-elected as president of the Madhya Pradesh Cricket Association. He won by defeating Madhya Pradesh Industries Minister Kailash Vijaywargia by 74 votes. This is the first time that elections for the post of the MPCA president were being held, as earlier candidates were chosen by consensus.
He has been a staunch supporter of the Indian Premier League, in spite of the many controversies surrounding the tournament.
Naveen Jindal, 40, Lok Sabha MP
Last updated on: September 13, 2010 11:03 IST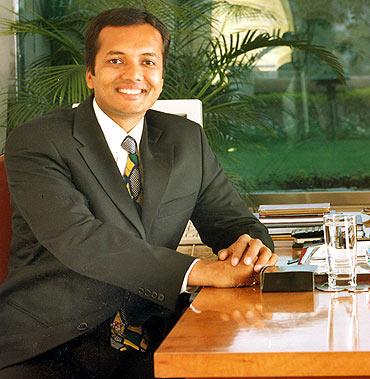 Party: Indian National Congress
Who is he?
The scion of the Jindal group of industries happens to be the second richest Parliamentarian in India, with a net worth of Rs 131 crore. He heads the steel and power business units of the group, founded by his father, industrialist O P Jindal. Naveen has been a member of Parliament from the Kurukshetra constituency in Haryana since 2004.
Recently in the news for:
Naveen ran into trouble when he hailed the controversial khap panchayat in his state for their "yeoman service to society since time immemorial". His comments came in the wake of the khap panchayats running parallel courts in rural Haryana and ordering the brutal murders of couples who chose to marry within their gotra. Naveen defended his comments by saying that members of the lawless panchayats were also members of his constituency and it was his duty to take their demands to the Centre.
In more bad news for the MP, the ministry of environment and forests headed by Jairam Ramesh recently withdrew the permission it had earlier granted for the construction of a major power project in Chhattisgarh by a company headed by him.
Akhilesh Yadav, 37, Lok Sabha MP
Last updated on: September 13, 2010 11:03 IST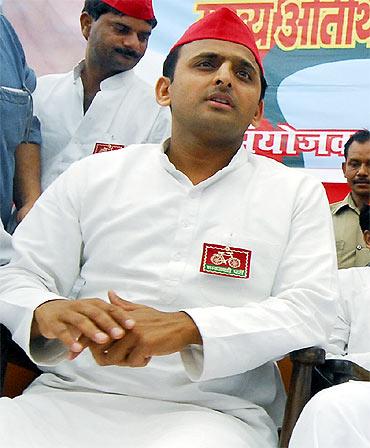 Party: Samajwadi Party
Who is he?
He is the son and heir apparent of Samajwadi Party chief Mulayam Singh Yadav. Yadav has been a member of the Lok Sabha from Kannauj in Uttar Pradesh from 2000. His father, a former wrestler, is known for flaunting his son-of-the-soil image and opposing computer education. In sharp contrast, the Sydney University educated Akhilesh is soft-spoken, hooked on to his Blackberry and a regular on social networking sites. 
In the news for:
The environmental engineer started off by cycling across the crowded streets of Lucknow under the scorching sun to connect with party workers at the grassroot level. He and his team of media-savvy associates were at the forefront of the SP's campaign during the run-up to the Lok Sabha polls last year.
Shortly after that, Akhilesh was made the chief of the party's unit in its stronghold Uttar Pradesh. He also joined his father Mulayam Singh Yadav when the latter staged a massive protest against price rise in Lucknow, taking the Mayawati government completely by surprise.
Kanimozhi, 42, Rajya Sabha MP
Last updated on: September 13, 2010 11:03 IST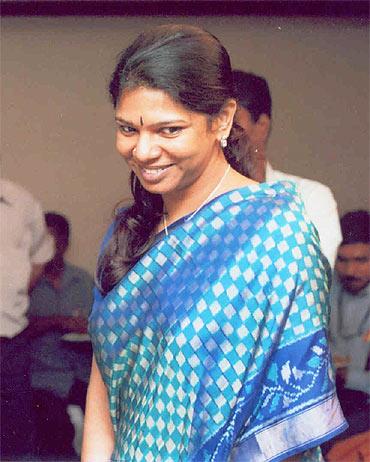 Party: Dravida Munnettra Kazhagam
Who is she?
The daughter of DMK chief M Karunanidhi, she is in charge of the party's wing for Art, Literature and Rationalism. Kanimozhi is a former journalist and a well-known poet. She is known for her campaigns to promote Tamil culture and literature.
In the news for:
Kanimozhi first made her presence felt in the Upper House when she submitted her resignation, along with other DMK MPs, in line with the decision of an all-party meeting to put pressure on the Centre to call for a ceasefire in Sri Lanka. She also spoke up against the alleged mistreatment of the ethnic Tamil population in the island nation.
Kanimozhi also played a major part in organising the recent World Tamil Conference in Chennai, where she invited scholars from across the world to participate. Critics slammed it as a mere show to flaunt the DMK's strength, where most scholars presented papers on Karunanidhi and his 'achievements'.
Agatha Sangma, 30, Lok Sabha MP
Last updated on: September 13, 2010 11:03 IST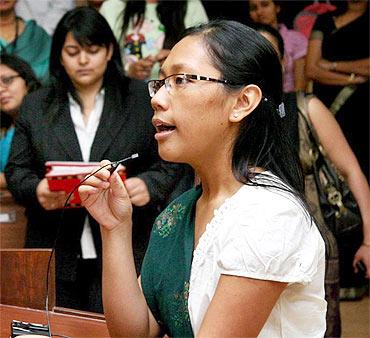 Party: Nationalist Congress Party
Who is she?
She is the daughter of former Speaker and NCP leader P A Sangma and is currently the youngest member of Parliament in India. She was elected from the Tura constituency in Meghalaya, from where her popular father had already won nine times. The 30-year-old leader also happens to be the youngest minister in Dr Singh's cabinet.
Before she joined politics, Sangma was known as a budding environmentalist and an amateur photographer.
In the news for:
The lawyer-turned-leader was appointed the minister of state for rural development after the 2009 Lok Sabha polls. Sangma has kept a low-profile since her induction into Parliament, but has spoken up about issues concerning north eastern states, like granting ST status to certain Sikkim tribes.
Sangma has rued the fact that the north eastern states are often ignored by mainstream politicians and the media. She has vowed to ensure better conditions for the students from these states who travel to Delhi for studies and further employment.
Supriya Sule, 41, Lok Sabha MP
Last updated on: September 13, 2010 11:03 IST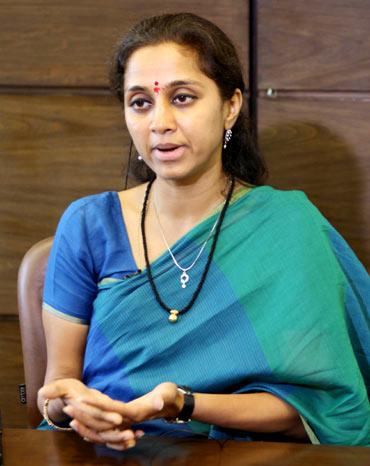 Party: Nationalist Congress Party
Who is she?
The daughter of NCP chief Sharad Pawar, she was elected from her father's stronghold of Baramati. Supriya has earlier served as a member of the Rajya Sabha. Before she joined politics, she was actively involved in issues concerning tribals and women's empowerment.
In the news for:
Supriya has hit the headlines for all the wrong reasons recently. Allegations about her and her family's links with the Indian Premier Legue financial mess refuse to die down. Though Sule has vehemently denied these reports, a leading daily recently claimed that Sule owned stake in a firm that had bid for the Pune team.
But Supriya has also been hailed for her campaign for better conditions for tribal children and her support to women's self-help groups across Maharashtra.
Milind Deora, 34, Lok Sabha MP
Last updated on: September 13, 2010 11:03 IST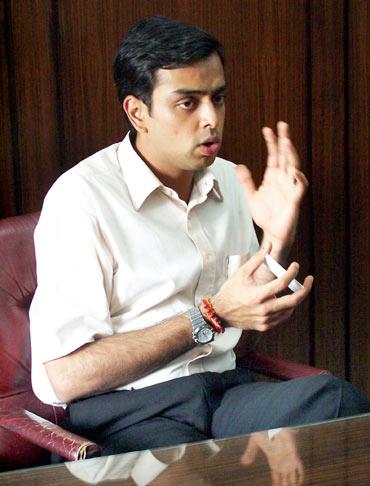 Party: Indian National Congress
Who is he?
He is the son of Union Petroleum Minister Murli Deora and represents the richest constituency in India. Deora is considered to be part of the inner coterie of Rahul Gandhi. He is often touted as one of the 'tools of change' of the Congress and part of the party's pro-youth agenda.
In the news for:
Milind first came to the centre-stage after the horrific attack on Mumbai in November, 2008. He made an impassioned speech in Parliament, pointing out that it was his constituency that had faced the worst terror attack in India.
In spite of tough competition from independent candidate Meera Sanyal and Shiv Sena candidate Mohan Rawale, Milind managed to retain his seat in the 2009 polls, in which the Congress staged an impressive comeback across Mumbai.
Varun Gandhi, 30, Lok Sabha MP
Last updated on: September 13, 2010 11:03 IST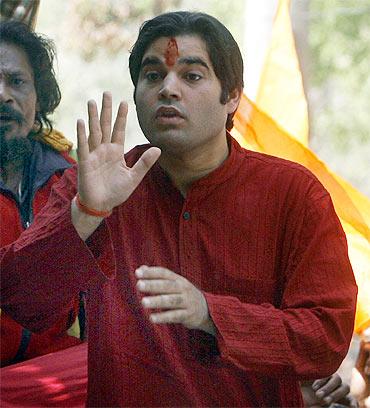 Party: Bharatiya Janata Party
Who is he?
Another product of the Nehru-Gandhi family, Varun is the grandson of Indira Gandhi and the son of late Sanjay Gandhi and BJP leader Maneka Gandhi. Varun had published a book of poetry before he decided to join politics. He staged an impressive victory from Pilibhit in Uttar Pradesh in the 2009 Lok Sabha polls.
In the news for:
His inflammatory speeches during the run-up to last year's elections had shocked even BJP's senior leaders. Varun was arrested with much fanfare, charged with the stringent National Security Act, and then tamely released on bail.
Varun has maintained a relatively low-profile since his flamboyant entry into politics. He became the youngest appointed national secretary of the BJP during party chief Nitin Gadkari's recent reshuffle. He is also a member of the BJP's National Executive. Recently, Varun was made the election in-charge of Assam for the upcoming polls.
Omar Abdullah, 40, Chief Minister of Jammu and Kashmir
Last updated on: September 13, 2010 11:03 IST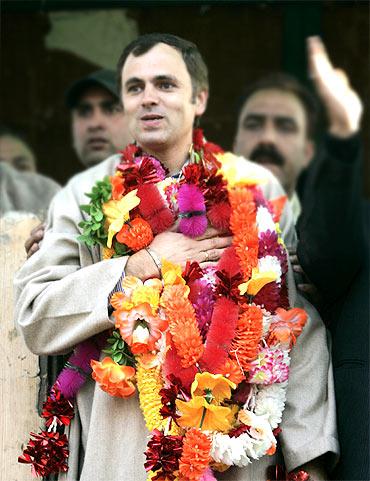 Party: National Conference
Age: 40
Who is he?
He is the son of former J&K chief minister and current Union minister Farooq Abdullah. Omar has served as the elected representative from Lok Sabha thrice before deciding to focus on state politics. He became the chief minister of J&K in January 2009, after the NC swept the state elections.
In the news for:
During the trust vote in Parliament in July 2008, Omar delivered a heart-felt speech on why he was supporting the ruling United Progressive Alliance. The strongly-worded speech was widely appreciated and republished by several websites.
When he took over as the CM, many hailed Omar as Kashmir's Obama, who will change the socio-political scene of the troubled state. But in recent months, the law and order situation has spiraled out of control in the Valley. Though Omar has repeatedly appealed for peace, Kashmir has been caught up in a vicious circle of protests and deaths of protestors in police firing.
VOTE! Who is India's best young politician?
Last updated on: September 13, 2010 11:03 IST
So which of these young politicians has it in them to make a change and lead India to a better future? Take this poll and let us know!