Sonia does not play petty politics
Last updated on: September 4, 2010 11:53 IST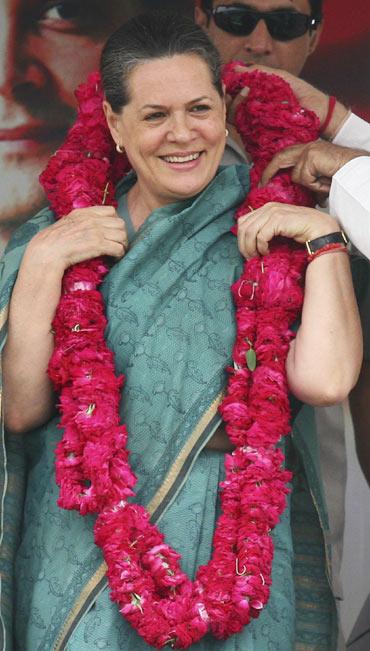 Sonia Gandhi was elected president of the Congress party for a record fourth time on Friday. Sheela Bhatt takes a look at the road the Italian-born leader has taken to political acceptability.
In the twelve years that Sonia Gandhi has led the Congress party she has traveled a long, fascinating road to change her personality, change her party and change the way Indians think about her.
When she was first elected Congress president in 1998, she was merely the Italian-born bahu (daughter-in-law) of the Nehru dynasty. Today, when she has been elected Congress president for a record fourth time, Indians fear her less and she is less fearful of India.
Congress politicians like Sonia Gandhi because she has brought them success. Her image today is entirely built on the edifice of the party's victories in the 2004 and 2009 general elections.
There is also tremendous admiration and respect for her in her party because she does not play petty politics. There are no instances where she has sacked chief ministers as her mother-in-law then prime minister Indira Gandhi did so frequently.
On all issues of concern to the Congress, she has listened to the party's varied voices. A senior journalist who has extensively covered her ascension to power points out, "She doesn't play petty politics with party leaders."
Non-Congress politicians find her amazingly successful in providing leadership to her party, if not to the country. She has become the classic case, perhaps worthy of study at management schools, on "how to govern an ungovernable party like the Congress."
But her launch pad in Indian politics was less than perfect. A controversial coup arranged by her courtiers pushed out then Congress president Sitaram Kesri and made way for her first election as Congress president on March 14, 1998.
Even adversaries seem to have changed their views about her
Last updated on: September 4, 2010 11:53 IST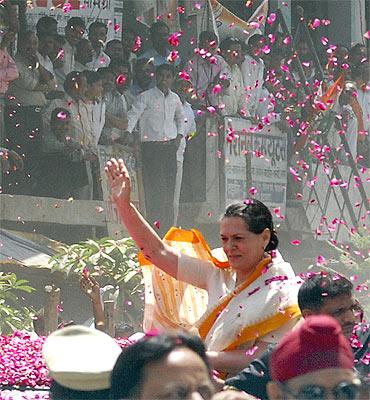 How Sonia Gandhi took over the party after Sitaram Kesri was asked to step down by the all-powerful Congress Working Committee was described by Harish Khare, then political editor of
The Hindu
newspaper, in a 2008 article.
Dr Khare, who is currently Prime Minister Manmohan Singh's media advisor, wrote: 'In December 1997, Ms Gandhi unilaterally announced her decision to campaign for the Congress in the 1998 polls. In essence, she offered herself as the new vote-catcher for the party. She distinctly failed to set the Ganges on fire. The carefully nurtured mystique was shattered but her coterie still managed to pile up the blame on the old, antiquated party president and insisted that it was about time she formally wore the crown. The build-up to the March 14, 1998 denouement was unsavoury and unbecoming of India's oldest political party. Family became the sole currency of political legitimacy.'
'Arguably, the very nature of her takeover came to define Ms Gandhi's leadership style,' Dr Khare added. 'First, because Kesri was accused of not being able to keep the party together, she arrived at the AICC (All India Congrss Committee) with a very heavy sense of noblesse oblige. Carry everyone -- good, bad and ugly -- along. Over the years, Ms Gandhi has admirably fulfilled the role of a party unifier, though she allowed Sharad Pawar and P A Sangma to part company... She remains an indisputable symbol of unity and consolidation in the party.'
After many ifs, buts and howevers, her competitors, critics and Opposition leaders have been forced to admit that she has outgrown the image of being born in a foreign land. The debate over her Italian roots no longer generate controversy or political excitement.
Even a bitter adversary like Bharatiya Janata Party leader Sushma Swaraj has amended her thinking and made up with Sonia Gandhi. After the 2004 general election, Swaraj had threatened that if Sonia became prime minister, she would shave her head and live like a sanyasi till Sonia was thrown out of power.
Most Indians don't seem wary of her foreign origins anymore and have abandoned the conspiracy theories that dogged Sonia through the first six years of her party presidency.
The extra-constitutional power
Last updated on: September 4, 2010 11:53 IST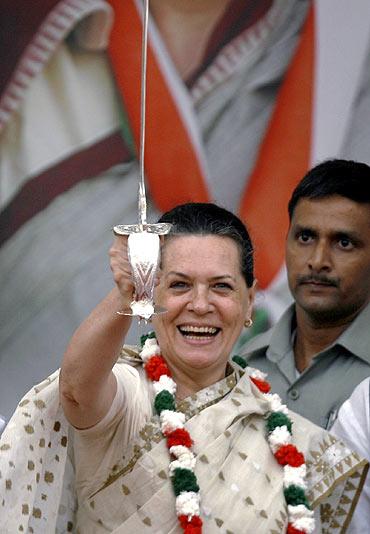 Sushma Swaraj and many others have lost their case against Sonia Gandhi in more than one sense. Sonia let go of the prime minister's post after the May 2004 general election, but she didn't lose power.
She IS in power.
She is the most powerful leader in India. Most Indians know this. Even Prime Minister Manmohan Singh has acknowledged her leadership over him.
In spite of wielding real power outside the power structure of government, she has managed a power-sharing arrangement with Prime Minister Singh without any ego tussles in public in the last six years.
The way Sonia Gandhi has managed the power equation with Dr Singh is her valuable success. She has disagreed with him on many issues, but the disagreements have not become a media spectacle.
Barring last year's Sharam-el-Sheikh controversy (when the prime minister's line on Pakistan conflicted with the Congress party's position), rarely have the two leaders shown a public dissonance.
The fact is that Sonia Gandhi takes most of the political decisions that affect the nation today, but she does not get the blame for it.
It is not healthy for Indian democracy, but she has operated this process smoothly. She has crafted her way within the Congress party and in the public domain in such a shrewd manner that she gets the kudos for decisions that have gone right while Dr Singh's government or her party get the brickbats when decisions go wrong.
To wield such enormous authority outside the government set-up is a risky job. BJP leader L K Advani and other critics have rightly criticised the extra-constitutional power without accountability, but Sonia has managed this adroitly.
She has done everything so secretly, so circumspectly, and has kept such a low profile that things emerge in the media only when she or her party want it.
After 1998, she has taken baby steps to reach this stage. Her core team knows how she has rehearsed, scripted and acted each and every public appearance. She has been extraordinarily guarded in her public manner.
That is a key factor in the making of Sonia Gandhi.
Her symbolism to integrate herself with the Indian flow is there to see. She wears only khadi or handloom saris, copying her mother-in-law Indira Gandhi. In Kashmir and Punjab, she wears the salwar-kameez. She covers her head in Uttar Pradesh.
Her success in adopting Indian culture has won her many apolitical hearts. We know how Sharad Pawar took years to learn Hindi. Dravida Munnetra Kazagham leader and Union Minister Muthuvel Azhagiri is yet to learn Hindi, but this Italian-born woman has learnt two foreign languages after leaving her home near Turin in the late 1960s.
She has never faulted once while talking about India, Indian-ness or its ancient existence. She does not touch upon issues related to Indian culture. She has not tried to evaluate issues related to Indian religion. She has never tried to discuss anything that can provoke one group or caste against another.
Her measured, limited and highly insulated movement in public places has been helpful to create the aura about her.
It is an arrangement where she has a one way conversation with the media, her party members and leaders, and India. She speaks in the right measure, at a time of her choosing, as most world leaders do.
The Special Protection Group cover provided to her and her family is a godsend. She has used this facility -- where due to the extensive security no one sees her off-guard or meets her without notice -- to great advantage.
So when she was learning the lessons of leading her 125-year-old party she had time to rehearse, almost like a college student preparing for an important examination.
A Congress leader recalls, "In the early years even while getting down from her car to reach the dais she would recheck each and every line of her speech. She was so tense about it, she wanted to ensure that she did not say any word that would hurt the Indian psyche."
Is Sonia a visionary?
Last updated on: September 4, 2010 11:53 IST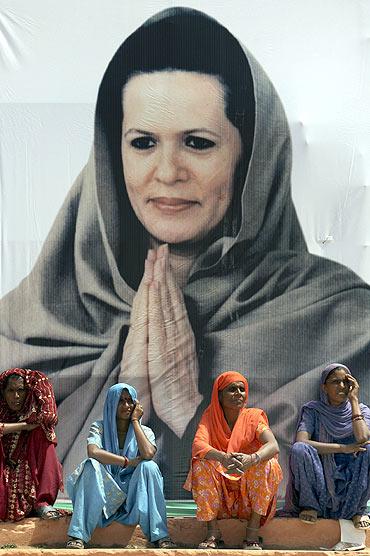 Sonia Gandhi has minimised the chances of political gaffes by planning hard. She learnt on the job. Now she is said to be so well-informed abut Congress party affairs that she even knows which leader is having an extra-marital affair and which leader is making money and how.
She has deployed the deep insight she acquired into Indian politics when she was then prime minister Indira Gandhi's silent elder daughter-in-law.
Her insulation from scrutiny has also helped her correct and fix things to emerge as a national leader.
Her transition from Rajiv Gandhi's good-looking Italian wife to the handloom sari-clad lady with a tight grip over her party is due to her accurate judgment about her family's worth in Indian politics.
She seems to have understood that the Nehru-Gandhi family is neither tied down in the limited bracket of being a Hindu nor Brahmin. It is casteless, neutral to religion, and secular.
Her transformation from a reluctant leader to the leader who wants to lead and preserve power is done through the neutral image that the Nehru-Gandhi family has enjoyed for five generations.
She reflects what her family stands for. She doesn't have to do anything more. She was accepted first as a bahu within the Congress fold; the acceptance about her leadership followed.
Some of her supporters believe that her European origin has, in fact, helped her tremendously. Had she been an Indian bahu, they say, then her caste and religion would have come in the way of getting wider and quicker acceptance.
Can she claim to be a visionary? That is highly debatable. One has not heard her enough, speaking from unprepared texts. Surely for her party her seeking the support of regional parties before the 2004 general election was a smart move.
Also, in many crises she receives advice from many quarters, but finally she applies her own instinct to the situation. Since she is over-cautious and all her public utterances are quite sanitised she does not end up in a mess frequently as most Indian leaders do.
Her party leaders say she is a believer in the status quo. If fresh thinking on any important issue involves too much risk she is unlikely to gamble on it.
Her vision so far has been reflected in legislation like the National Rural Employment Act and the waiver of farmers' loans.
Surely, she has to be credited for bringing the aam aadmi (the common people) centre-stage. Even if she is doing it because the Congress has no option but to go back to its original constituencies of the poor, the tribals, the Dalits and Muslims her attempt is credible.
When will they make way for Rahul?
Last updated on: September 4, 2010 11:53 IST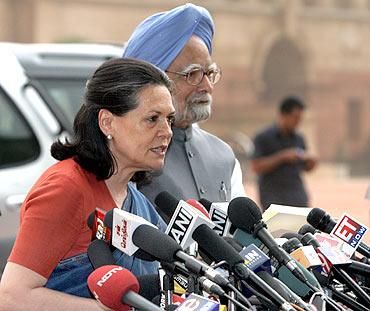 What will Sonia Gandhi's legacy be?
Winning power for her party cannot be an enduring memory. When one leads the Indian National Congress one is leading India. Her party mangers should tell us where her legacy lies beyond the party.
Many of Sonia's critics believe that whatever she is today it is because she had the wisdom to turn down the prime minister's job in May 2004. She had then claimed she had listened to her 'inner voice.'
In the last six years, her 'inner voice' has placed her above most of the current lot of politicians. Her critics then found her denial hypocritical but Sonia's credibility was not tarnished over the issue.

As Sonia deserves compliments, her stature also raises some questions.
Despite her success, her leadership and her party remain vulnerable. She has failed to revive the party in many states, including Uttar Pradesh and Bihar. Her personal success is not enough for the Congress party's stable future.
The most important questions to ponder are:
Will this be Sonia Gandhi's last tenure as party president? Will she retire in a few years to water her plants somewhere in the hills as her daughter Priyanka Vadhra once mentioned in a television interview?
Has she already reached her political peak?
When will Rahul Gandhi join the government?
Will the transfer of power within the Congress party be smooth?
Does she have any ambition other than to see her son rise?
A senior party leader, speaking off the record, reveals, "She is keen on Rahul joining the government. She also wants him to marry and settle down. These days she frequently expresses this wish."
"Rahul," the senior leader adds, "is hyper-active. He is reading a lot and meeting people from all walks of life. Recently he read on India's strategic issues, also on genome technology, even on the future of the Internet. He keeps track of current affairs."
Current conflicts in the Congress party indicate that Sonia Gandhi's hold over the party is becoming less firm. Many leaders are afraid that the eventual transfer of power will make them redundant in the party's power system.
The leaders around Sonia Gandhi and Prime Minister Manmohan Singh may not be around when Rahul calls the shots.
The Congress party's old guard is unlikely to walk quietly into the political sunset, without putting up a fight to retain control over the party and over the government if a transfer of power occurs during this government's tenure.
The political class knows that Sonia Gandhi and her son's views don't exactly match and her style of conducting party affairs are different from the way Rahul would probably conduct business.
Powerful, but vulnerable
Last updated on: September 4, 2010 11:53 IST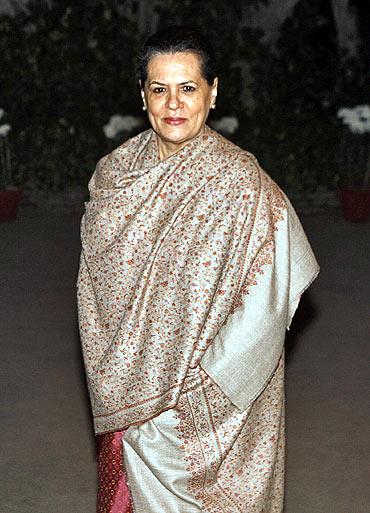 Two years ago, Harish Khare, who has been an
astute observer of Congress politics
, noted about Sonia Gandhi, 'She un-protestingly allowed herself to be reduced to an electoral talisman. The original argument had to be sustained: Only a member of the Nehru-Gandhi family could fetch vote for the party across the many diversities of caste, creed and class.'
'Till this day, she remains locked in that trap,' Dr Khare added. 'Third followed from the second: She could never make demands on the party men in terms of ideas and ideology; only individual loyalty was preferred in exchange for a putative Midas touch. This "win-votes-for-us" burden has also prevented her from locating her ideological anchor in visionary ideas. The Congress, in turn, remains a happy stranger to innovative ideas and policy literacy.'
Sonia Gandhi has many serious challenges to confront where her ideas and ideology will count. It is felt in New Delhi that people in power get away with anything. Despite the allegations of corruption -- estimated at Rs 22,000 crore (Rs 220 billion) -- against Telecommunications Minister Andimuthu Raja both Sonia Gandhi and Prime Minister Manmohan Singh have overlooked it in the name of coalition politics.
The Congress president has also failed to provide any creative direction on the government's Kashmir policy, its Maoist policy, its agriculture policy, even on educational issues.
Her son and her advisors could cancel the government's permission granted to the Vedanta project in Orissa, but they appear clueless about what the alternative model of development can be.
Equally important is her inability to muzzle her party leaders' scramble for power. The way Congress General Secretary Digvijay Singh and Home Minister Palaniappan Chidambaram have been sniping against each other in recent months, it could even affect Rahul Gandhi.
In the years she has led the Congress, the party's infrastructure, inner-party democracy or quality of leadership has not changed much. Though she takes credit for the Women's Reservation Bill, Congresswomen didn't get enough representation in last month's exercise to fill up party posts at the state and district levels.

Finally, tribute is due to the liberal strain in traditional Indians, which is woven in their upbringing, that has made Sonia Gandhi such a phenomenon.
It is difficult to imagine such a fairy tale unfolding in any other society on such a huge stage where the audience is 1.20 billion strong.
Could Sonia Gandhi's rise have been possible in China? Or even in her native Italy?