Remembering YSR on his death anniversary
Last updated on: September 2, 2010 11:56 IST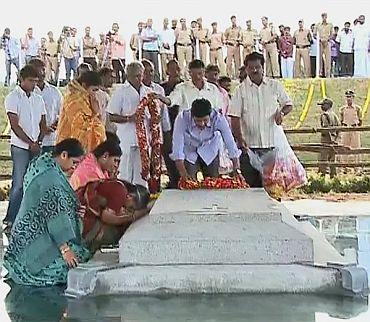 Thousands of people, led by Congress leader Jaganmohan Reddy, paid tribute to his father and late Andhra Pradesh chief minister Dr Y S Rajashekhar Reddy on his death anniversary on Thursday.
YSR, as he was popularly called, was killed in a chopper crash exactly a year ago at the Nallamalla Hills.
Jagan, along with his mother Vijayalakshmi, paid homage to the late leader at their family estate in Idupalayapalya, where YSR was laid to rest. The event started off as a quiet affair but many people are expected to turn up to pay their tributes to the leader later in the day.
Reportage: Vicky Nanjappa
Jagan will continue his yatra
Last updated on: September 2, 2010 11:56 IST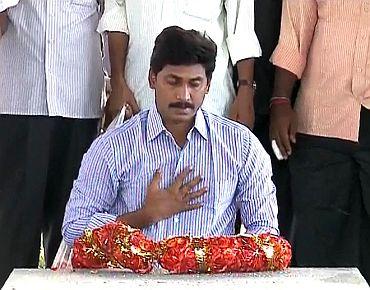 The state government has also organised a number of events to mark the occasion. Jagan, who will continue with his controversial yatra in the evening, will not take part in any of the state sponsored programmes.
Andhra Pradesh Chief Minister K Rosaiah will also not be able to attend any of the programmes as he is down with viral fever.
Rosaiah was scheduled to take part in a condolence meeting at Hyderabad and also unveil a 20-feet statue of YSR at Nallamalla Hills, where the chopper crashed. But the inauguration will now be done by Member of Legislative Assembly Shilpa Mohan Reddy.
Many turn up to pay their tribute
Last updated on: September 2, 2010 11:56 IST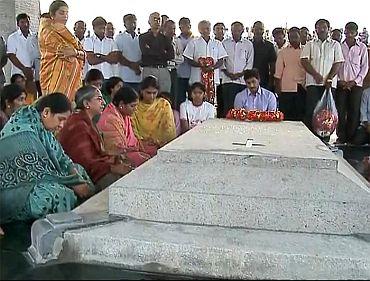 At the family estate in Idupalayapalya, a huge memorial is being erected in YSR's memory, which will be unveiled later. A memorial in the name of those who either died of a heart attack or killed themselves after learning of YSR's death will also be constructed.
YSR's family members will also organise food for 1 lakh people today. Later in the day, Jagan will personally visit the families of those who lost their lives in the wake of YSR's death.
On Thursday morning, the roads that lead up to YSR's estate were jammed as thousands made their way to pay their tributes. Special buses have been arranged from all parts of the state to ferry his followers to the family estate.
No split in the Congress
Last updated on: September 2, 2010 11:56 IST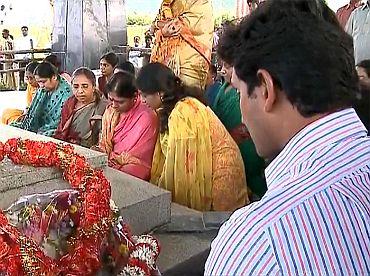 The Congress, which has been virtually divided into two factions since Jagan openly defied the party top brass, decided to put up an united front today.
When asked why Jagan refused to participate in any of the state-sponsored programmes, a close aide of the leader said, "There is no agenda in this move. He wants to be with his family and also with the families of those who lost their lives following the death of the leader."
Some ministers of the state cabinet will also attend the programmes at YSR's family estate. Veerappa Moily, who is in charge of the party unit in Andhra Pradesh and Union Minister of State for Steel Sai Pratap are to visit the family estate after taking part in the condolence meeting.
Statue frenzy across the state
Last updated on: September 2, 2010 11:56 IST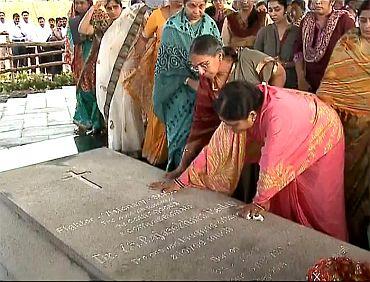 YSR remains popular even a year after his death, with many people in the state believing that he was the best leader they have ever had.
But many are not impressed with the ongoing frenzy of unveiling YSR's statues across the state. Till date, an estimated 600 statues have been erected and Rs 1 lakh has been spent on each one of them. Critics feel that the state government's focus should have been on development work, rather than putting up statues.
But the state government is in no mood to listen to such complaints and at least 100 statues are scheduled to be unveiled across the state today.