How Rs 2,000 brought Bihar's most heartening change
Last updated on: October 20, 2010 12:44 IST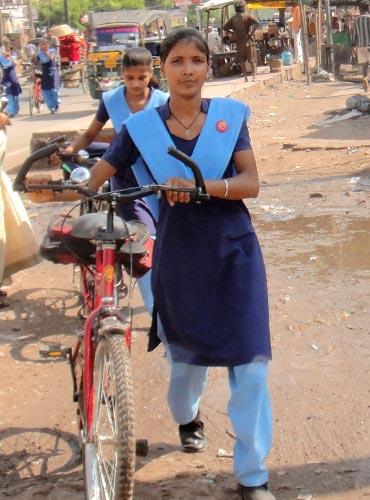 After 10 years of inaction where no new schools were opened and no teachers recruited, one of the best indicators of a changing Bihar is a group of girls cycling to school.
Archana Masih reports from the state.
Three times a week Deepti Kumari comes to Kilkari after school where she does things she has never done before.
She paints, makes toys from old newspapers and reads children's magazines.
The daughter of a khaini (raw tobacco) seller in Patna, Deepti spends most of her day after school in an activity centre set up by the Bihar government for underprivileged children going to state-run primary schools.
Like her, most of the children making paper birds under a tree that afternoon, had never painted or done any craft work before.
Mukesh, a Class 9 student whose father sells bananas, is learning judo and has won two medals in a district-level competition.
Shail, a Class 6 student whose father is no more and whose mother stitches buttons for a living, is learning Madhubani painting.
Please click on the Next button to read more about how life is changing for the children of Bihar, once condemned as one of India's worst-run states.
In 5 years the state has spent half its budget on improving school education
Last updated on: October 20, 2010 12:44 IST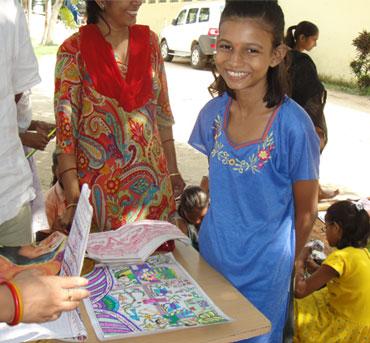 Children from neighbouring schools come to the centre which provides them paints, colours, craft-material, story books and has teachers for folk dance, judo, painting etc.
The centre also has a children's bank where the children deposit as little as Rs 2 and 5 and withdraw money for stationery etc.
The little boy with neatly combed hair -- his head barely reaching the top of the table -- says he is the manager for the day, showing me his deposit ledger.
In the last five years Bihar has spent half of the state budget on improving school education.
By its most successful scheme, providing cycles to Class 9 and 10 students, it greatly reduced the drop-out rate amongst girls in the state where female literacy at 33 per cent is the lowest in the country.
The first year of providing cycles in 2007-2008, brought 170,000 girls to Class 9 which has now risen to 500,000.
'For 10 years no new schools were opened or teachers recruited'
Last updated on: October 20, 2010 12:44 IST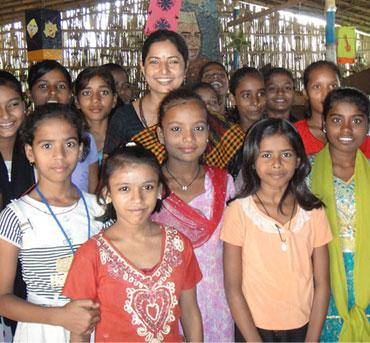 "To put it in perspective, this government (
headed by Chief Minister Nitish Kumar
) came after 10 years of inaction in all sectors, especially social sectors. For 10 years we did not recruit any teachers, open any new schools or add classrooms," says Anjani Kumar Singh, Bihar's Principal Secretary, Human Resources Development, who was taken by surprise by the success of the cycle initiative.
"Unlike other states we didn't target any group, neither was it a typical bureaucratic scheme where you have to fulfill criteria like being below the poverty line etc," adds Singh.
"Attendance was the only criterion -- the boy or girl had to be enrolled in Class 9. So the Rs 2,000 to buy a cycle and Rs 700 to buy a uniform has had the most impact in bringing children to school."
There was some apprehension from the state finance department about the disbursement of cash directly to the students on the premise that it could be pocketed by the parents instead.
A recent survey revealed that in 92 per cent cases the money has been used to buy the cycle.
One of the best pointers for change is girls cycling to school on a village road
Last updated on: October 20, 2010 12:44 IST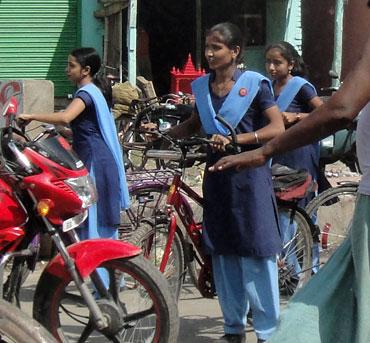 The government officials behind the initiative felt that although there would be some leakage -- like it occurs in most government schemes -- there would also be huge pressure on the parents to use the money to buy the cycle or a uniform for the child seeing that other children in the class all had their cycles and uniforms.
A father may keep some of the money and buy a cheaper uniform, but would not deny his daughter the cycle or uniform, the government officials felt.
Both assumptions have paid off.
The students are given the cash by the school and have to submit a receipt for the purchases.
"Children come to the shop to buy material for uniforms and insist on a receipt," says a shopkeeper in the state's Saran district, while a retired government school teacher points out that one of the best indicators of a changing Bihar is a group of girls cycling to school on a village road.
'Routine solutions will not do, risks have to be taken'
Last updated on: October 20, 2010 12:44 IST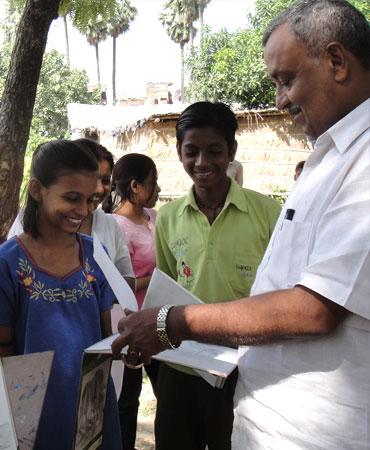 To fill the 300,000 to 400,000 vacancies for teachers in Bihar, large-scale recruitments have been undertaken with 50 per cent reservation set for women.
The filling up of long-vacant posts has got the schools functioning again, but the scheme has also been criticised for compromising the quality of teachers and resulting in corruption that a magistrate in each district had to be appointed to tackle complaints of financial and procedural graft.
"The teachers will come from the existing available stock," explains Anjani Kumar Singh, Bihar's Principal Secretary, HRD. "I know the quality is not good, but whatever method you may use you will get the same kind of teachers or not get any."
"The first thing was to open and start schools," he adds, "but now on, every year, we will conduct an exam for teachers to bring in a level of screening for quality."
Drawing parallels with the past when mid-day meals were barely served and schools hardly functioned in the state -- some for as less as two months in a year! -- a middle school teacher says the quality of teachers may not be good and many children are yet to get money for uniforms, but at least "children and teachers are attending school, mid-day meals are being served."
At the next stage, the Bihar government plans to tackle secondary education to bridge the existing mismatch -- for 70,000 elementary schools there are just 3,000 secondary schools.
"We have to think of out of box solutions," says Singh. "Routine solutions will not do, some risks have to be taken."
'Education is a sector where this government made its presence felt'
Last updated on: October 20, 2010 12:44 IST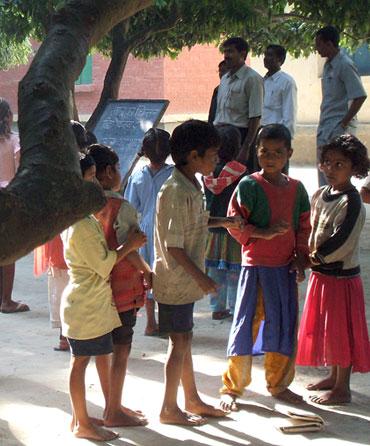 "Education is a sector where this government has made its presence felt, basically by employing teachers and starting a good number of schools," says Professor Prabhat Ghosh, director, Asian Development Research Institute, Patna.
"It was partly facilitated by the Sarva Shiksha Abhiyan through which substantial resources come from the central government," he says, "but which did not make much progress since 2001 and only got a fillip after 2005-2006 with this government."
To provide a further boost scholarships are being provided to girls who pass the matriculation examination.
Two hundred thousand volunteers were roped for a campaign to make 4 million women literate, keeping in mind the 2011 Census which would reflect the state's literacy percentage.
Since adult illiteracy is no longer a national problem like it was in the 1990s and has largely been confined to the Hindi heartland -- Bihar, western Uttar Pradesh, Madhya Pradesh -- Principal Secretary, HRD, Anjani Kumar Singh says the state government started the Akshar-Anchal campaign which was subsequently boosted by Sakshar Bharat, a central government scheme.
"This demystified the view that such schemes cannot be done by government volunteers. We thought that all human beings want to do some good, and by and large the reports show that success rate is 60%, 70%."
'Society looks at government as if the government is outside of society'
Last updated on: October 20, 2010 12:44 IST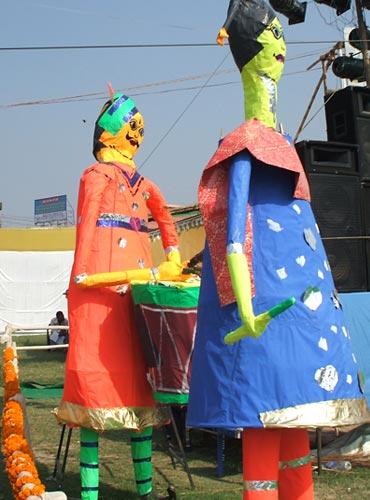 Yet, it is not as if corruption and lapses have not dogged the schemes.
Bribes for securing appointments, village mukhiyas (headmen) tearing up meritorious applications to make way for their candidates are criticisms heard along the way in a state where half the entire goverment staff is employed by the department of education alone.
"Society looks at a government scheme as if the government is 'outside' of society. There is no feeling of ownership towards it," says Principal Secretary, HRD, Anjani Kumar Singh, who considers the last five years as the most satisfying in his career as a civil servant along with his two-year stint as a young collector in Dumka, now in Jharkhand state.
"Unless there is ownership and community participation in the real sense," he adds, "government schemes will not become transparent and there will be chances of corruption."
The euphoria about school education notwithstanding, higher education in the state continues to be a mess.
The last few years have seen the setting up of an Indian Institute of Technology, the Chanakya Law University, the Chandragupta Institute of Management, Central University, the National Institute of Fashion Technology and the proposal for reviving the famed Nalanda University has been cleared, but the state's universities that are centres for imparting mass education remain in a very dismal state.
'The government is in a great hurry because we have lost time'
Last updated on: October 20, 2010 12:44 IST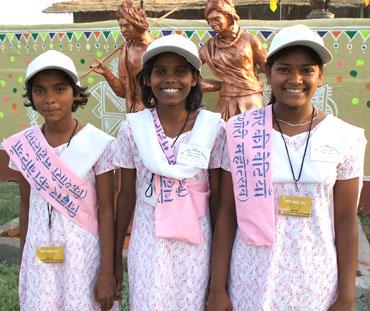 Experts say higher education has problems because there is a huge mismatch between demand and supply.
Classical courses like Political Science, Sociology etc have few takers and in-demand courses like Hospitality, Computer Applications and Chartered Accountancy don't have enough teachers.
"In Bihar the higher education infrastructure does not exist anymore," says Gaurav Singh, an IIT and IIM alumnus who has started a management institute in Patna.
"Private effort will be a major part of higher education," he adds, "because the government does not have the right kind of resources to drive higher education."
"Many other states have permitted private universities or legislated a private university act," he says, "The same should happen in Bihar."
"If this government continues (in power if it wins the assembly election), Bihta near Patna is going to be a knowledge hub where 2,200 acres have been acquired for educational institutions," points out Gaurav Singh who sees great optimism in the state.
"The government is in a great hurry because we have lost time," says Principal Secretary, HRD, Anjani Kumar Singh. "Bihar has closed the gap, but it will still take us two or three years."
For a state that is India's most illiterate, its most heartening visible change has been clusters of girls cycling to school.
In this most crucial assembly election, Bihar's future and revival will not only depend on rescuing its people from educational darkness, but setting up better centres of learning for all.