Ministers who give the PM a headache
Last updated on: May 26, 2010 11:36 IST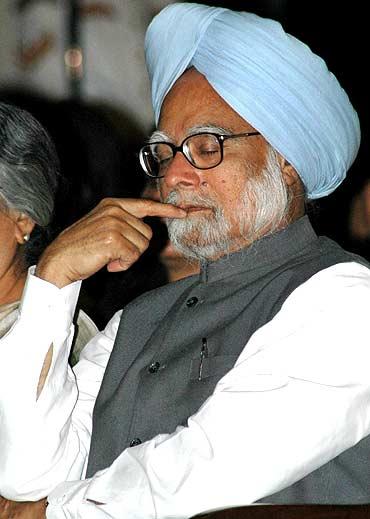 During the press conference held to mark the first anniversary of the second term of the United Progressive Alliance, Prime Minister Manmohan Singh faced a barrage of questions about the various scams, controversies and allegations faced by his Cabinet members.
Though the PM cautiously parried most such queries, the fact remains that several ministers in his Cabinet continue to march to their own beat, irrespective of the consequences. The soft-spoken Dr Singh appears increasingly like a helpless film producer who has to put up with the mood swings and tantrums of his hero, heroine and supporting actors to keep the film afloat.
Rediff.com takes a look at illustrious ministers who believe in saying, doing, and implementing whatever they fancy, accountability and collective responsibility be damned.
Telecom Minister A Raja
Last updated on: May 26, 2010 11:36 IST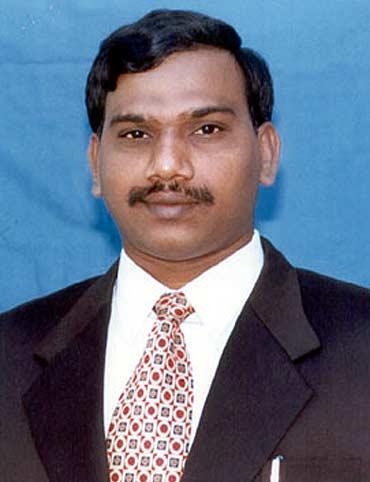 The scale of the corruption charges levelled against Telecom Minister A Raja would probably make even fraudster Bernie Madoff (sentenced to 150 years in jail for orchestrating a $65 billion Ponzi Scheme) weep. 
The minister has the dubious distinction of being at the centre of independent India's largest financial scam worth Rs 60,000 crore, which may even go up to Rs 100,000 crore (Rs 1 trillion), according to some experts. He is accused of allocating scarce 2G spectrum to certain favoured bidders at throwaway prices.
Dr Singh reportedly had reservations about allotting the telecom ministry -- perceived as a 'lucrative' one for greedy politicians -- to Raja again. But he had to bow down to the pressures of coalition politics, as Raja's party Dravida Munnetra Kazhagam made it clear that the support of its 18 MPs was subject to the party being granted the lucrative ministry. 
The PM and the Congress have no doubt regretted that decision since. Raja's massive spectrum scandal has overshadowed any achievement by UPA-2, and the PM has been forced to spend much time and effort answering for the minister's alleged wrongdoings.
In spite of facing an inquiry by the Central Bureau of Investigation, an unrepentant Raja has refused to step down, claiming that he had simply followed the government's then existing policy and opting for a 'first come, first serve' criterion in spectrum allocation.
Environment Minister Jairam Ramesh
Last updated on: May 26, 2010 11:36 IST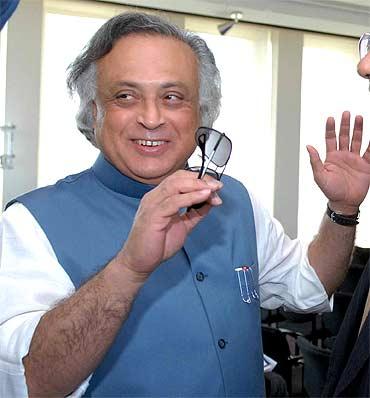 Jairam Ramesh, an engineering graduate from IIT Bombay, was once known as an articulate, erudite speaker and a strategic planner. But that was till he took over as the minister of environment and decided to take himself and his job too seriously.
A perennial patient of the foot-in-the-mouth disease, Ramesh has had a problem with almost everything and everybody. He has a point to make about every topic under the sun and unfortunately for Dr Singh, goes ahead and does so, loud and clear.
Ramesh has probably been the busiest minister in the UPA-2 Cabinet. He famously stated that 'India will get the Nobel Prize for filth'. He pledged that India will try to match China's carbon emission standards. He called convocation gowns 'barbaric'. He shouted at opponents of Bt Brinjal. He questioned the working of the road transport ministry. He questioned the working of the home ministry, while on Chinese soil.
Many political experts are surprised that he has not been given the boot yet. That may be because of his closeness to 10 Janpath and his role in strategising the Congress campaign that brought the party back to power last year.
But tired of covering up for Ramesh's utterances, an irritated PM recently rapped the environment minister, and none too gently at that. A mollified Ramesh apologised to Home Minister P Chidambaram and promised to hold his tongue in the future. On how long he will be able to keep his opinions to himself, only time will tell.
Railway Minister Mamata Banerjee
Last updated on: May 26, 2010 11:36 IST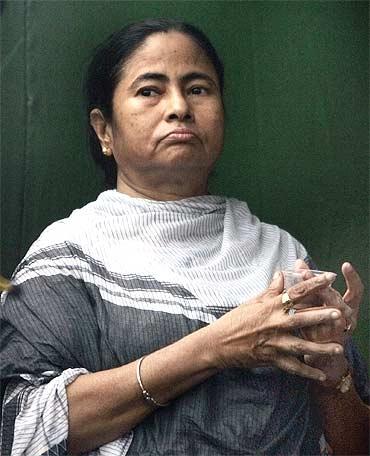 She is the undisputed queen of tantrums and the champion of political stunts.
Railway Minister Mamata Banerjee is in charge of one of the most important ministries in UPA-2 -- or at least supposed to be. Didi is rarely found at Railway Bhavan in New Delhi. She continues her Houdini act in Cabinet meetings and Parliament sessions.
It is easier to find Banerjee in Kolkata, where she is busy organising mammoth rallies that throw the city out of gear, accusing West Bengal Chief Minister Buddhadeb Bhattacharya and his party of murder and mayhem, and scouting for 'pro-people' issues now that the Singur and Nandigram agitations have died down.
Banerjee didn't think issues like the motormen's strike in Mumbai, which affected 65 lakh commuters in the metropolis, or the stampede at Delhi railway station were worthy of her attention. When questions were raised about her indifference, she claimed that it was a ploy by arch-rival Communist Party of India-Marxist to 'send her back to Delhi'.
The minister, who had once accused a top police official of biting her during a rally, didn't clarify if it was the stampede or the strike that was orchestrated by the CPI-M.
The Opposition has dubbed her the 'absentee' minister. While Dr Singh has refused to answer queries about the number of Cabinet meetings attended by Banerjee or her performance, she has not bothered to return the courtesy.
A firm believer in the 'sulk-and-accuse' school of thought, Banerjee has accused the Congress of colluding with the CPI-M in Bengal and of cheating her party Trinamool Congress over the Women's Reservation Bill. To drive home her displeasure with the ruling party, Banerjee refused to attend a function in Kolkata with Dr Singh, in spite of a special invitation from the PM.
Chemical and Fertiliser Minister M K Alagiri
Last updated on: May 26, 2010 11:36 IST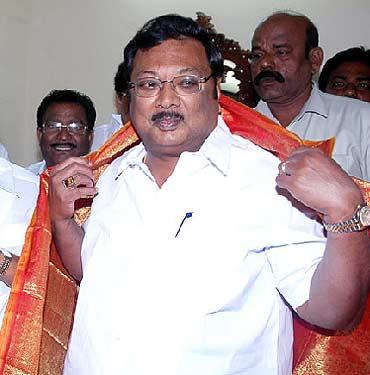 When DMK leader M K Alagiri was elected to the Parliament in 2009, political watchers were worried about how he will follow the House proceedings, as he speaks only Tamil and is not conversant in either Hindi or English. Little did they know that the chemical and fertiliser minister had already devised a fool-proof plan to rise to this challenge: he never attends Parliament.
Critics say that the minister dashes off to his hometown Chennai or his constituency Madurai at every opportunity. But they are wrong. Apart from flying to Tamil Nadu every three days, the 'frequent flyer' minister also went for a holiday in Maldives and then to the US to meet his family within a month.
He even decided to skip the crucial vote on cut motion in Parliament, when Dr Singh and Congress MPs were desperately trying to shore up numbers to survive the motion. Alagiri's absence was also noted during Question Hour in the Parliament.
He has been pulled up by Lok Sabha Speaker Meira Kumar for his lack of 'courtesy and decorum' and blasted by the Opposition. But the minister seems unfazed by the rebukes, and is trying to prove that his love for Tamil Nadu is no less than his colleague Banerjee's affinity for Bengal.
Civil Aviation Minister Praful Patel
Last updated on: May 26, 2010 11:36 IST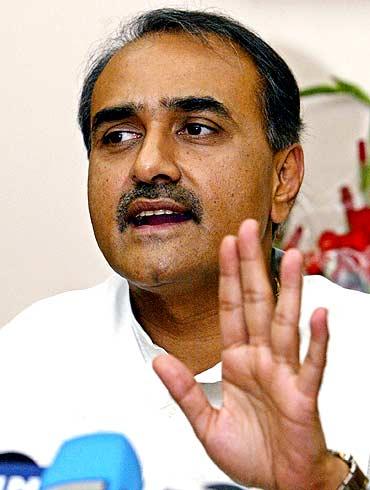 Aviation minister Praful Patel is one of the richest MPs in Parliament. A fact that he was forced to point out when reports about his involvement in the multi-crore IPL scam began doing the rounds. 
The member of Parliament from Maharashtra, who is considered to be the crisis manager of his party, has ironically faced a host of crises in his stint in UPA-2. He has faced flak for his inability to revive Air India, which is losing Rs 200 crore (Rs 2 billion) a month and faces myriad problems including pilot strikes, inefficiency and delays.
Fingers have been pointed at Patel on several decisions in his last five years as minister that allegedly damaged the struggling airline's competitive position.
And while Patel was trying to absolve himself of the blame for putting India's national carrier on its deathbed, reports about his role in the IPL scam surfaced.
Though Patel went to town claiming he had no stake in the IPL fiasco, it was revealed that his daughter Poorna was the IPL hospitality manager, and had allegedly leaked a confidential e-mail from the league's COO Sundar Raman's office.
Patel was accused of forwarding a mail to then minister of state for external affairs Shashi Tharoor, who backed the Rendezvous Sports World's bid for the Kochi franchise, days before the IPL bidding, with a document containing projections of new franchisee valuations.
Dr Singh has already lost a minister to the IPL brouhaha. Political observers are now wondering if Patel will be the second sacrificial lamb of UPA-2.
Agriculture Minister Sharad Pawar
Last updated on: May 26, 2010 11:36 IST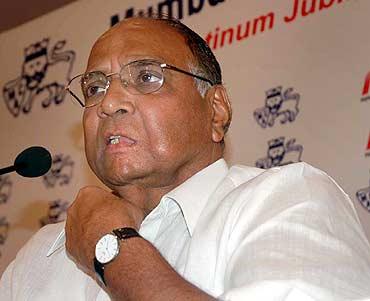 Instead of attempting to rein in the spiralling prices of food items, Agriculture Minister Sharad Pawar has been busy trying to pass on the blame to the prime minister. During his second stint in the ministry, India found itself in an ironical quagmire of rising food prices, tones of rotting food grains and lakhs of Indians going hungry.
Instead of taking responsibility for the issue and initiating corrective measures, Pawar went on record to say that he alone was not responsible for the price rise, but the entire Cabinet and the prime minister were also culpable. He even famously said he was not an astrologer to predict when prices will come down!
To make matters worse, his irresponsible statements, speculating about the possible rise in prices of certain commodities, are widely believed to have actually pushed prices upwards. He was told by the Cabinet, in no uncertain terms, to zip it and desist from such speculative statements.
The wily politician from Baramati was also dragged into the IPL controversy, after reports indicated the involvement of his daughter and MP Supriya Sule, and his own links with the Kochi team.
While both Pawar and Sule denied the reports, the NCP chief also defended then IPL Commissioner Lalit Modi, claiming there was nothing wrong in making public the names of the stakeholders of the Kochi franchise.
Home Minister P Chidambaram
Last updated on: May 26, 2010 11:36 IST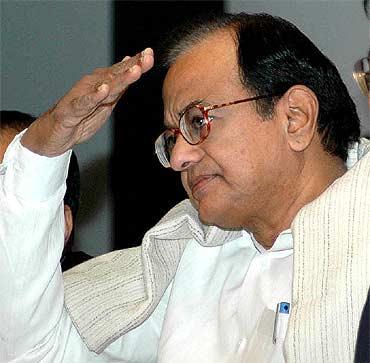 To be fair, this lawyer-turned-politician is the most sensible of the lot. In spite of being attacked by his own colleagues, including Jairam Ramesh and senior Congress leader Digvijay Singh, over his manner of functioning, Chidambaram had maintained a dignified silence. He had, however, expressed his displeasure to the prime minister, who made Ramesh publicly apologise to the home minister.
But the pressure of constantly being questioned on the Maoist menace, which has assumed dangerous proportions in the last one year, finally managed to ruffle Chidambaram. During an interview with a TV channel, in the wake of yet another attack in Maoist-infested Dantewada, Chidambaram admitted that he was operating with a 'limited mandate'. He wisely refused to elaborate.
But the damage had been done. The Opposition, which had so far stood by the home minister in his fight against Maoists, immediately pounced on the statement. Chidamabaram's answer indicated the lack of will on the government's part to tackle Maoists, they claimed.
The media also questioned the usually politically correct minister's controversial statement, demanding to know what exactly he meant by it. When queried about it, Finance Minister and UPA troubleshooter Pranab Mukherjee tersely observed that "There cannot be a public debate on the problem. These are issues that we will have to discuss in the Cabinet."
Even Dr Singh, who had turned down Chidambaram's resignation in the wake of the Dantewada massacre, said ministers should express opposing views inside the Cabinet, and not in public. Will his advice be heeded by his pack of ministers?