'Pakistan is experiencing many Mumbais everyday'
Last updated on: May 17, 2010 14:24 IST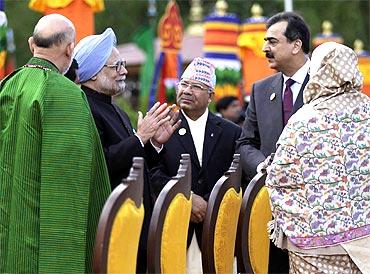 Pakistan People's Party leader Sherry Rehman was a close friend of Benazir Bhutto and was in Bhutto's vehicle when she was assassinated. After the PPP won the elections, Rehman became a minister. She quit months later but remains a member of the party. Excerpts from an interview with Jyoti Malhotra.
What do people in Pakistan make of the recent meeting in Thimphu between the prime ministers of India and Pakistan?
I think people are encouraged by the meeting, that it has opened an opportunity for opening of dialogue.
What are the issues?
First, we have concerns over water. Pakistan is water-stressed and there has to be clarity on how to manage within the Indus Waters Treaty, how to manage flows of storage. There is a fair amount of ignorance on this issue on both sides of the border. In Pakistan, we are losing as much as 30 per cent of our water. Moreover, when matters come to a head (because of disputes with India) and reach the international arbiter, we lose an entire sowing season, destituting a large number of people. This is one concern that should definitely be on the table.
Kashmir and terrorism are obvious issues. The latter is not a concern for just India, but also for us. We are seeking to eliminate terrorists that have taken refuge on the open border between Pakistan and Afghanistan. We are, in fact, experiencing many Mumbais everyday.
Powered by

'It is not in Pakistan's interest to destabilise India'
Last updated on: May 17, 2010 14:24 IST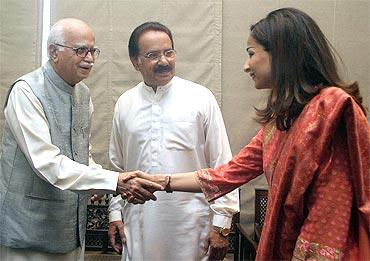 What did Pakistan get from the Thimphu meeting?
I don't think it's a question of getting anything. I don't think we're looking to grandstand each other. I believe that dialogue is not a Sisyphean process. Every time there is an act which is not within the state's control, the entire region is held hostage. I think it defeats the purpose of dialogue if one act of terrorism compromises the process. By doing that we give power to the terrorist we're trying to eliminate because this is exactly what terrorist groups, both in India and Pakistan, want. They want dialogue not to be resumed. They want enmities to be reinforced.
Do you believe the Pakistani government had no link with the Mumbai attacks?
There is no question of the Pakistani state being involved in fomenting this kind of an attack. It is not in the interest of Pakistan to destabilise India, and I believe it is not in the interest of India to destabilise Pakistan.
Do you think Prime Minister Manmohan Singh understands that?
I think Manmohan Singh is looking to make peace and I think his hands need to be strengthened. The great mass of people in both countries want peace, the leaderships want peace, but in the middle are entrenched elites who don't.
Powered by

'There is a trust deficit and it has to be overcome'
Last updated on: May 17, 2010 14:24 IST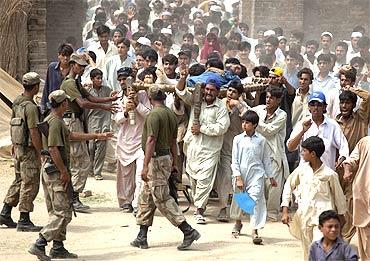 Seems to me there's very little trust between the two sides.
There is a trust deficit and it has to be overcome. But you can't sit there and say there's no trust. We have to build upon it. We are two nuclear neighbours.
What should India do to build trust?
I think India should first of all understand what Pakistan is going through and not respond with knee-jerk reactions or coercive diplomatic statements. Above all, we need your understanding. When the internally displaced people in Pakistan were in dire straits recently (as a result of operations in Swat, South Waziristan), we noticed that India did not offer any help.
As for the confidence-building measures, well, we should get on with them. Right now, Pakistan is running four flights to India every week, but India has no flight to Pakistan. How can we trade and liberalise if our phone networks are not connected with each other? It's quite ludicrous. I think we need to go past that and use windows of opportunity you've got the friendliest government in place in Pakistan today. I think this is not the kind of space we should lose.
There is a sense in India that Pakistan's military controls the levers of power, despite the democratically elected government.
Naturally we have the military acting in places where there is terrorism, but I think it is time that this perception in India should be on the wane. The military acts completely in consonance with the elected government and the government has done an unprecedented thing by creating a consensus against terrorism, which was a serious challenge before it. Earlier, this perception might have had a basis, because a general was running the country. But things are different now and in a democracy you have to deal with a plurality of windows.
Powered by

'We are living in the midst of a war zone'
Last updated on: May 17, 2010 14:24 IST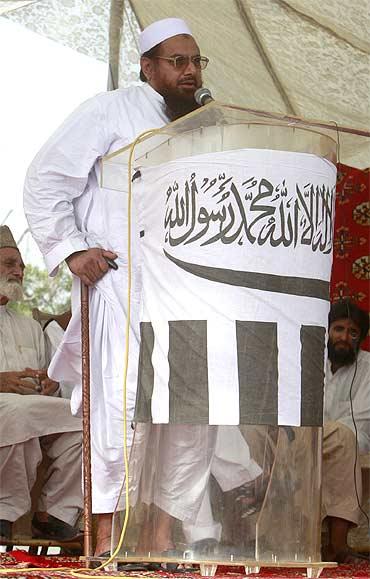 Is there a will in the government to seriously fight against India-related terrorism?
Absolutely. There is a serious will not to allow Pakistani territory to be used against any of its neighbours.
Do you see linkages between the terror outside and within?
The government definitely does and so do the people. The Al Qaeda, for example, is an international organisation and it has local elements. I am amazed that people still feel that we are not willing to fight terrorism against India.
Well, the Pakistani government has made several promises of this kind before.
It's not about promises. I think you have to understand that Pakistan is facing an unprecedented challenge and war of a nature that no nation has faced before. Our children are often not able to go to school. We have Mumbais everyday. Thousands of people have died in this war. There is no appetite for terrorism inside Pakistan.
Do you feel there's a fragility at home that's not been there before?
Well, we are living in the midst of a war zone in many parts of Pakistan. The military is completely overstretched, we have 2.5 million internally displaced people. We simply can't afford to open too many fronts at the same time.
Powered by

'We don't watch each other's TV channels'
Last updated on: May 17, 2010 14:24 IST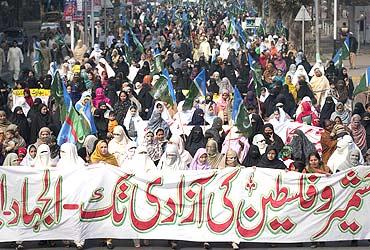 Do you think India understands what Pakistan is going through?
Well, I have been here for two days and, apart from a few people, I was quite surprised to see that most people haven't a clue about what we are facing. One reason is that we don't watch each other's TV channels, otherwise you would see the kind of bereavement and violence many families face. Our hospitals, schools we're under attack.
Do you ask yourselves why?
Well, this is a blowback from the operations that we are conducting against terrorists. The Tehreek-e-Taliban Pakistan openly says that the terror is a reprisal against the operations. Pakistan is paying a huge price in trying to eliminate sources of terror. How can we be purveyors or perpetrators of terror? Terror is not an instrument that can ever be used. It is neither human nor effective.
As for the Mumbai trial accused, PM Yousaf Raza Gilani has said that his government will work to speed up the trials of the seven accused in Pakistan.
Well, you know that the sub-continent's judicial systems take their own time. But this is also a trans-national trial, with seven countries involved. I think it should move as quickly as possible.
Powered by