'Sonia's dogs'
Last updated on: May 14, 2010 16:21 IST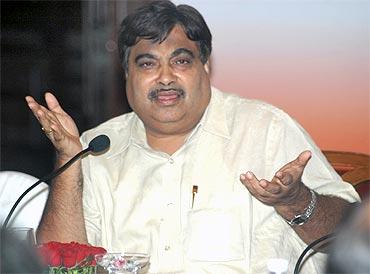 Bharatiya Janata Party chief Nitin Gadkari is in trouble over the derogatory remarks he made against Samajwadi Party chief Mulayam Singh Yadav and Rashtriya Janata Dal supremo Lalu Prasad Yadav recently.
Gadkari allegedly said the Yadav duo had roared like a lion but had gone back to Congress chief Sonia Gandhi 'like dogs', referring to their refusal to support the BJP during the vote on cut motion in Parliament.
"Woh Sonia ke talwe chatne waale kutte hain (they are dogs who lick Sonia's feet)," the BJP chief allegedly said at a public gathering. Although Gadkari hastily apologised later, Lalu and Mulayam are in no mood to forgive and forget.
While the SP has threatened to take legal action, Lalu has demanded that the BJP chief hold his ears and apologise to him.
But this is not the first time that our esteemed politicians have openly bad mouthed others in public. Foot-in-the-mouth seems to be a common syndrome afflicting many politicians who find it too tough to be politically correct all the time.
Rediff.com takes a look at some politicians who should have just kept quiet.
Text: Vicky Nanjappa
Deve Gowda's outburst
Last updated on: May 14, 2010 16:21 IST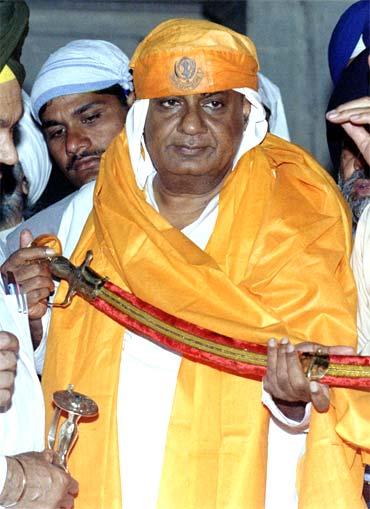 Indian politics touched a new low when Janata Dal - Secular chief H D Deve Gowda called Karnataka Chief Minister B S Yeddyurappa a 'bloody b*****d', while the two were squabbling over the Bangalore Mysore Infrastructure Corridor.
Deve Gowda, who had once served as the prime minister of the world's largest democracy, didn't stop there. He allegedly called the CM a Kannadiga slang roughly translated as 'son of a bitch'.
Yeddyurappa hit back by saying the JD-S leader had lost his mental balance, adding, "he has become desperate."
'Not even a dog will visit his house'
Last updated on: May 14, 2010 16:21 IST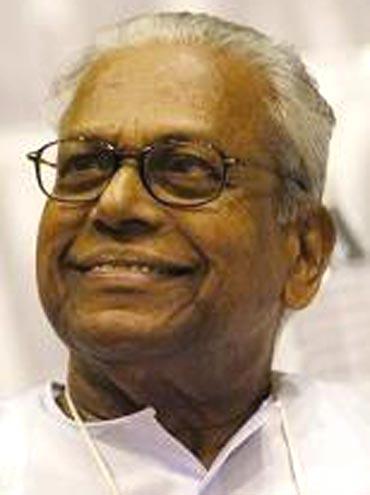 Sandeep Unnikrishnan, a major in the elite National Security Guards, was killed during Operation Black Tornado, which was launched to flush out terrorists from Taj Mahal Hotel during the terror siege on Mumbai.
As the nation mourned the brave major, Kerala Chief Minister V S Achuthanandan decided to pay a visit to the residence of his grieving parents in Bangalore. But Sandeep's father, a visibly-upset K Unnikrishnan, refused to let the CM in, and the entire fracas was caught on camera by the media entourage outside the major's residence.
Furious at missing out on such a photo-opportunity, Achuthanandan remarked, "But for the slain major, not even a dog will visit that house."
The crass comment, against the grieving parents of a son who had laid down his life for the country, shocked the nation. While the furious public and other political parties demanded an apology, an obstinate Achuthanandan dug in his heels and refused to say sorry initially. But he bowed down to public pressure later, expressing 'deep sorrow and regret over the issue'.
'For Mayawati, a compensation of Rs 1 crore'
Last updated on: May 14, 2010 16:21 IST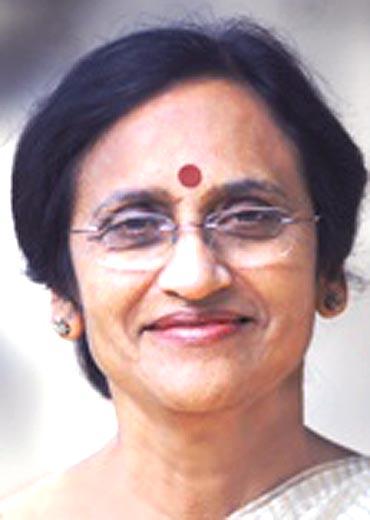 This was a fight between the two most powerful woman politicians in Uttar Pradesh.
At a meeting in Moradabad, UP Congress committee chief Rita Bahuguna Joshi slammed Chief Minister Mayawati's decision to send the director general of police to meet Dalit rape victims and give them a 'paltry' compensation of Rs 25,000.
Joshi had allegedly said that if the UP CM was raped, she would understand the plight of the victims better. "We are ready to give Mayawati a compensation of Rs 1 crore," she had reportedly said.
Joshi soon learnt that hell hath no fury like Mayawati scorned. She was promptly arrested and put behind bars for her comments, and denied bail when she applied for it.
Furious Bahujan Samaj Party workers went on a rampage to protest the incident, and set Joshi's house in Lucknow on fire.
As the Congress distanced itself from the controversy, Joshi claimed that she was trying to "expose a chief minister who has no sympathy for women," but added, "I regret what I said in a fit of anger."
'Merchant of death'
Last updated on: May 14, 2010 16:21 IST
Blame it on Sonia Gandhi's speech writers.
During an election rally at Navsari, barely days before the Gujarat assembly elections in 2007, the always-cautious Congress president took her tirade against Chief Minister Narenda Modi too far.
She called Modi Maut ke Saudagar (merchant of death), in an obvious reference to his alleged role in the 2002 communal riots in the state. Not one to take insults lying down, Modi responded by saying that Sonia and the Congress were the 'real merchants of death who supported terrorists like (2001 Parliament attacks case convict) Afzal Guru."
The BJP thumped the Congress in the ensuing elections and Modi came back to the CM's chair for a third time in a row. Sonia's ill-advised comment was cited as one of the factors that led to her party's debacle in the polls.
'They hold hands all the time'
Last updated on: May 14, 2010 16:21 IST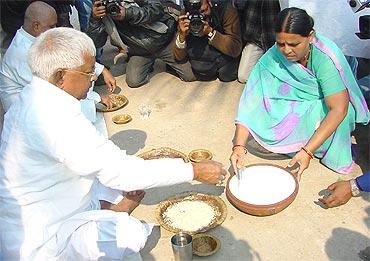 She is known more for her uncouth utterances than her political skills. Former Bihar chief minister Rabri Devi once called then Governor Sundar Singh Bhandari a langda (lame) and threatened to break his other leg.
Taking on Bihar Chief Minister Nitish Kumar and Janata Dal-United leader Lallan Singh during the run-up to the Lok Sabha polls in 2009, Rabri said, "Who is Lallan Singh? He is Nitish Kumar's saala (brother-in-law). Everyone knows this. I say this openly. This is why Nitish Kumar holds Lallan Singh's hand all the time."
As the EC threatened to take action against Rabri, her husband and RJD chief Lalu Prasad Yadav tried to placate Nitish, calling him his 'younger brother'.
The engineer-turned-politician-turned-Bihar CM reacted calmly to the brouhaha, saying, "When someone is frustrated, they end up saying such baseless things."
'I will cut off their hands'
Last updated on: May 14, 2010 16:21 IST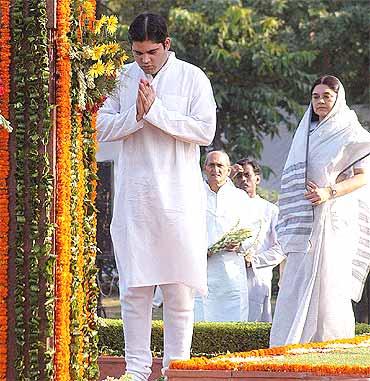 Even the most powerful surname in India could not make him speak sense.
At a campaign rally in Pilibhit in Uttar Pradesh, BJP leader Maneka Gandhi's son Varun allegedly told the crowd, "All the Hindus stay on this side and send the others to Pakistan. They have names such as Karimullah, Mazurullah. If you see them in the night, you will get scared."
Jawaharlal Nehru's great-grandson and Indira Gandhi's grandson went on to add, "If somebody attacks Hindus, or thinks they are weak, I swear on the (Bhagvad) Gita, I will cut off their hands."
While the media went hoarse condemning the communal statements, Chief Minister Mayawati settled her scores against the BJP by slapping the stringent National Security Act on the Gandhi scion. His high-profile arrest was accompanied by cheerful sloganeering by BJP supporters, and Gandhi was released on bail soon.
The BJP leader, who claimed that the CDs of the purported speech had been 'doctored', won comfortably from Pilibhit and is now a parliamentarian.