When Venky, Aamir, Rahman took centre stage
Last updated on: March 31, 2010 21:51 IST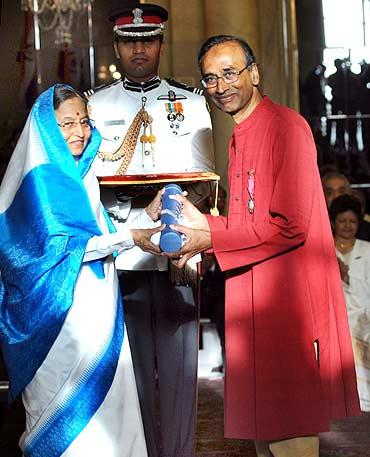 Nobel laureate of Indian origin Venkatraman Ramakrishnan, noted theatre personality Ebrahim Alkazi were on Wednesday conferred the Padma Vibhushan, the second highest civilian award by President Pratibha Patil in New Delhi.
Music maestro A R Rahman and Bollywood star Aamir Khan, classical vocalist Pandit Channulal Mishra and prominent hotelier Capt C P Krishnan Nair were among those honoured with the Padma Bhushan awards at a glittering ceremony at the Ashoka Hall of the Rashtrapati Bhawan in New Delhi.
Photographs courtsey: Press Information Bureau
President confers second-highest civilian award
Last updated on: March 31, 2010 21:51 IST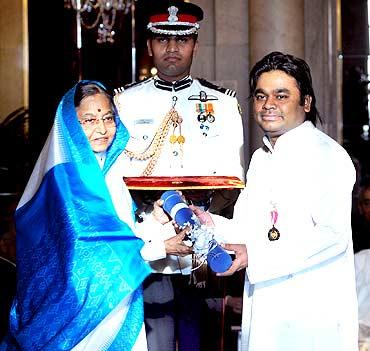 Pratap Chandra Reddy, founder chairman of Apollo Hospitals, was also conferred the Padma Vibhushan.
The entire Ashoka Hall reverberated with applause as sportspersons Saina Nehwal and Virendra Sehwag walked up to the podium to receive their Padma Shri awards from the President.
Hockey national Ignace Tirkey, dhrupad exponent Ustad Faiyaz Wasifuddin Dagar, businesswoman Anu Aga, multi-lingual actress Arundhati Nag, former Central Bureau of Investigation director D R Karthikeyan, plant scientist Palpu Pushpangadan and eye surgeon Vikas Mahatme were among those who were awarded Padma Shri.
Padma magic all around
Last updated on: March 31, 2010 21:51 IST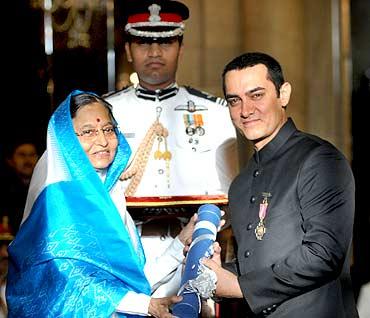 Among the Padma Bhushan awardees this year are eminent neurosurgeon Satya Paul Agarwal and eminent cardiac surgeon Ramakant Panda, who performed 'beating heart' on Prime Minister Manmohan Singh last year.
Former Vice Chancellor of Goa University P R Dubhashi for civil service, Prof Tan Chung and Prof A J Paulraj received the award in literature and education and science and engineering categories respectively.
Planning Commission member Abhijit Sen and S K Bandyopadhyay received Padma Bhushan in the public affairs category.
A mark of respect
Last updated on: March 31, 2010 21:51 IST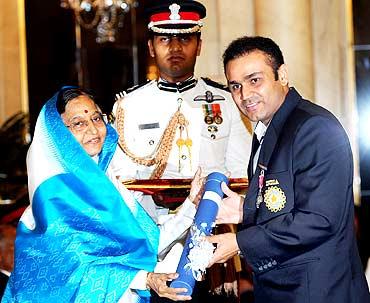 In the trade and industry category Alluri Venkata Satyanarayana Raju, founder chairman of Nagarjuna Construction Company, J R Gangaramani, President of Al Fara'a Group in the UAE and Ravi Pillai of RP Group of industries received Padma Shri awards.
Padma Shri was also conferred on environmental crusader Baba Sewa Singh, vocalist Ulhas Kashalkar, scientist Vijayalakshmi Ravindranath, cardiologist K K Agarwal.
Former Union Minister Balasaheb Vikhe Patil got Padma Bhushan for social work.
Awardees glitter
Last updated on: March 31, 2010 21:51 IST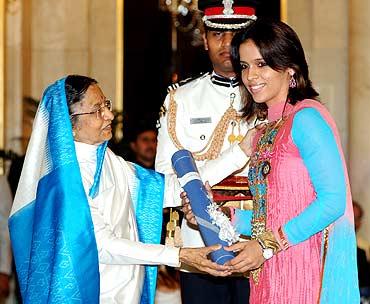 Among others who received the Padma Bhushan were Arogyaseami Joseph Paulraj, Balgangadharnatha Swamiji, Jagdish Chandra Kapur, Kushal Pal Singh, Mohammad Amin, N C Satyanarayana, P K Warrier, Ram Kumar, Satya Paul Agarwal, Satyavrat Shastri and Shripaul Oswal.
Padma Shri was also conferred on Arvind Kumar, A T Meetei, B Ramana Rao, Bertha Gyndykes Dkhar, Carmel Berkson, Gul Bardhan, Hari Uppal, Jitendra Udhampuri, Lalzuia Colney, Laxmi Chand Gupta, M R Satyanarayana Rao, Maria Aurora Couto, Mukund Lath, Philip Augustine, Ponisseril Somasundaram, Rabindra Narain Singh, Rafael Irubieta Fernandez, Pandit Ragunath Panigrahi, Ram Dayal Munda, Sumitra Guha, and Surendra Dubey.
A memorable occasion
Last updated on: March 31, 2010 21:51 IST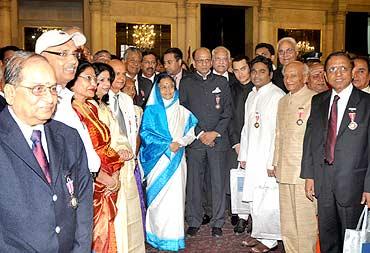 The nephew of Late Ramaranjan Mukherjee, 'Vivekananda Professor' at Ramkrishna Mission for Culture, Kolkata received the award on his behalf.
Noted scholar Govind Chandra Pande (Padma Shri) and poet Pandit Puttaraj Kavi Gavaigalavaru (Padma Bhushan) were not present to receive their respective awards.
© Copyright 2020 PTI. All rights reserved. Republication or redistribution of PTI content, including by framing or similar means, is expressly prohibited without the prior written consent.