'I try to smile and keep myself happy'
Last updated on: June 11, 2010 12:22 IST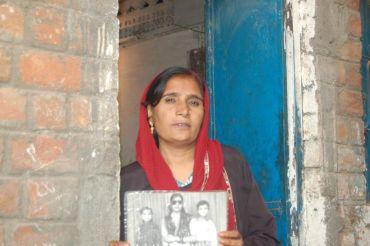 Rediff.com's Prasanna D Zore speaks to the survivors of the Bhopal gas tragedy, who recount their tales of horror after the court's verdict on June 7, after a tortuous 25-year fight for justice. The eight accused in the worst industrial disaster were given a two-year imprisonment and released after they paid a fine of Rs 25,000.

'Yes I am Shamshad Bi," says a voice from the other end of the phone that sounds like that of a teenager. "I will introduce you to a number of people who lost their wives, sons, mothers, daughters and in-laws... in the tragedy and can recount the horror of that night for you," she assures.

"You come to J P Nagar where there is a statue of a mother with her infant son in her arms as she weeps and tries to run (away from the poisonous MIC gas)," says the lady decribing the meeting point. You feel Shamshad Bi -- as she is fondly called by the denizens of this lower middle class mohalla that spreads across the road where Union Carbide India plant is located -- is a happy-go-lucky type, who perhaps was born much after the Bhopal gas tragedy and hence was so oblivious of the sorrows and pain of the people whom she had promised to introduce to this correspondent.

The surprise registers when you come across a 48-year-old lady who, clad in a burqa and red dupatta to cover her head, stands before you. She walks with a brisk pace as she introduces me to 40-year old Rehana Bi, 47-year old Mohammed Habeeb, 60-year old Tulsiram, 60-year old Jamunabai, 76-year old Mohammed Sabir, 57-year old Kusum Bai and 76 year old Ganesh Ram, all of whom survived not only the spread of the dreaded methyl isocyanate, that engulfed the city, but also the death of their kith and kin.

The surprise turns into shock when Kusum Bai tells that Shamshad Bi lost her two-year old son Raja and her mother-in-law on the night of December 2 and later her husband succumbed to lung cancer that he developed because of the gases that entered his bloodstream on that fateful night. "I am alive today only because I keep myself occupied with the sorrows of other people," she says when she is told that she doesnt look like a victim.

"Main hansti, khelti rehti hu isiliye zinda hoon" (*I try to smile and keep myself happy. That's one of the reasons why I am alive today)," says Shamshad Bi.

"My son and mother-in-law died the same night. I lost two people from my family but there are several others who lost more than 10 family members in just a few hours. I keep telling myself there are people who suffered bigger tragedies than I did and yet are carrying on with their lives. "Unka gham dekhkar apna gam bhool jaati hoon" (I see their sorrows and forget my own)," she says matter-of-factly.
'We are fighting to seek justice from an unjust system'
Last updated on: June 11, 2010 12:22 IST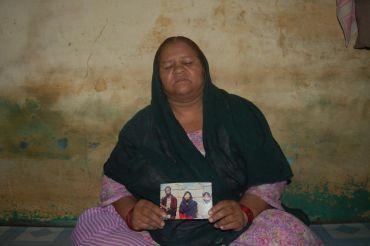 The first household that we come across is Rehana Bi's. She was in her mid 20s and was five months pregnant when she heard a loud commotion outside her house on December 2, 1984. She was sleeping in the inner room along with three sons Hafiz, Hamid and Nadim while her mother-in-law was sleeping in the outer room that looked across the Union Carbide factory with just a narrow road in between.
Her husband was on duty that night at a private factory on the outskirts of Bhopal. "When we came out to see what the matter was, my eyes were burning, I felt some problem inhaling the noxious air. I covered my two-year old son Nadeem in a thick blanket and ran with the other two kids and my mother-in-law," she says recounting that fateful night. In between this conversation she whips out a photograph that shows herself, her mother-in-law and neighbour sitting beside each other, their eyes draped with a wet handkerchief.
"I don't remember how much we ran but when I opened my eyes two days later in a hospital I learnt that my foetus was aborted due to the gas," she says. Her mother-in-law died two years later because of the noxious MIC, Rehana Bi says. However, the tragedy still haunts this family. Only a fortnight ago, Rehana Bi was hospitalised for breathlessness and was put on a ventilator for two days. "This is a recurring problem with most people who survived," she informs about the common bouts of breathlessness and allergies that most of the people in J P Nagar suffer from.

Today, Rehana Bi's left hand is partially paralysed. She suffers from breathlessness even when she walks a few steps. The then state government put her in the 'B-medical' category case which made her eligible for a compensation of no more than Rs 25,000. However, she has an indomitable spirit. She wasn't heartbroken after the June 7 verdict that slapped a two-year imprisonment on the eight accused in the case under section 304 A and released all of them after they paid a fine of Rs 25,000.
"We are not fighting for a court's decision. We are fighting to seek justice from an unjust system, from a multi-billion dollar MNC. Our fight will continue," she says echoing the sentiment of all those Bhopalis who suffered immensely, not only because of the gas that leaked but also from the callous attitude of the state and central governments.
'My son's death still haunts me'
Last updated on: June 11, 2010 12:22 IST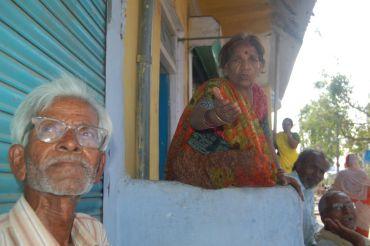 We meet Jamunabai as we come out of Rehana Bi's home. Almost 25 years have gone by since the Bhopal gas tragedy but Jamunabai remains undaunted in her quest to seek justice, just like thousands of others who suffered the same fate.
"We suffered a lot because of the machinations and apathy of the local as well as national politicians, the Indian judiciary and Union Carbide India. We are fighting even at this age because we want the next generation here to understand the atrocities that the entire city went through," she speaks in a fiery local dialect which does not sound very much different from Hindi.
Jamunabai lost her 16-year old son on December 6, 1984. "He lay there in the hospital writhing in pain, vomiting blood. But then there were so many like him, even younger than him. It was a sight that still haunts me," she says.
"
Hindustan hamare liye koi kaam ka nahi
" (Our country has failed us in our fight to seek justice)," she says betraying anger and frustration that has now given way to a strong will to continue the fight.
Mohammed Sabir, 76, lost his entire family on December 2-3, 1984. His entire clan of 30 people was swallowed by the poison, called methyl isocyanate, which emanated from a leaked underground storage tank of Union Carbide factory in Bhopal. At his age, he barely talks, his muscles have atrophied and lumps of skin peek out when he musters enough strength and courage to lift his shirt.
It wasn't just the physical agony that has sapped Sabir. His mental duress is visible as he tries to speak but stops in between, closes his eyes for a minute and then goes back to sleep on a verandah outside Jamunabai's shop that has become his home for the last 25 years.
'We will continue fighting for our dead'
Last updated on: June 11, 2010 12:22 IST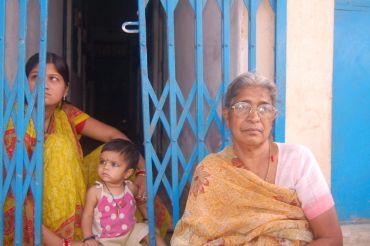 After talking to Jamunabai and Mohammed Sabir, Shamshad Bi asks us to follow her to Mohammed Habeeb's house. But stops when she sees Kusumbai sitting outside her house with her daughter and grand daughter. "You must talk to Kusum," Shamshad Bi insists.
"I lost two sons, aged 14 and 16, only a day after the gas leak," she recounts. "We thought we were safe when we all (including her two sons and husband) reached a safer place some 8 kms away from the factory. But the poison had already entered our blood stream," she stops without completing her sentence.
"She is shell shocked because she thought her family was safe at that point. The death of her two children in front of her eyes, proved disastrous. A couple of years later her husband too passed away of mental trauma over the death of their sons," Shamshad Bi answers for Kusmbai.
"We will continue our fight for the next 25 years if we have to," she thunders after she gathers her wits. "We will continue fighting for our dead. We couldn't give them a decent treatment or cremation. By fighting against the evils of the system we will at least help the souls of our dead rest in peace," Kusumbai says.
'We too will die a slow and painful death one day'
Last updated on: June 11, 2010 12:22 IST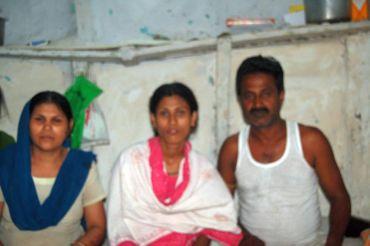 Mohammed Habeeb lives in a one-room shanty in the bylanes of J P Nagar. His employer sacked him after he found out that Habeeb's eyesight and his ability to do manual work had reduced after the gas tragedy. To make matters worse his elder brother was detected with lung cancer in 1987, an after-effect of the MIC inhalation, Habeeb informs.

"His operation in Bhopal was not successful. So we took him to the Tata Memorial Hospital in Mumbai," he says but there was no improvement and his brother died in in 1989, a few months before the Government of India agreed to a compensation of $ 480 million dollar from Union Carbide. Later he lost his mother who had damaged both her lungs over a period of six years after 1984. His daughter Rizwana, 24, suffers from lung infection and allergies.

Habeeb spent almost Rs 6 lakh on his elder brother's cancer treatment. He got the money from several NGOs working for the victims of Bhopal gas tragedy and the compensation he recived after the gas leak. "We can't treat Rizwana properly because we are broke now. We had one house which we sold to finance the treatment of my brother and mother. Hum log bhi sisak, sisak kar ek din dum tod denge" (We too will die a slow and painful death one day)," he says lifting his shirt to show the scars from a stomach operation that runs across the dorsal and front side of his torso.
Habeeb, no doubt, is pained by the June 7 verdict, "Aam aadmi ko dikhane ke liye leepapoti ki hai yeh" (the verdict is just a sham to silence the anger of the man in the street).
'We had to make a quick decision to abandon my family'
Last updated on: June 11, 2010 12:22 IST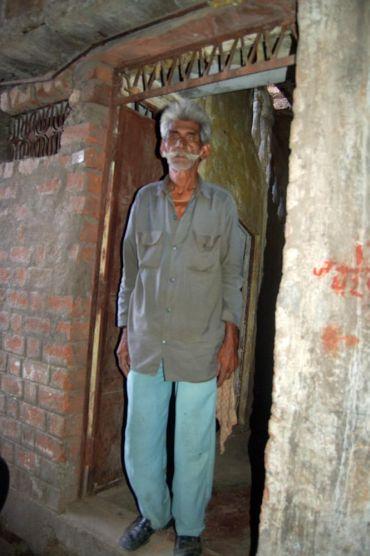 Though there were eight people in Ganesh Ram's family he ran out only with four. The other four were in no position to run with him.
His son Kailash, daughjte-in-law Kamlabai, their one-year old son Shivnarayan and Ganesh Ram's wife Leelabai were bleeding profusely. Ganesh Ram along with his two sons Mahender, Rupak and daughter Tara had to make a quick decision: Abandon the four who were bleeding to their death and run to save their own lives.
"I still rue that decision. Would they have survived if we had carried them on our shoulders? But they indeed looked in terrible condition," says a weeping Ganesh Ram, who collpased on the road because of weakness, a few days ago.
Though he got a copy of their post mortem almost three months later, no one had a clue as to what the report said as the entire family was illiterate. The local doctors had no time to explain the report to the family.
Today, he has no idea where he had kept those post mortem reports in February 1985. This is yet another decision, he says, he will rue till the end of his life. "My guilt would have lessened had we had the post mortem report and got it read from somebody," he says hopelessly.