India shuns treaty banning deadly cluster bombs
Last updated on: July 31, 2010 00:19 IST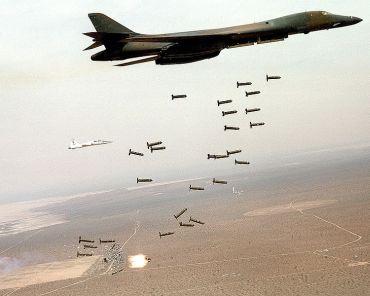 A landmark treaty banning cluster munitions will come into force from August 1, the United Nations announced, but all major powers, the US, China, Russia Israel and India are shunning it.

The convention on cluster munitions will enter into force on August 1, 2010, the UN said, with Secretary General Ban-Ki-moon commenting that the new instrument will be a major advance for global disarmament and humanitarian agenda.

Cluster munitions were first used in Second World War. Cluster bombs are a conglomeration of weapons. When released from an aircraft, they splinter into hundreds, even thousands, of individual 'bomblets'.

These land over a large geographic area. The technique is also called carpet-bombing. All bomblets don't explode when they hit the ground. But they can go off later.

Click on NEXT to read further


India shuns treaty banning deadly cluster bombs
Last updated on: July 31, 2010 00:19 IST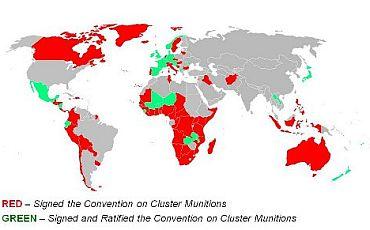 The convention has been signed by 107 states and enters into force six months after 37 countries ratified the treaty, which was concluded in 2008.

The instrument needed to be ratified by 30 countries to come into force.

That benchmark was reached in February when Burkina Faso and Moldova both submitted their instruments of ratification of the Convention on Cluster Munitions at UN Headquarters in New York.

Cluster bombs are both air dropped and used by artillery guns, and the shells open before impact and scatter hundreds of shrapnel causing widespread casualties over a wide area.


India shuns treaty banning deadly cluster bombs
Last updated on: July 31, 2010 00:19 IST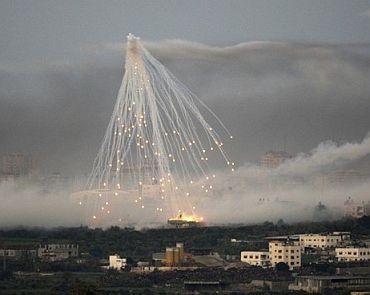 Many of these munition fail to explode and lie dormant for years killing or maiming hundreds of civilians, long after the conflicts have ended.

Most of the victims of such bombs have been children in South East Asia, South Asia, the Balkans and south southern Lebanon.

From Asia only five countries -- Afghanistan, Indonesia, Japan, Laos and Philippines -- are the signatories.

But what effect the ban would have as all the major powers, including the United States and Israel, which are known to have huge stockpiles estimated at one billion bomblets, have so far rejected the treaty.


India shuns treaty banning deadly cluster bombs
Last updated on: July 31, 2010 00:19 IST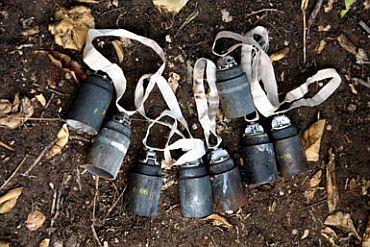 The signatories include some prominent producer nations like Britain, Germany and France, whose forces are currently involved in Afghanistan.

Welcoming the treaty coming into force, Ban said in a statement: "this new instrument is a major advance for global disarmament and humanitarian agendas, and will help us to counter the widespread insecurity and suffering caused by these terrible weapons particularly among civilians and children".

Noting that the convention comes into force a little more than two years since its adoption in Dublin, Ireland, Ban said: "It highlights not only the worlds collective revulsion at these abhorrent weapons, but also the power of collaboration among governments, civil society and the United Nations to change attitudes and policies on a threat faced by all humankind."


India shuns treaty banning deadly cluster bombs
Last updated on: July 31, 2010 00:19 IST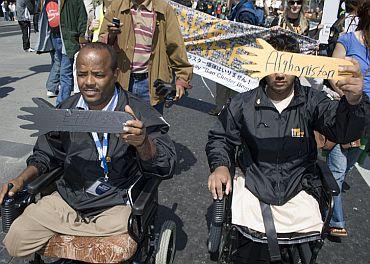 The convention contains obligations to stop stockpiling, destroy current stock and ban its use.

The first meeting of States parties to the convention will be held this November in Laos, which the UN chief described as a country "that has suffered tremendously from the impact of cluster munitions."

"I encourage all Member States to participate in this meeting to demonstrate their support for the Convention," Ban said.

"And I call on those States which have yet to accede to the Convention, to do so without delay."